After conversations with the groups last week, we thought it would be useful to provide you with some helpful tools in your journey towards innovation. It is important when tackling these big challenges to approach them with fresh perspectives. In order to be innovative you must firstly understand the motivations and needs of your user(s) and importantly, be able to empathise with these motivations and needs.
Personas and empathy maps are important tools in creating empathy with your user(s).      A persona is a fictional character, created through research and audience interaction, that represents a typical user for a product or service. Creating personas is a way to better understand your audience and stakeholders, allowing for specific focus on "who this is for." Creating personas also helps to challenge existing  assumptions about users or groups along the way. Creating personas helps you to consider the motivations of your users, and focus on a human centered approach to challenges. As a group you might like to create a persona or personas shaped by your visits to your organisation and its users.
This 3 minute watch on personas provides context on what personas are; why they are important tools and how to use them…
"Personas are the handle you use to grab hold of what you learned from your research. They humanize the context, background, and motivations of your users." Alan Cooper
Empathy mapping is another incredibly valuable tool in understanding users. The value of empathy mapping is that it allows you to gain a rich understanding of your users and spot new areas of opportunity.  By mapping out what users say, do, think and feel, we can begin to better understand our users and empathise with their actions and thoughts.
As a group you could discuss and map out; What did your user say? Did anything stick out as a quote or phrase? What actions and behaviors did you observe? What might your user be thinking about? What does this tell you about your user? And; what emotions might your user be feeling?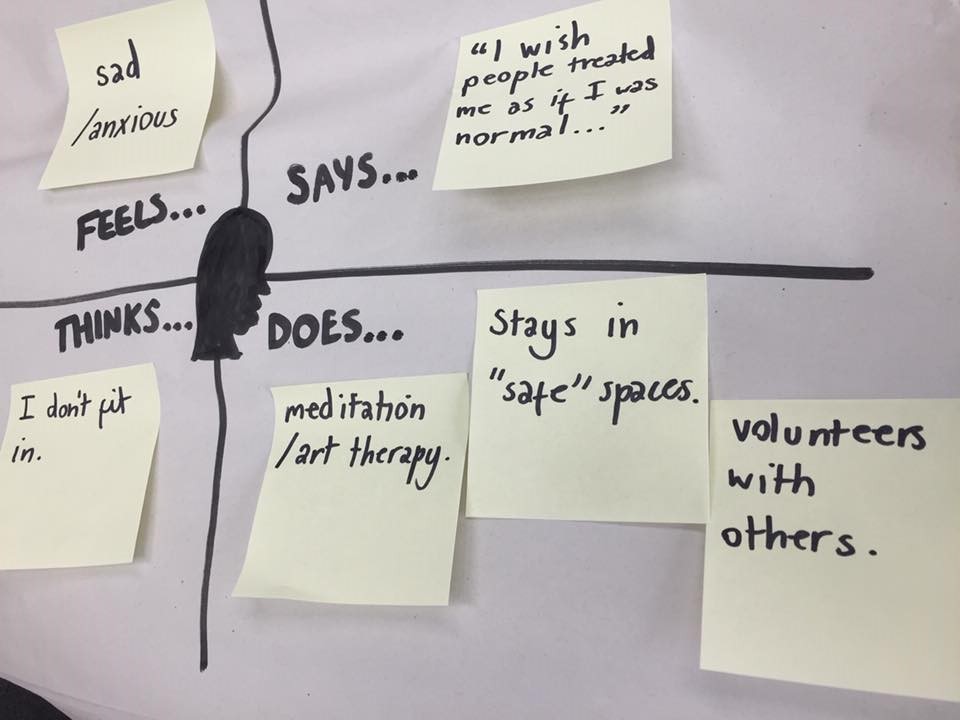 Some useful links for creating personas:
http://opendesignkit.org/methods/personas/
https://uxknowledgebase.com/creating-personas-part-1-cf1bef5b7eba
Some useful links for getting started with empathy mapping:
https://dschool-old.stanford.edu/groups/k12/wiki/3d994/empathy_map.html
https://www.artscouncil.org.uk/publication/making-digital-work-toolkit
https://sites.dundee.ac.uk/dundeeghc/2016/10/31/empathy-maps/