TALKING ABOUT ART
We are looking for volunteer families* to explore, draw, and discuss art.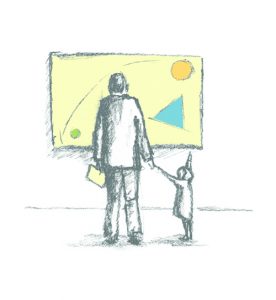 At a loss for words when you look at art?
Or do you always know what to say?
How can galleries help us find our voice?
As part of the long term project Art at the Start, University of Dundee is partnering with Dundee Contemporary Arts Learning Programme to explore what happens when families view and make art together. The Talking About Art project will research how families use the self-led activities at DCA. The researcher, Holly Rumble, aims to determine how these activities impact on family engagement with the visual art exhibitions.
Holly will lead the sessions, which last for 45 minutes, and take place in early 2019.
Sessions in January and February will look at the work of Lorna Macintyre
Sessions in late March and April will look at the work of David Austen
We will provide refreshments and a small gift to thank you for your time.
For an information sheet please click here: Adult information sheet
If you have any questions please email: h.rumble@dundee.ac.uk
*(with at least one child under 16)
Thanks for reading!