The Art at the Start project aims to publish high quality research as the project progresses and we will flag it up here as we go along.
Evaluating Create Together
The outcomes from a successful pilot of the Create Together art therapy groups were published in the Infant Mental Health Journal in 2015.
 Outcomes from Create Together parent-infant art therapy
We published the next stage of our research in the International Journal of Art Therapy, using qualitative and quantitative measures to evaluate the outcomes for parents and their infants from attending art psychotherapy groups .
(2019)
A dyadic art psychotherapy group for parents and infants – piloting quantitative methodologies for evaluation,
International Journal of Art Therapy,
DOI: 10.1080/17454832.2019.1590432

Holly Rumble explored the impact of Dundee Contemporary Art's Create Space on family learning. Her 2019 MSc dissertation, Talking About Art, is available as a PDF Talking About Art Full Report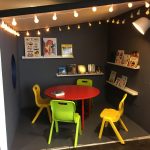 Integrative Literature Review
We have published an integrative literature review, looking at the evidence base for an art therapy approach with parents and infants together.
V. G. Armstrong & J. Ross (2020) The evidence base for art therapy with parent and infant dyads: an integrative literature review, International Journal of Art Therapy, DOI: 10.1080/17454832.2020.1724165
You can download a free e-print here https://www.tandfonline.com/eprint/GPV4GZWGXMGE9U9KETMY/full?target=10.1080/17454832.2020.1724165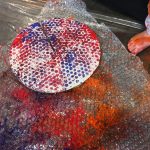 Book Chapter – Mechanisms of change in parent-infant art therapy
Our chapter on the mechanisms of change in art therapy with parents and infants, including lots of examples from case material, has been published in Hogan, S (2020), Therapeutic Arts in Pregnancy, Birth and New Parenthood, Routledge , London. https://doi.org/10.4324/9781003027607