We ran our first session of creative and messy play for parents and preschoolers at the DCA this week. We are looking to see if there is an interest in these kinds of sessions for parents and toddlers so we will be doing monthly sessions and see what the feedback is. We would love these to be something that was always available. All our little ones at this weeks sessions were amazingly creative (and their grown ups very good about how messy we got them!).
 This week we responded to a beautiful painting of colourful circles in David Austen's Underworld exhibition. We made paintings by printing circle shapes using lots of different objects pinched from the kitchen or the recycling – tubes, bowls, corks etc.
  Some little ones also experimented with their own ides for how to make marks using cars and tigers!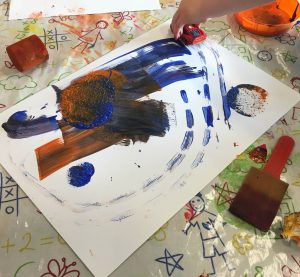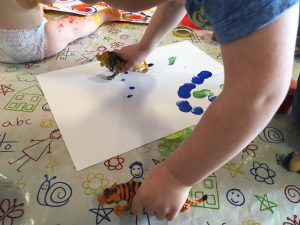 We then tried making bubble paintings by blowing into cups and bowls of painty, bubbly water and printing it onto paper and by blowing coloured bubbles to try and catch and pop on paper.
 
We will post the recipe for bubble paintings in our next post so you can try it at home.