We were bubbling at DCA this week with a group of babies and toddlers and their grown ups so we thought we should post the recipe in case you want to try it at home with your wee ones.
You need:
Paint – non-toxic water based
Baby bubble bath (if it's safe for babies in the bath it should be safe for this craft)
Straws
Cups and bowls
Paper (nice thick paper which is good and absorbent is best. Printer type paper will rip and not take in the colour)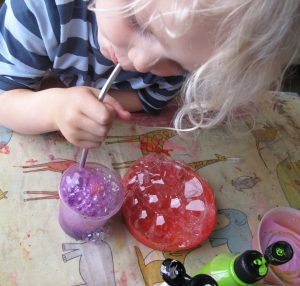 Cover the bottom of each cup with paint and add a squirt of baby bubble bath. Top up with about twice the amount of water as paint and then mix thoroughly. You want the paint to be about a third of the way up the cup.
Then using a straw let children blow into the mixture until you get bubbles making a mound that comes out the top of the cup (if you think little ones are too small to blow and might suck instead then have a grown up do this bit). Then place a piece of paper on top of the cup and it will burst all the bubbles leaving a print. You can keep layering up different colours of bubbles in this way until they are happy with their art work.
Happy bubbling!