We were playing with salt dough clay today with the lovely mums and babies at the Dundee International Women's Centre. Here is the recipe if you'd like to try making your own at home. Try letting the little ones join in with the measuring and mixing.
You need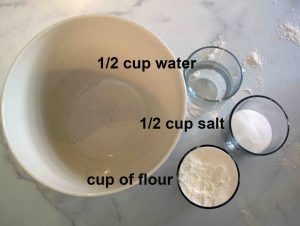 1 cup of plain flour
mixed with 1/2 cup of salt
then 1/2 cup of warm water added gradually.
Mix then kneed to get a nice smooth consistency. Super simple!  If I'm not using it right away I rub some oil on the outside to keep it nice and smooth and wrap it up with cling film. You can also double up the recipe if you need more (or x10 if you are doing a whole group like me!)
The dough will be nice for making models, doing handprints or cutting out with biscuit cutters or play dough tools. Once you have your shapes pop them on a baking tray in a warm oven (about 80c) to dry out for several hours, depending on how thick they are, until cooked through (check the back isn't still squishy). You can then paint them and decorate as you chose. If you want to keep them nice you can also varnish them once the paint is dry.
This is a nice activity as it gives a different texture for children to feel as a change from all the paint. If you kneed it for a while in your hands first it will feel nice and warm and smooth so most little ones like it. There is the fun of mixing it as well as the fun making and you can do some nice handprints to keep before letting them go free on the rest of the dough. Although this is made from food stuff obviously don't let them eat it as it is so salty.
We are going to paint ours at our next session. We also made some lovely hand and footprints, which make a great keepsake.