This year Dundee is part of the Being Human festival and the theme is the moon. So we are doing lots of moon themed art works for our mini humans! You can see what else is on for the festival here https://beinghumanfestival.org/ or follow Dundee Being Human on twitter for more info @HumanDundee. You can also watch a how to video for this activity on our facebook page here https://www.facebook.com/watch/?v=376569740348897
Moon Paintings
This activity to make a moon will allow wee ones to enjoy the contrast of light and dark colours, to explore painting with sponges and their hands and the use of the stencil means whatever they do will magically make a good moon shape at the end. This will work for any age from 0 up, just make sure pencils and scissors stay out of reach of small babies, while bigger children can help you with the drawing and cutting out.
You need:
A sheet of normal paper to make a stencil and a sheet in a dark colour like black or navy
White paint
An old sponge
A tray or plate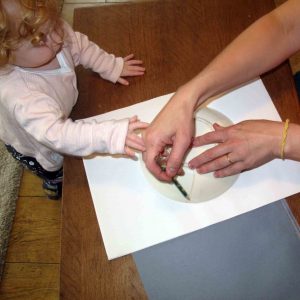 Draw round a plate on the plane sheet of paper to make a moon stencil. Cut out the center and then use a couple of dots of glue to hold it in place on top of the dark sheet.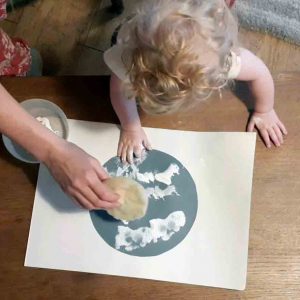 Put some white paint on a tray or plate and show wee ones how to use a sponge to put paint on the moon shape. If you tear the sponge in half it will get a nice texture that looks like craters. They can also use their hands to spread the paint.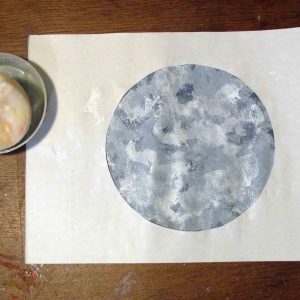 Once the center is covered and looks nice and textured, you can gently peel off the paper stencil to reveal a nice moon shape.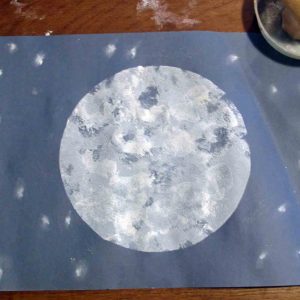 You can help wee ones to finish off the picture by adding dots of white chalk and then smudging it to make stars.
Tinfoil Moon
This activity is an easy way to add interesting textures to a moon picture. It is suitable for ages 2 and up, as long as they are safe with the small coins, although wee ones will need help to cut out.
You need:
Tinfoil
Large sheet of dark paper or card – navy or black
Glue
A selection of coins
Optional chalk
Draw round a plate onto tinfoil and then cut out
Put coins under the moon shape and then rub over the top to create craters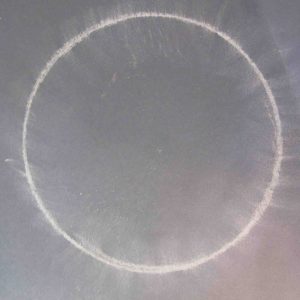 You could draw round the moon onto dark paper in white chalk and then smudge it to create a glow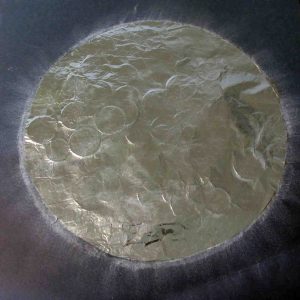 Now stick on the moon shape