We were really sorry not to be able to run our art therapy group for Homestart today. Our plan had been to make some crafts for Mother's Day with the little ones so we decided to put some ideas up here that you could try together at home instead. They are all very flexible so use whatever is easy and to hand if you don't have the same materials as us. Mums or grannies won't mind if it's drawn on old newspaper!
Flower paintings:
Turn some easy hand and foot prints into flowers by painting little ones feet and hands and printing on to paper. It's nice doing prints like this together as the brushing on of the paint is a nice sensory experience for little ones, as well as seeing the impact of the mark they can make when they stamp it down.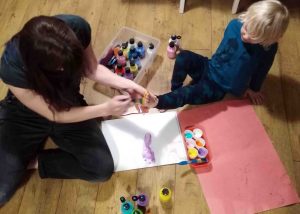 A foot makes a tulip, or a foot with a hand over the top could be a daffodil. You can then help them to add stems and leaves or if they are too small, add these yourself.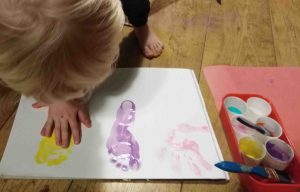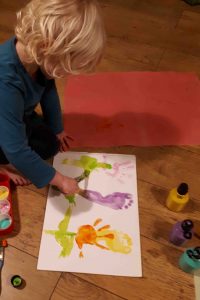 If you don't have paint at home you could try doing this by drawing round hands and feet and cutting them out (or letting bigger toddlers try to cut them out themselves if you don't mind losing the odd finger like we did!). You can then add stems and leaves with pens.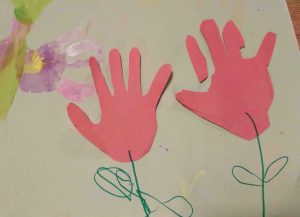 A bunch of paper flowers: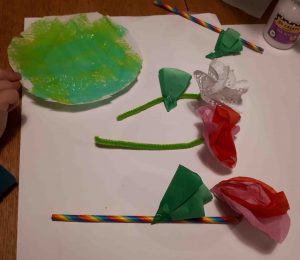 Try making these paper flowers from tissue paper or you can use paper doillies. We even tried one made from kitchen towels cut into circles and painted, which looked surprisingly good. For stems we used a mixture of straws and pipe cleaners but you could also use sticks collected from outside.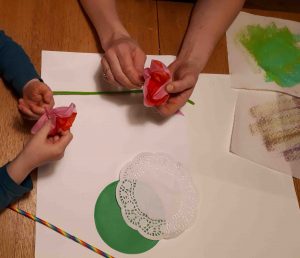 You need to help little ones to pinch the middle of the tissue paper and give it a twist into a flower shape. More layers of paper make it a more frilly looking flower. You can then glue or sticky tape it into whatever you're using as a stem and if you like you can stick on a green bit for leaves. Once dry, they would make a cute present all displayed in a bunch.