At our messy session in DCA today we were thinking about Alberta Whittle's exhibition and were inspired by all the waves and weather to make some rainy paintings.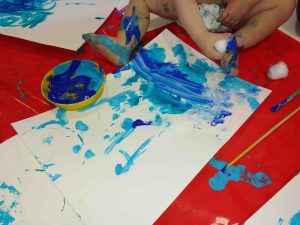 All the little ones got creative with blue paint, water squirters and cotton wool.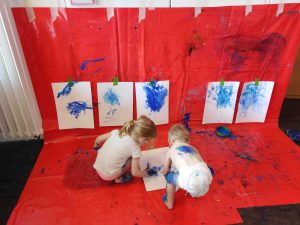 If you'd like to try it at home you need:
Blue paint – non toxic, water based
Thick absorbant paper
Plastic sheet or table cloth
Masking tape
Cotton wool
Set up by sticking some plastic sheet to the wall or door so that it is half up the wall and half on the floor. This will catch any drips and stop it making too much mess. Then stick your paper onto the plastic so your wee one can reach it easily. If you don't have plastic it would also work to try this stuck to the side of a bath tub or shower so all the paint dripped in. And then you'd be in the right place to get clean afterwards too!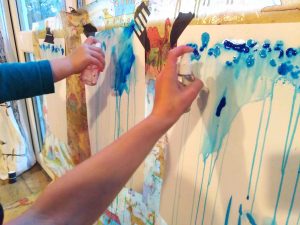 Help your wee one put some blobs of blue paint onto the paper. Near the top is good to give lots of space for drips but it doesn't really matter. You can use a few shades of blue if you're feeling fancy. Then the fun bit….Let wee ones lose with a water squirter, something like a plant mister or old spray from cosmetics works really well. They spray onto the paint and it will start to run down the page making great raindrops. They can keep adding paint and squirting till they're happy and add cotton wool on top of the thicker paint at the top to make clouds.
This is definitely 'process art' so let them experiment and see what happens. When they want to try something new you could add a little blob of paint into the squirter and shake it up and see if that gives a different effect.
It's a good idea to leave the paintings tapes up vertically to dry so the drips stay extra drippy.