This is a fun way to bring something different to painting with little ones. Doing a contact print from paint on a surface rather than straight on to the paper gives a different effect to the finished painting and you can do several from one surface to get a set. Wee ones seem to like the chance to paint on something normally out of bounds and the smooth surface lets them push about the paint in a different way to when it's on paper. We particularly like the mini paintings from the cupcake tin as they are easy to handle when you're small and look cute all together or stuck onto cards to send to relatives.
You need: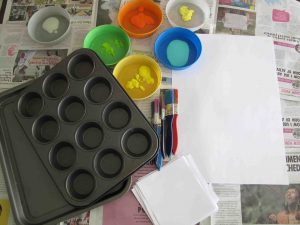 Cover the table or floor with newspaper or plastic
Metal baking trays
Cupcake or muffin tins
Non-toxic water based paints (or our flour paints recipe)
Brushes if you have them but you can also just drip and spread
Paper – big bits and cut into little squares (you could also use cereal box card if you're out of paper)
Let little ones pour or brush paint onto the underside of a baking tray. For babies you might want to put the drips of paint on yourself and let them feel it and smear it about.
When they are happy with their design, help them to lay on a sheet of paper and gently rub the back before peeling off to reveal the print.
You should be able to print several before the paint runs out or they can add some new drips and try again.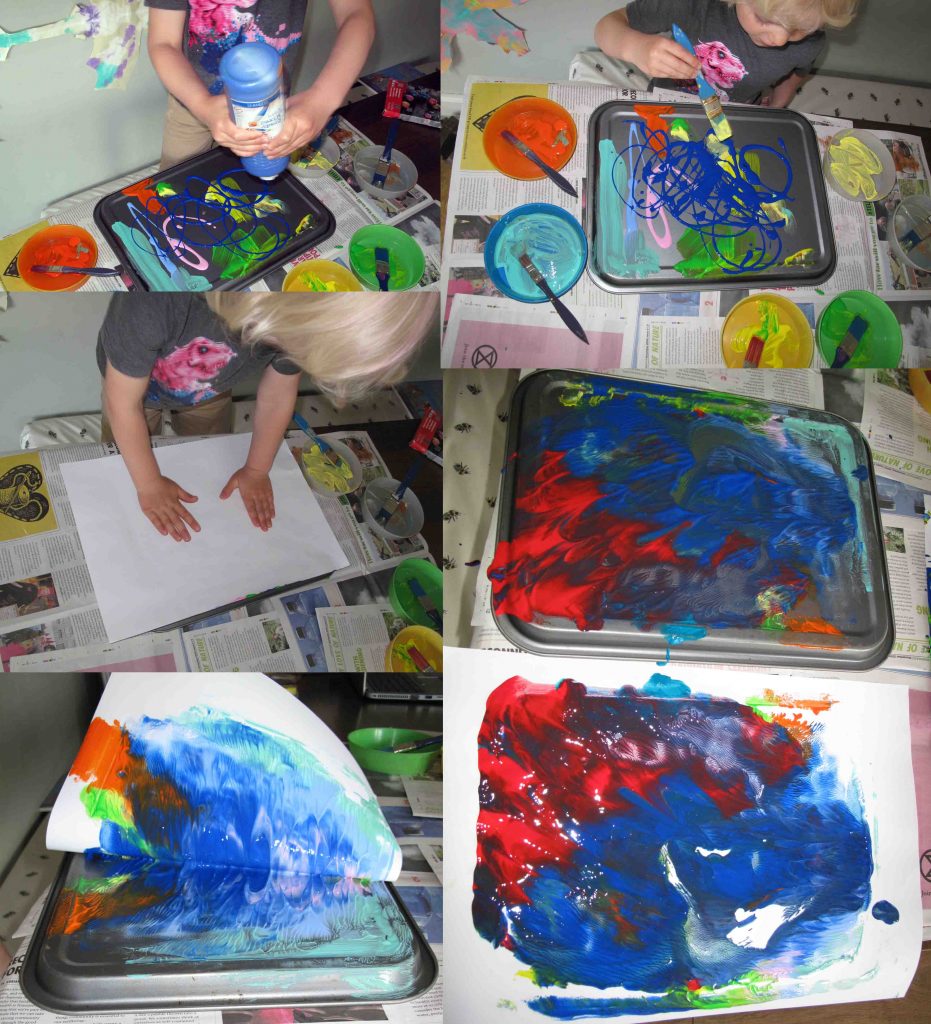 For the little cupcake prints we cut our paper into small squares and then did the same thing. Spreading colours over the underside of the cupcake tins and then printing each one. This would also be a good chance for toddlers to practice mixing different colours and seeing what happened as each little circle is a different experiment.

These look lovely put up as a collection or you could use them for collage. Today we decided to make ours into a caterpillar by cutting out each circle as we'd been on a bug hunt in the morning.