Thank you to everyone who participated in the Art at the Start for 3-5s sessions at DCA, and to those who took part remotely in the Home Drawing Study in 2022. We are in the process of analysing the surveys and drawings, and will notify participants once the report is ready in 2023.
NEWS:
Family Activity Sheets for Ages 3+
–a set of four double-sided activity sheets inspired by exhibitions at DCA
DCA are launching a set of activity sheets for 3-5 year olds, as part of a DCA Learning Programme exhibition during April 2023 in the main Gallery 1. This is called "Spring Studio Pop Up" and aims to make the work they do with families and community groups more visible to a wider public.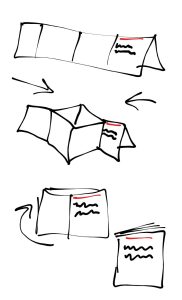 In 2022, Holly Rumble conducted research into how families with young children used DCA's activity sheets. She wanted to find out if the same activity could be suitable for both 3-year-old and 5-year-old children, and what support parents might need to use the sheets independently with their children. The research has resulted in a redesign of the four activities used in the study, which are available as a set for families to take away.
She found that younger children tended to lose focus if an activity appeared to have two distinct tasks, and so has designed an 'extension task' for older children. This appears on the reverse of the new sheets.
She also found that some parents needed reassurance that it was fine for their child to "go off on a tangent" and that they didn't have to "create something that's perfect. It's more about just having fun." The new sheets deliberately use a loose illustration of the stages and outcomes, so that parents do not feel that they must make their child's artwork look like the example on the sheet.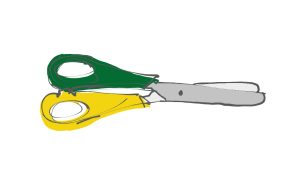 Finally, there were many comments about first-time scissor use being "stressy" and so the new sheets include tips about how to support the child's early experiences with scissors. Again, it may mean allowing time to explore, rather than cutting perfect lines.
The sheets also include a brief note to indicate which developmental skills the activity may encourage. These are also based on observations made during the study. These include prosocial skills, such as collaboration and turn taking, and fine motor skills, such as using pencils or scissors.
Information about the exhibition can be found here:
https://www.dca.org.uk/whats-on/event/spring-holiday-pop-up-community-exhibition
Creating Exhibition Activity Sheets: sharing models of practice
-an Engage Scotland event with DCA
This event offers gallery education practitioners, freelance art educators, and teachers the chance to reflect on your own exhibition activity sheets or resource packs. You will hear about the research findings from Art at the Start Collaborative PhD between DCA and University of Dundee, and after lunch, take part in an illustration workshop to develop a visual style of communication with fewer words. At DCA we have found that we don't spend enough time considering what families may need and how they may find the experience of using our activity sheets. We are in the process of re-developing this kind of 'light touch' resource in view of recent research.
Tuesday 25th April, 11am-3pm.
Booking required: