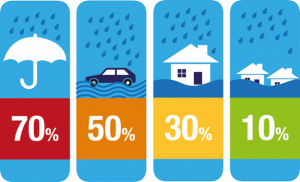 We're often surrounded by risks in our daily lives:
Is it safe for me to cross the road now?
Is the food at this burger van safe to eat?
Is this web site safe to use?
The risk of flooding which might affect our homes or our lives often isn't one of our highest priorities.  We might know it's been there as a possibility since we moved to our current address.  We might know that we've seen rain or storms before; we might also have an optimistic outlook on all these risks.  We don't want to be pre-occupied by them, do we?  And if we even went looking to find out about risks, would they be applicable to us anyway, and how certain would the assessments of risk be?
Today we publish the results of a pilot project arising from a collaboration between RAB Consultants and University of Dundee researchers.  Through the use of focus group research, it explores attitudes to communicating the risk of flooding on an individual basis, and considers how uncertainties can be expressed in ways which are locally specific and easy to understand.
The research was made possible through an incubator grant from the University of Dundee's Centre for Environmental Change and Human Resilience (CECHR – now part of the Institute for Social Science Research).
Download: Communicating Flood Risk with Uncertain Predictions
Full citation: Cranston, M, Cuthill, F, Smith, F, Black, A and Malcolm, J (2018) Communicating Risk in Uncertain Predictions.  University of Dundee, 8p.