An Online Science Fair created by the level 3 Physics and Physics with Astrophysics Students at the University of Dundee
All activities are intended for children of primary and secondary school age. If you want to try one of the experiments, please watch carefully and let an adult help you. You can access the activities and videos by clicking on their pictures.
Scroll down to learn more about rockets, space travel, making big explosions with Lycopodium powder, and what light and colours are.
Do you want to learn all about rockets?
Click on the image below to learn how they fly, how they land, with interactive games and crafts.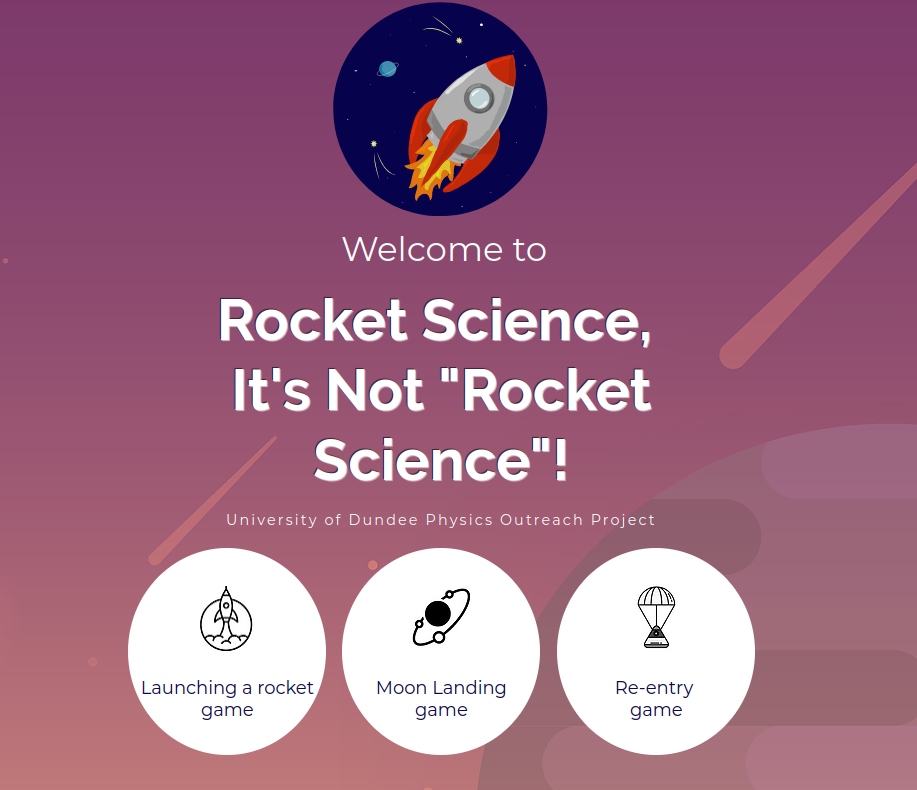 Can you help the astronauts find their way?
Play the interactive game by clicking on the image below.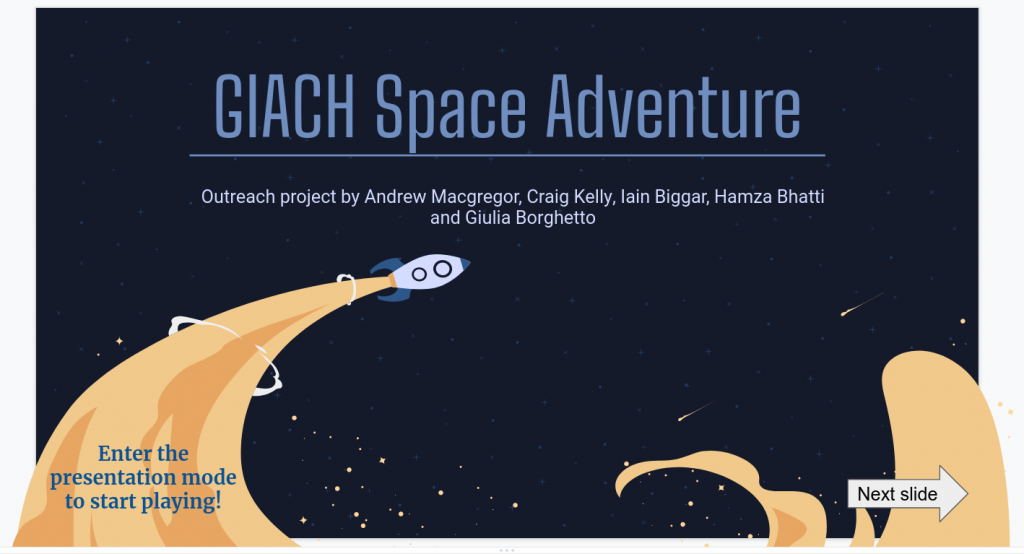 Ever wondered how do people make huge fireballs with Lycopodium powder?
Follow this link for a question-and-answer quiz with more fun videos. Created by Aarambha, Gregor and Aiden.
Have you ever wondered about what light is?
Click on the videos and poster below, created by Alex, Joe, and Leon.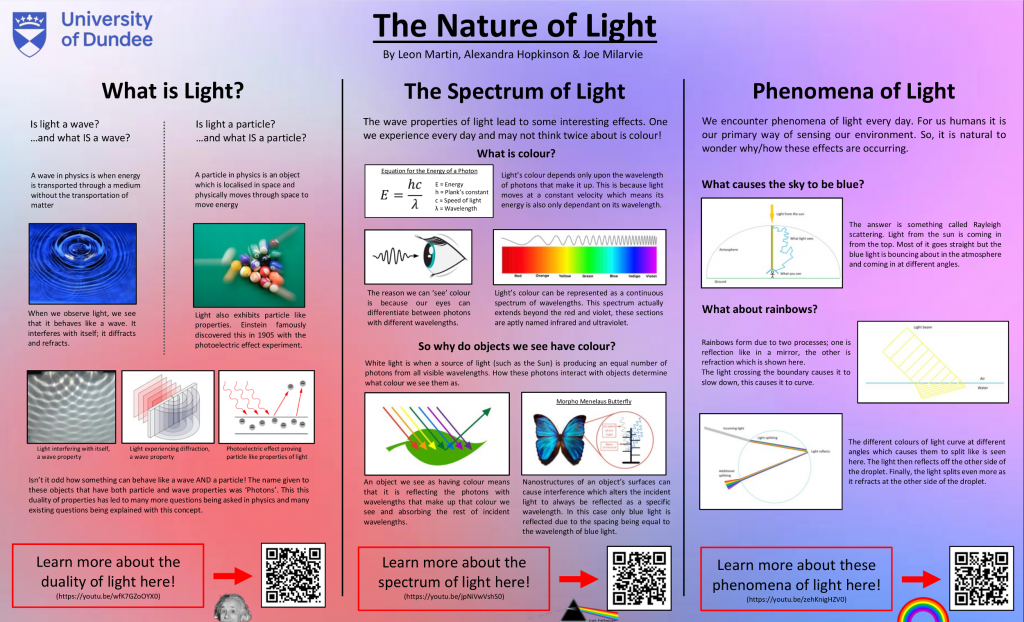 Greenhouse effect and our carbon footprint
Greenhouse effect by Oran, Inés, and Stan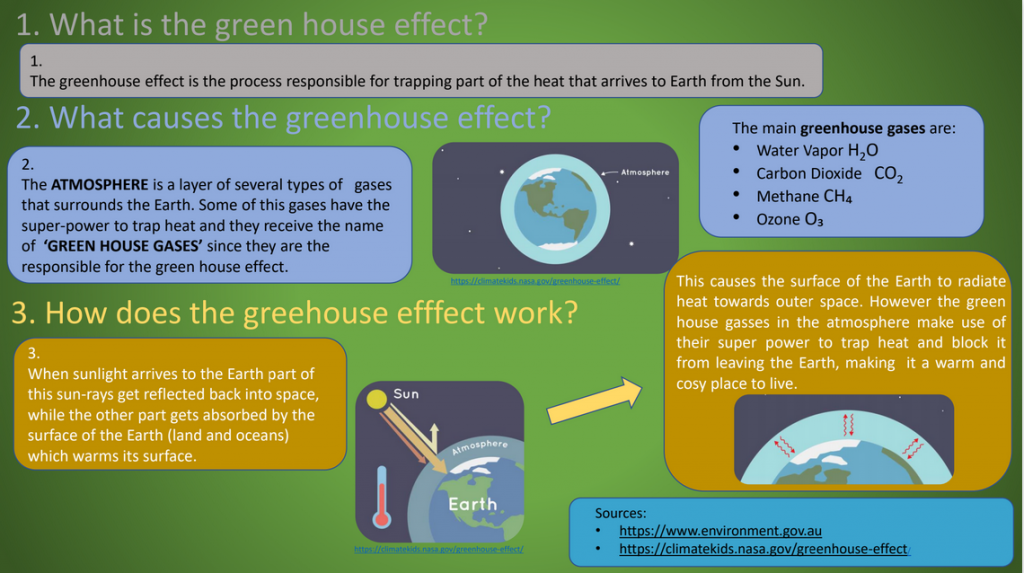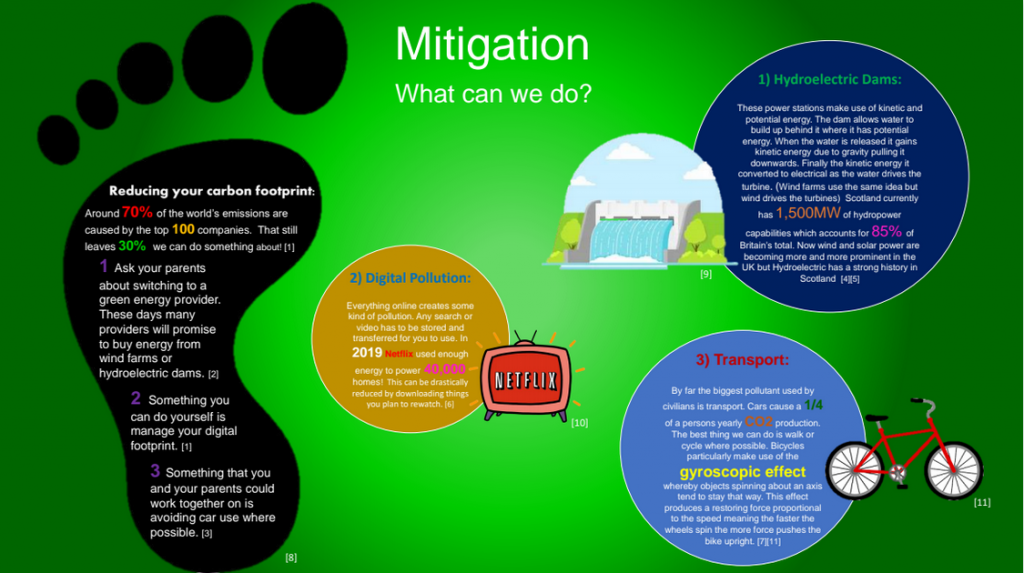 Some references about the Carbon Footprint poster
https://en.reset.org/act/12-things-you-can-do-climate-change-0 – [1]
http://www.imperial.ac.uk/stories/climate-action/ – [2]
https://www.bbc.com/future/article/20181102-what-can-i-do-about-climate-change – [3]
https://www.bbc.co.uk/bitesize/guides/zsmpk7h/revision/2 – [4]
https://www.drax.com/energy-policy/a-brief-history-of-scottish-hydropower/ – [5]
https://www.theguardian.com/commentisfree/2020/feb/12/real-problem-netflix-addiction-arbon-emissions – [6]
https://www.bbc.co.uk/bitesize/articles/zf6v6v4 – [7]
https://www.pngfind.com/download/iwJixho_footprint-svg-child-hd-png-download/ – [8]
https://www.shutterstock.com/search/cartoon+dam – [9]
https://www.clipartkey.com/view/oRxiRh_netflix-png-transparent-image-animated-netflix/ – [10]
http://clipart-library.com/bike-cartoon.html – [11]