World Water Day series – post by Dr Nandan Mukherjee
More than 40% of people on earth reside in coastal regions that are less than 100 kilometres from the ocean, where they are subject to climate challenges like rising sea levels, intense rainfall, and extreme flooding. Each year, this results in $40 billion in losses and damages. According to the UN's Sendai Framework for Disaster Risk Reduction, these disasters resulted in 700,000 fatalities, more than 1.4 million injuries, and roughly 23 million people becoming homeless between 2002 and 2012. About 45 million people in Bangladesh reside in regions where powerful cyclones frequently destroy homes and means of livelihood. While the IPCC's sixth assessment report highlights the weakness of infrastructure-based water management solutions to address climate change impacts, nature-based approaches have the potential to overcome the barriers and constraints to adaptation by addressing avoidable and irreparable loss and damage.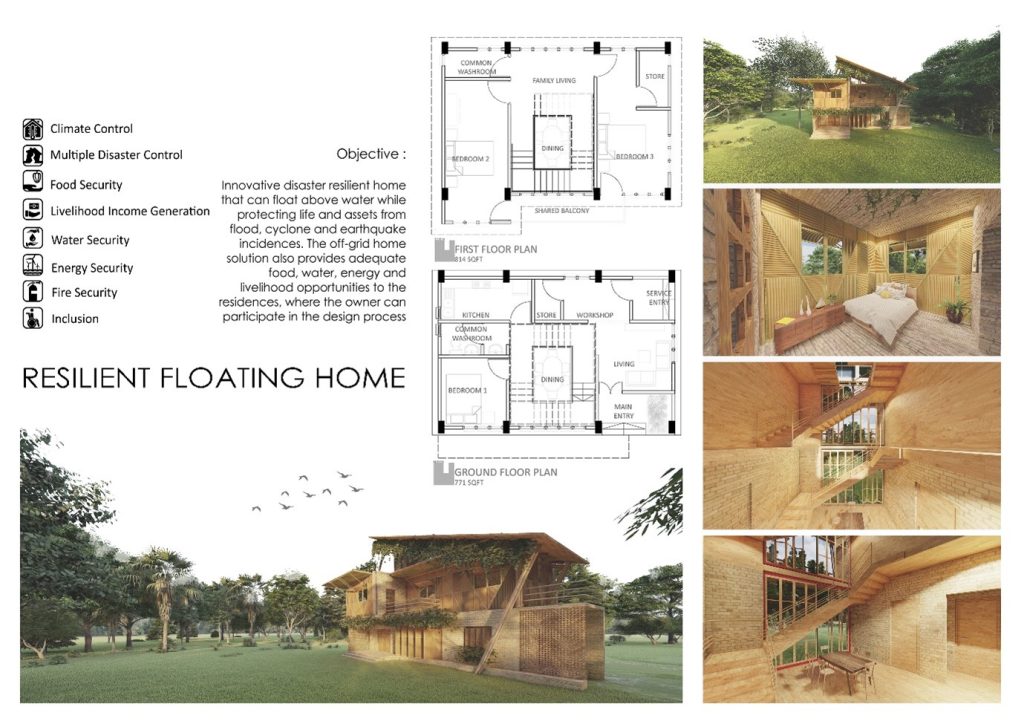 UNESCO centre Dundee's ongoing flagship action research in Bangladesh offering 'one water management solution for SDG' has the potential to overcome the critical challenges to achieve sustainable development around implementation, instability, and governance. The ultra-low cost, climate-resilient, livelihood-inclusive, nature-based, co-designed and co-developed integrated water management solution around a net zero building envelope cost only 3.5% (£3500) of the estimated annual budget for implementing the SDGs ($5-7 trillion per year) by offering the solutions to all the homeless families in the world (est. 30 million). Apart from addressing resilience to climatic hazards, for example, flood, drought, storm surge, sea level rise and salinity intrusion, the home offers devolved and decentralised water management solutions to individual climate-vulnerable families to address the root causes around structural inequality, powerlessness, and poor governance etc.

Primarily locally sourced carbon neutral materials used in the construction of the building aims to target the most significant greenhouse gas emission sector, i.e., the construction industry, which causes more than 40% of greenhouse gas emission of the full account. The off-grid home ensures the uninterrupted provision of essential lifeline services (water-energy-food nexus) and climate-insensitive, gender-inclusive livelihood options to a vulnerable family to adapt against poverty and hunger. Capturing black carbons in the form of handmade tiles, and substituting carbon-intensive building materials, for instance, Portland cement, steel and wood with lime and bamboo, helps achieve the global and national target for nationally determined contribution (NDC) under the Paris agreement and net zero ambition.

University of Dundee's beacon research institution Centre for Water Law Policy and Science has been invited to participate in the United Nations Water Conference, considered the most important water event since 1977. The critical agenda for the event is the comprehensive midterm review of the implementation for the international decade (2008 to 2018) for action with the slogan 'water for sustainable development'. Professor John Rowan, Director of the UNESCO centre, is going to present this concept in a very high-level event on 23rd March along with other ministerial delegations and UNESCO centre representatives.