What I am Reading Now…
Awuor Onyango
October 2022
I thought I was reading about Love and its associated anxieties.  
Election season in Kenya is usually traumatic; I wanted to believe this one wouldn't be. I dove into this podcast (Dissect season 6) that gave me a more contextualised look into Beyonce's Peabody winning visual album Lemonadeand its themes around love, shame, broken relationships, patriarchy and generational 'curses' brought on by surviving systemic injustice. I started to chart what this would look like for my own family, how our history is interwoven into the country and its politics, how much one affects the other, how one could perhaps redeem the other. I wanted to believe these elections would be different so badly I tried to borrow Beyonce's hope. 
It wasn't until I read Communion: The Female Search for Love by bell hooks, where she says, 'Feminist women stopped talking about love because we found that love was harder to get than power. Men, and patriarchal females, were more willing to give us jobs, power, or money than they were to give us love.' that the tension between Love and Power that elections represents became clear to me. A history of being systematically denied power had made elections traumatizing. If all you've ever been exposed to is state violence then becoming the state, getting the job and money and 'representation', the military might, the Power becomes a stand in for love. And so what was love in the face of this traumatic performance of political power? 
I thought I was reading about Love and Power, and then the elections happened and calls for peace and calm started to overpower the danger and harm and fear people were feeling. A country was reduced to an economy and any emotion was met with mockery. It's then that I realized what I was reading about; the erotic. 
'When times are good, Eroticism is what converts the mundane into magic. When times are tough, (it) inspires us to survive—and even to thrive—despite all odds. It is why we make art and music and go into nature when we are in pain. It is the orchestras in the concentration camps, the choirs in the cotton fields, the dark humor shared by refugees all around the globe… the blues… both the letters of longing and the poetry of heartbreak… the playlist we make for a friend working graveyard shifts at the hospital…the spirit that creates new life when death is ever-present.' Esther Perel says in her newsletter having grown up in a community of holocaust survivors and seeing those who "were not dead" and those "who came back to life". And then I ran into this excerpt on Twitter, having no context to either people.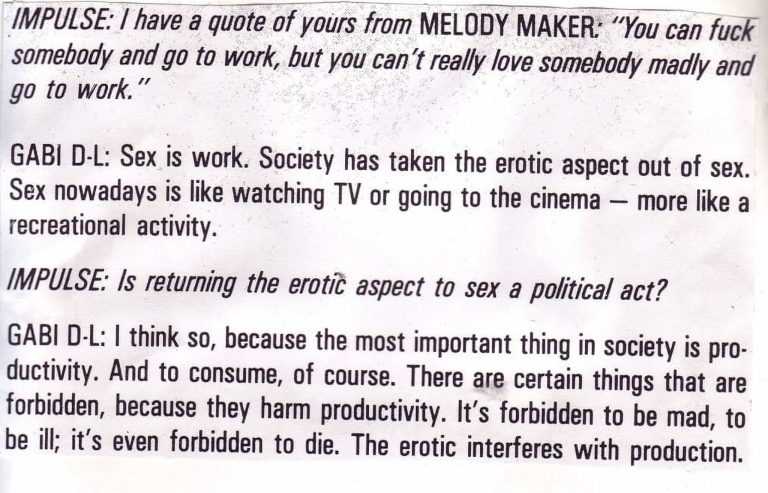 'So scared to feel anything, to grieve, to cry, to be angry all we can do is focus on the economy', I wrote to a friend about the psycho-spiritual failures of the country, masked as calls for peace and acceptance of what many feared will become a dictatorship. 
'The principal horror of any system which defines the good in terms of profit rather than…of human need, or which defines human need to the exclusion of the psychic and emotional components of that need… is that it robs our work of its erotic value, its erotic power and life appeal and fulfilment. Such a system reduces work to a travesty of necessities, a duty by which we earn bread or oblivion for ourselves and those we love… It is also profoundly cruel.' Audre Lorde says in her essay Uses of the Erotic: The Erotic as Power. 
I've been searching for ways to nurture the erotic within me and in my community, despite the political, biological, climate and capitalist pandemics at our doorsteps. So far it's meant listening to Beyonce's Renaissance for affirmations to rebirth those parts of me intentionally, 'vilified, abused, and devalued…by the male world, which values this depth of feeling enough to keep women around in order to exercise it in the service of men, but which fears this same depth too much to examine the possibilities of it within themselves.' (Audre Lorde) and cultivating that joy, not judging myself whenmy "productivity" takes a hit, making a playlist, planning a low risk high reward playdate with my friends, pedicures and mumbling "You won't break my soul" and "comfortable in my skin" until I believe it.
Awuor Onyango is a writer and multisensorial artist based in the pagan citadel of Nairobi, Kenya. Their multidisciplinary and multisensorial approach is rooted in the ephemeral, interactive and lived art traditions of East Africa, inviting, engaging, honouring and centering the voice of the side-lined, erased, in danger of amputation, aiming to integrate our ruptured histories, mythologies and philosophies into present technologies.  
Lemonade, Beyoncé (Parkwood Entertainment, 2016)
Renaissance, Beyoncé (Parkwood Entertainment, 2022)
Communion: The Female Search for Love, bell hooks (William Morrow Paperbacks, 2002)
Uses of the Erotic: The Erotic as Power, Audre Lorde (Kore Press, 2000, first published 1978)
Letters from Esther #25: Eroticism in Hard Times, Esther Perel (estherperel.com)