What I am Reading Now… is the online iteration of a printed column, of the same name in Cooper Gallery's occasional periodical &labels.
This ongoing online iteration of What I am Reading Now… is influenced by the global political movement Black Lives Matter and invites Black practitioners and practitioners of colour to share, with a preface, a selection of five readings that are shaping their current thinking, research and practice.
(2021 Part 2 here.)
What I am Reading Now…
Rehana Zaman
September 2021
Making paths in the long grass. 
In the talk 'Colonial Time and Islam' Samia Khatun*, described an encounter with an image, seeing the Kasasol Ambia (Story of the Prophets) misidentified as the Quran, in a mosque, in the Australian outback. This reflection forms the basis of Australianama, a book that offered moments of respite and escape during the dark months of January 2021. Samia's writing weaves multiple diasporic routes from South Asia, across centuries, lands and oceans, centring epistemologies of prophecy, myth and dream to rupture European knowledge traditions. The book resonated deeply, extending many thoughts and questions that had arisen through the making of Your Ecstatic Self (2019) as I attempted to fold spatial temporal geographies through the practices of Sufism, Tantra and Shamanism within and beyond Pakistan and the UK.
I have fond memories of filming scenes from the film with writer and curator Priya Jay in an allotment I look after with friends. Last summer Priya shared The moon waned in Capricorn as the Medicine Woman was sleeping. It's a beautifully affecting piece, reaching and grasping through love and grief and it's from the generous citational practice of Priya's writing I found Shawn Wilson's Research is Ceremony: Indigenous Research Methods. An Opaskwayak Cree from northern Manitoba, Shawn sets out a research paradigm drawn from Indigenous ways of knowing, being and doing. The book centres relationality as a process of existing and moving through the world, critically, relationality with accountability. It's method orientated yet personal and asks how knowledge is produced and valued (what is attended to, what is denigrated, what is ignored), within group processes and social contexts.
In January 2018, I began to meet with a group of Black and POC women directly impacted by the carceral system, at a women's centre in Holloway. I came across Mariame Kaba's blog @prisonculture and twitter feed around the same name. It felt like the culmination of many threads – the anti-terror surveillance legislation Prevent affecting me, members of my family and the wider Muslim community, spending time with young British Somali and British Pakistani women discussing their experience of racialised spatial politics within Liverpool, meeting filmmakers involved in anti-racist organising in the aftermath of the city's uprising, deflecting the violent disciplinary measures enacted by the UK Home Office against migrant communities through immigration laws and detention centres whilst running ESOL classes for Voice of Domestic Workers. In We Do this 'Til We Free Us, Mariame Kaba presents a collection of essays and interviews elaborating abolitionist organising and principles of transformative justice. The book is stunning in its clarity, ferocity and vision. The principles of transformative justice and abolition, working to transform harm, to care and attend to relationships intimate and social, moves beyond abstraction in this series of conversations and texts anchored by Mariame's many years of experience as a grassroots community organiser. Over time working with others obscures how art and political activity are conceived, the artwork might fall away or crystalise a moment of connection to speak beyond the bounds of the group. Why and how you come together, what takes priority and what counts as 'the work', ebbs and flows. In Holloway our conversations began with sharing experiences and watching films together, which generated more conversations, another set of actions. Collectively visioning what an alternative to the criminal punishment system might look like, whether that might be a multifaceted women's centre or simply a space 'to lay your head'**. This book arrived after our meetings had paused because of the pandemic but makes me think a lot about what kind of collaborative work was managed before and what is possible now, an invaluable resource for helping bring to reality 'structures of freedom, resistance and resilience'.
Last summer I joined a Marxism for Artists reading group led by writer and academic Jennifer Doyle, approaching Marxism through a BIPOC Queer Feminist lens. It was an incredibly rich set of conversations generated through texts ranging from the Black Coop movement in 1930s America to kinship structures in Radical Anthropology. The reading list was massive and honestly I'm not even halfway through it. Recently Jennifer did a two-session redux of the course focusing on Money and Cryptocurrency. From these conversations I've been working through the MoneyLab Reader, a collection of texts on digital economies, finance capitalism and data. In 2007 I was a producer on an artist film about the impending financial crash of 2008 , meeting with debt activists, hedge fund managers and economists. The terrain has obviously shifted since then but all paths lead back to money – the entanglement of colonial histories and the ongoing projects of dispossession under primitive accumulation. As members of my family have become increasingly immersed in crypto currency investment I've engaged more closely in the discourse surrounding it, particularly the 'liberatory' claims around deregulation, exchange and participation, and how this intersects with notions of property.
I tend to fly through novels when I'm in production mode. The rhythm of reading fiction helps spark connections. My (final) current read is The Virosexuals by Orion J Facey, published by Psss.co, a dizzying science fantasy set in the near future following Amygdala and her Virosexual companions as they navigate a deadly virus rampaging through the underground kink and BDSM scene. I've been around this publication over the past year, catching excerpts, reading interviews with Orion and helping despatch the books. I'm really happy to see it land on UK shores with an incredible cover artwork by Danielle Braithwaite Shirley. It's an intense, visceral and brilliantly weird read which you can get a taste of in this radio play from earlier this year.
* I came across the talk from an Instagram repost of University of Exeter's Institute of Arab and Islamic Studies talks programme by Hassan Vawda, friend and luminary on all things art and faith related.
** Quote from Becky, a member of the group.
*** from Everything worthwhile is done with others, an interview with Eve Ewing.
**** Crisis in the Credit System by Melanie Gilligan.
Rehana Zaman is an artist from Heckmondwike based in London. Her work speaks to the entanglement of personal experience and social life, where moments of intimacy are framed against cultural orthodoxies and state coercion. Conversation and cooperative methods sit at the heart of her practice.
She has exhibited widely in the UK and Internationally. Presentations in 2021 include British Art Show 9 (Touring), Trinity Square Video, Toronto, Borås International Sculpture Biennial (Sweden), Artist Film International Whitechapel, London, and Serpentine Projects, London, (forthcoming 2022). In 2019 she co-edited Tongues with Taylor Le Melle, published by PSS and was shortlisted for the Film London Jarman Award. She is currently a board member of not/nowhere artist workers cooperative and LUX who also distribute her films.
Australianama, Samia Khatun (C Hurst & Co Publishers Ltd, 2018)
Research is Ceremony: Indigenous Research Methods, Shawn Wilson (Fernwood Publishing Co Ltd, 2008)
We Do this 'Til We Free Us, Mariame Kaba (Haymarket Books, 2021)
MoneyLab Reader: An Intervention in Digital Economy, Geert Lovink, Nathaniel Tkacz, and Patricia de Vries (Eds.) (Institute of Network Cultures, 2015)
The Virosexuals, Orion J Facey (PSS, 2021)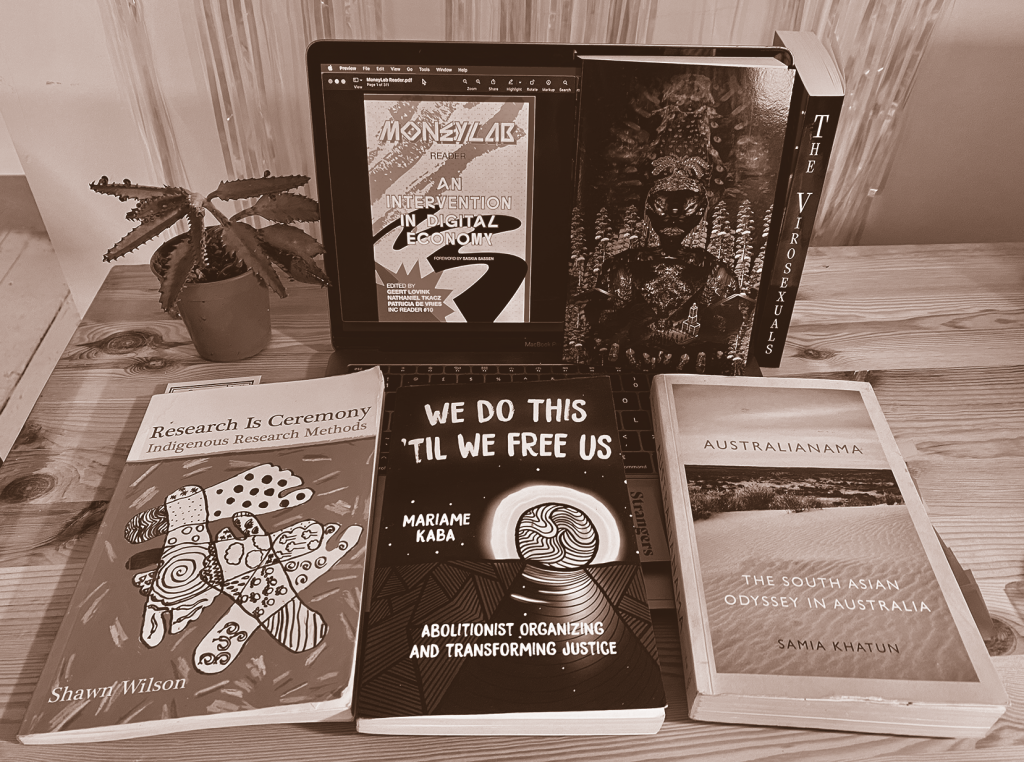 What I am Reading Now…
Jesal Kapadia
August 2021
I'm reading this poem now, from I Saw Myself, Journeys with Shah Abdul Latif Bhitai by Shabnam Virmani and Vipul Rikhi, page 200, The Woman's Voice:
Those who plunge, emerge
That's how it's always been
Submerge in the rampant river
And meet with Meher
Water is the element that remembers, holding the frequency of another timeline. What kind of care has been programmed here?
She said: Heat enters just like water. Transformation occurs – stones melt away as rhythm is in play. Healing occurs when care becomes love…by opening up the pathways. When we send signals of care, we're saying that we're not going to be harmful. We have to combine pleasure with healing; it's magical! When you make decisions together, you are communicating, and that's when the new comes in!
Thank you, Hardip, for the healing collective, for showing us how to read the signs.
I am reading about the transformation of everyday life, from Silvia Federici's book, Re-enchanting the World, Feminism and the Politics of the Commons, page 175.
Where does power reside? How do we rearrange our daily actions, so that we can transcend the traditional psychological viewpoints that individualize our experiences and separate the mental from the social, so that we can start to heal from the systemic harm?
She said: People have said to leave the oil in the ground. So the fight is to leave the oil in the ground, to make decisions collectively. Below the university, is the commons, the spaces of sanctuary.
We are reading a poem, We thought it was oil, but it was blood, by Nnimmo Bassey. It appears in George Caffentzis' book, No Blood For Oil! Essays On Energy, Class Struggle, and War 1998-2016, in the acknowledgements section. We are thinking together about which movements are centred on oil struggle today.
As we walk in the park, Silvia and George tell me about Zerowork, the movement of refusal of work. In another one of his books, George starts with a poem by Lao Tsu, page 6, on the usefulness of nothingness:
Thirty spokes share the wheel's hub;
It's the center hole that makes it useful.
Shape clay into a vessel;
It's the space within that makes it useful.
Cut doors and windows or a room;
It is the holes that make it useful.
Therefore profit comes from what is there;
Usefulness from what is not.
Thank you, George, for reading Rumi together, and Silvia, for re-enchanting our community with daily rituals – the long walks in the park, the farmers market and the cooking of the lentil soup, thank you for the Feminist Research on Violence Collective, and for sharing with us what still needs to be read, discussed and written about.
I find this line in my notes…Self-defense is a perspective. I am reading again Jaspal Singh's, The History of The Ghadar Movement. I remember him reciting this poem by Baba Bulle Shah, when we were reading the Rig Vedas together, tracing the origins of violence:
Meri Bukkal De Vich Chor
Ni Meri Bukkal De Vich Chor
There is a thief in my lap
There is a thief in my lap, my friend
Kihnun Kook Sunnavan Ni Meri Bukkal De Vich Chor
Chori Chori Nikal Gaya Jagat Vich Pai Gaya Shor
Whom should I tell my suffering; there is a thief in my lap
He escaped unknown to me and the whole world knows about it
Meri Bukkal De Vich Chor
There is a thief in my lap
Is it in agriculture? Patriarchy? Nation-state? Where can we be a part of that anti-colonial struggle? We talked about how to never lose the anti-colonial impulse, to constantly engage in an anti-colonial struggle without attaching oneself to any sovereignty, to not historicize anti-colonialism.
Leela Gandhi's Affective Communities, Anticolonial Thought, Fin-de-Siècle Radicalism, and the Politics of Friendship, is also always on my desk, being read together with, and to friends. Thinking about how to live a non-injurious life.
From our dear friend Susana Draper's, 1968 Mexico, Constellations of Freedom and Democracy, I've been reading chapter 2, page 97, Toward a Fourth Cinema. I recall what I had written before – a cinema of refusal, a cinematic non-form that breaks away from the conditions set by capital, a cinema made entirely of the process itself, that cannot be retained, that disappears and renews itself when recalled, that creates an unforgettable loss, but loss on the autonomous side.
With Avi, I have not stopped reading Gayatri Spivak's writings. We rehearse her words, millennial cognitive damage, epistemic violence…holding space for riyaaz, this daily practice of restitution, for this much needed ulfat ki bahaar, this spring of friendship among melting church organs and the harmonium. We want a collective subjectivity as a constant practice (thank you, Annie, for putting it this way, and for our imaginary maps), of being together in relation to the text.
What is the time of devotion? Becoming a bhakt, singing the common sorrow, between seva and tequio, (muuch meyaaj, as Valiana taught me how to say it in the Mayan dielect), this is the time of the fiesta. The farmers have been gheraoing* for nine months now. The langar is open and ongoing, no one will go hungry. There is a jinn in the air!
We read again from Shah Abdul Latif Bhitai, One Palace, One Million Doors, Journeys into Kutchh, Chapter One, page 1:
Let's go, my sweet
To the land of the beloved
Where nothing arises
And nothing subsides
Lets go!
Thank you Shabnam, for planting the beej mantras in us!
And lastly, dear Sophia, I want to read you something from this book that's in my hand, Agha Shahid Ali's Call Me Ishmael Tonight, A book of Ghazals. Pick a number – single, or two-digit. I'll open that page and read the ghazal to you!
*Gherao, meaning "encirclement", denotes a tactic used by protestors in the Indian sub-continent, similar to picketing. Usually, a group of people would surround a politician or a government building until their demands are met, or answers given.
Jesal Kapadia is an artist living between New York City and Bombay. Her work explores the potential forms of non-capitalist subjectivities. She has been thinking together with different communities of care that have come together to create spaces and situations through which to refuse, re-arrange, retrieve and re-enchant the capacity of art in creating new knowledges and new sensibilities for being together. Practices of commoning, weaving the intelligence of friendship and affection in the connective fabric that allows for removing conscious and unconscious dynamics of patriarchy from our bodies, have been central to these experiments.
I Saw Myself: Journeys with Shah Abdul Latif Bhitai, Vipul Rikhi and Shabnam Virmani (Penguin Random House India, 2019)
Re-enchanting the World: Feminism and the Politics of the Commons, Silvia Federici (Pm Press, 2018)
No Blood For Oil! Essays On Energy, Class Struggle, and War 1998-2016, George Caffentzis (Autonomedia, 2017)
The History of The Ghadar Movement, Jaspal Singh 
Affective Communities: Anticolonial Thought, Fin-de-Siècle Radicalism, and the Politics of Friendship, Leela Gandhi (Duke University Press, 2006)
1968 Mexico: Constellations of Freedom and Democracy, Susana Draper (Duke University Press, 2018)
Call Me Ishmael Tonight: A Book of Ghazals, Agha Shahid Ali (W. W. Norton & Company, 2004)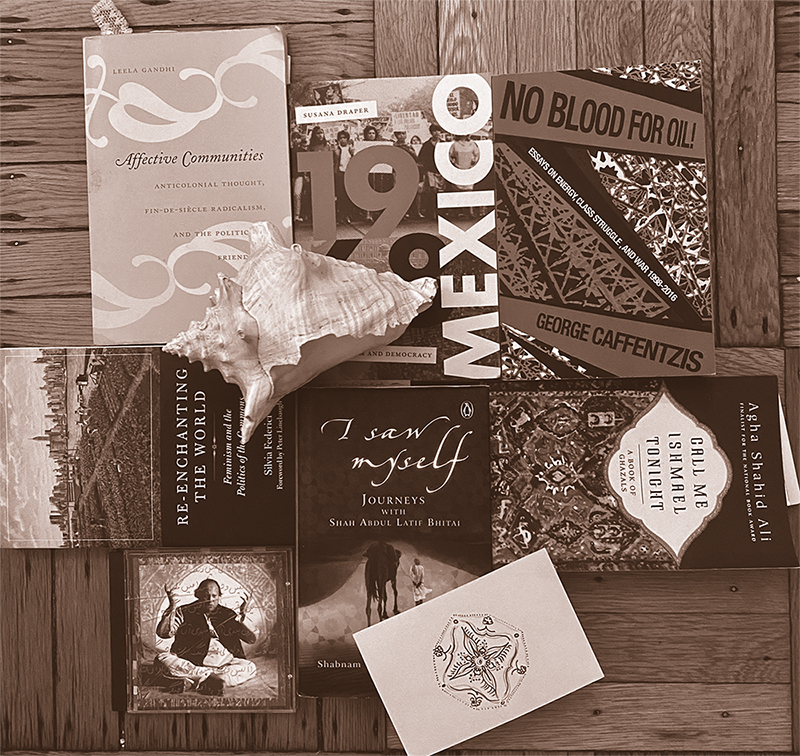 What I am Reading Now…
Jemma Desai
July 2021
I am thinking a lot about the violence of cognitive dissonance. As a writer I have often been humbled (and sometimes wounded) by the ways the same words read by two different people elicit such viscerally (in)different responses, sometimes considerably removed from what was intended. So I think this list is less about what I am reading now and more about how and why I am reading now.
There are periods in my life where reading provides a sustenance and nourishment that I can find nowhere else. These are spans of time where I am sheltered by the clarity of words; books become my witness when the external world appears to deny my internal one. This past year I have seen so many statements circulated, pages and pages of words, but who has been witnessing them? Recently when I've taken solace in reading, I have wondered about reading as a radical act of solidarity, one for myself, to witness myself, but also to the words on the page, their intention and meaning.
In Octavia Butler's Kindred the protagonist Dana is compelled back through time in order to protect the life of a brutal white slave owner to whom she owes her lineage. Kindred taught me so much about the reality of our interdependencies, how our lived differences make the ways we are dependent on each other sometimes painful and inextricable. There is a romance to saying we cannot survive without each other but in Kindred, Dana's hope, her relentless insistence on her future self and her future freedom comes with deep, irrevocable losses. The book taught me the truth of what abolitionist Mariame Kaba has described as the "discipline" of hope – the sometimes strained practices of interrelation that we must commit to if we reach for collective liberation in a world that isn't yet free.
As a parent of a mixed heritage child, I am thinking a lot about race and power and how they shape our most intimate relationships. Kathleen Collin's Whatever Happened to Interracial Love? has been sitting on my shelf for a long time. Set in the 60s and 70s Collin's short stories tell of a time where Black and white idealists dreamt of a type of love and kinship that the structures of race and racism could not reach. At the same time they created families that could not escape the toxic violences of racial capitalism, finding pockets of freedom not quite in a mythical 'acceptance', but in respectability politics, colourism and intellectual pretensions. The stories, so rare and precious in their insights, are often spoken about in the context of our collective indifference to the work of Black women writers. But behind this story is another about the ways we fail to see those closest to us. The stories lay in a trunk for 20 years after Kathleen Collin's death, finally unearthed after by her daughter, Nina. Full of rage after the breakdown of her own marriage she searched for clues on the breakdown of her parents' relationship which had mired her childhood. Inside she found stories that were "barely fictionalised"– little portals into a mother that had been a complete mystery to her while she lived.
Gail Lewis' Birthing Racial Difference: conversations with my mother and others is a letter written to her white mother. Lewis describes how she lived the reality of being "Birthed two times in a few minutes – once in racial difference, once in tenderness and care." Despite the palpable pain and grief in her descriptions of the ways that racism entered their relationship and at times withheld her mother's love, the letter shines with a luminous trust. Written after her mother's passing, it is a letter her mother will never read, perhaps it is a letter she might never have understood, but inside is a belief in the value of forming words for our mothers and others, sharing them as acts of ancestral witnessing and solidarity even if they fail us in our efforts to make our relationships whole again.
The Marathi language title of Indian writer and activist Urmila Pawar's autobiography The Weave of My Life: A Dalit Woman's Memoirs is "aaydan", a word relating to all things made from bamboo. Pawar's mother whose marginalised caste background meant she never learnt to read, wove aayadans as a method of survival. Pawar's life as a thinking, writing woman traverses a gulf of cultural difference; her mother unable to read her words. Through her title though, Pawar weaves a connection to her, witnessing the "weave of pain, suffering and agony that links us". The book is dedicated to her mother, but it is also a document to another dance between sameness and difference — a lifetime of trying to be seen as a liberated Dalit intellectual, as a writer, a thinker and a feminist in the casteist upper echelons of Indian feminist and literary circles.
I think about the liberal impulse to smooth out differences when I read for Palestine. In Letters to Palestine: Writers Respond to War and Occupation, edited by Vijay Prashad, a group of writers come together to offer the gift of writing as articulation. They rewrite empty wishes for 'peace in the middle east' to clarify the liberal insistence that the 'conflict' is too complex to comment on. These missives are acts of solidarity – another dance with differences and sameness. Written in 2014 American writers share pages with Palestinian to connect the consciousness raised from international attention on Operation Protective Edge, Israel's seven-week bombing campaign and ground invasion of Gaza in the summer of 2014 with the uprisings against police violence in Ferguson in the same year. When I read Letters to Palestine, I am reminded of African American poet Lucille Clifton's verses to her mother in which she describes writing as almost the same as hearing. In this volume writers gather in hearing those who are not heard and those that are unwritten and who ask us to write and read on their behalf.
I leave you with a poem from the volume by Naomi Shihab Nye, an American poet whose father was a Palestine refugee and her mother an American of Swiss and German descent.
Please Look Closely
Where does terror come from?
Possibly from people who are terrified.
Why does it hurt more when the killed
were boys on a beach?
They had the breath of the sea in their lungs.
They were running, leaving footprints.
Does the word "innocent" have no bearing anymore?
Depends on what you use it for.
Why can't the world see?
The world can see.
It's the people with keys to bombers who can't see.
They will win. Be on top. No more shoddy little rockets from you
second-rate folk.
Maybe they forget what it felt like to be slaughtered, collectively.
It's been going on so long they forget
what they did to begin with. How this thing got going.
Why so many ended up pressed into small hard places.
They stole the land.
Murdered grandparents. Chopped trees. Rechanneled water.
Changed the stories. Kept doing it. Said everything belonged to them.
Jemma Desai is based in London. Her practice engages with film programming through research, writing, performance, as well as informally organised settings for deep study. She is about to undertake a practice based PhD on the histories of liberatory performance and moving image and the possibilities opened up through ideas of abolitionist praxis at Central School of Speech and Drama. You can find more about her work here.
Kindred, Octavia E. Butler (1979, reprint: Headline, 2018).
Whatever Happened to Interracial Love?, Kathleen Collin (Ecco Press, 2016)
Birthing Racial Difference: conversations with my mother and others, Gail Lewis (Studies in the Maternal, 1(1). p.1-21, Open Library of Humanities, 2009)
The Weave of My Life: A Dalit Woman's Memoirs, Urmila Pawar (Columbia University Press, 2015)
Letters to Palestine: Writers Respond to War and Occupation, Vijay Prashad (ed.) (Verso Books, 2015)
What I am Reading Now… is the online iteration of a printed column, of the same name in Cooper Gallery's occasional periodical &labels.
This ongoing online iteration of What I am Reading Now… is influenced by the global political movement Black Lives Matter and invites Black practitioners and practitioners of colour to share, with a preface, a selection of five readings that are shaping their current thinking, research and practice.
What I am Reading Now…
Emma Wolukau-Wanambwa
April 2021
I am enormously privileged to be collaborating right now with a group of extraordinary young black women based in Norway who have recently begun making creative projects together under the name 'Oi!' I first met them two years ago in the course of researching what became my curatorial contributions to the 2019 Bergen Assembly triennial exhibition. Since then, Oi! has taken on a life of its own: the group has participated in a further two exhibitions, presented their work a two high-profile conferences, founded an African Students' Association and a creative writing project, begun work on a "survivor's guide to Norway" for young people of colour that will hopefully be published later this year, and also started developing a new project at the invitation of Kunsthall Trondheim. And all this in what little time they have away from work, study, volunteering and family. Their energy and dedication is positively humbling.
At this point in our collaboration, I see it as my task, as George Shire once put it, "to help them make sense of their everyday, and to support them in developing the tools they would need to transform it – should they so choose." For that reason, I have been thinking a lot about the popular education movements that emerged in the mid/late twentieth century, particularly those that originated in the context of grassroots political struggles in the Global South. And I have been of course especially interested in the roles that creative practices have played in those struggles.
My current reading is a reflection of this – that is, a desire to discover how best to deploy creative practices in the service of the revolution we so desperately need. In no particular order:
– Participatory action research (PAR) is an epistemological framework that originates in the critiques of knowledge production levelled by popular education, anti-sexist and anti-racist struggles since the mid-20th century. PAR challenges exclusionary academic notions of what counts as knowledge, and legitimizes and prioritizes expertise and perspectives that derive from lived experience, particularly the lived experiences of those that have been historically marginalized. Fals-Borda and Rahman's 1991 book Action and Knowledge describes early and important experiments with PAR in Bangladesh, Columbia, India, Nicaragua, Peru, Sri Lanka, the United States, and Zimbabwe that were conducted by academics in the late 1970s and early 1980s who left positions within the university to engage in participatory community research.
– In the widely known essays collected in Teaching to Transgress: Education as a Practice of Freedom (1994), professor, feminist and social activist bell hooks draws on the theories and practices of feminism to imagine what a genuinely emancipatory education might be.
– Writing in the early 1970s, Austrian Catholic priest, theologian, philosopher and theorist Ivan Illich was highly critical of the increasing dominance of technocratic elites and the institutionalisation of specialised knowledge in industrial societies, which he saw as robbing peasant societies of their vital skills and know-how. In Tools for Conviviality, he argues for the need to develop new tools for democratising access to practical knowledge so as to protect and strengthen workers's autonomy.
– Visual Arts Network South Africa (VANSA) have produced a number of excellent handbooks that address various key aspects of cultural production. Described in the introduction as 'not a toolkit but an offering', the 2019 book Organising collates the experiences and strategies of a group of 'arts organisers' who are involved collectives and collaborations across Southern Africa.
– Toolkit for Cooperative, Collective, & Collaborative Cultural Work is a record and a distillation of two evenings of dinner and conversation conducted in 2019 by Baltimore-based cultural organisers, artists, musicians, and community-oriented practitioners who have largely worked through cooperative, collective, and collaborative models in the United States. It documents their thoughts on the value of collectivity and community, their reasons for working through collective models, the challenges they face, and their strategies for overcoming them.
– The Combahee River Collective was a radical Black feminist organization formed in 1974 and named after Harriet Tubman's 1853 raid on the Combahee River in South Carolina that freed 750 enslaved people. The Collective's analysis of the roots of Black women's oppression under capitalism was highly sophisticated, and their arguments for the reorganization of society based on the collective needs of the most oppressed were a far from a mere academic exercise. How We Get Free reprints the famous Combahee River Collective Statement of 1977 alongside essays and interviews with the collectives' founder members.
Emma Wolukau-Wanambwa is a researcher, artist and educator. She is currently a doctoral candidate in artistic research at the University of Bergen, Convenor of the Africa Cluster of the Another Roadmap School and a 'remote researcher-in-residence' at Collective Gallery in Edinburgh. Recent/upcoming exhibitions include: Alchemy Film and Moving Image Festival (Hawick), Many voices, all of them loved (John Hansard Gallery, Southampton), Actually, the Dead Are Not Dead: Bergen Assembly 2019; 62nd BFI London Film Festival; We Don't Need Another Hero (10th Berlin Biennale of Contemporary Art); and Kabbo Ka Muwala (National Gallery of Zimbabwe, Makerere University Art Gallery & Kunsthalle Bremen). Her essay, Margaret Trowell's School of Art or How to Keep the Children's Work Really African was published in the Palgrave Handbook on Race and the Arts in Education in 2018.
Action and Knowledge: Breaking the Monopoly with Participatory Action-Research, Orlando Fals-Borda and Mohammed Anisur Rahman (eds.) (New York & London: The Apex Press/Intermediate Technology Publications, 1991)
Teaching to Transgress: Education as the Practice of Freedom, bell hooks (New York: Routledge, 1994)
Tools for Conviviality, Ivan Illich (New York: Fontana Collins, 1973)
Organising: Collective, Collaborative Organising in Southern Africa, Molemo Moiloa Gapare (ed.) (Johannesburg: Visual Arts Network of South Africa, 2019)
Toolkit for Cooperative, Collective, & Collaborative Cultural Work, Kimi Hanauer & Lu Zhang (eds.) (Baltimore & Los Angeles: Press Press / The Institute for Expanded Research, 2020)
How We Get Free: Black Feminism and the Combahee River Collective, Keeanga-Yamahtta Taylor (Chicago: Haymarket Books, 2017)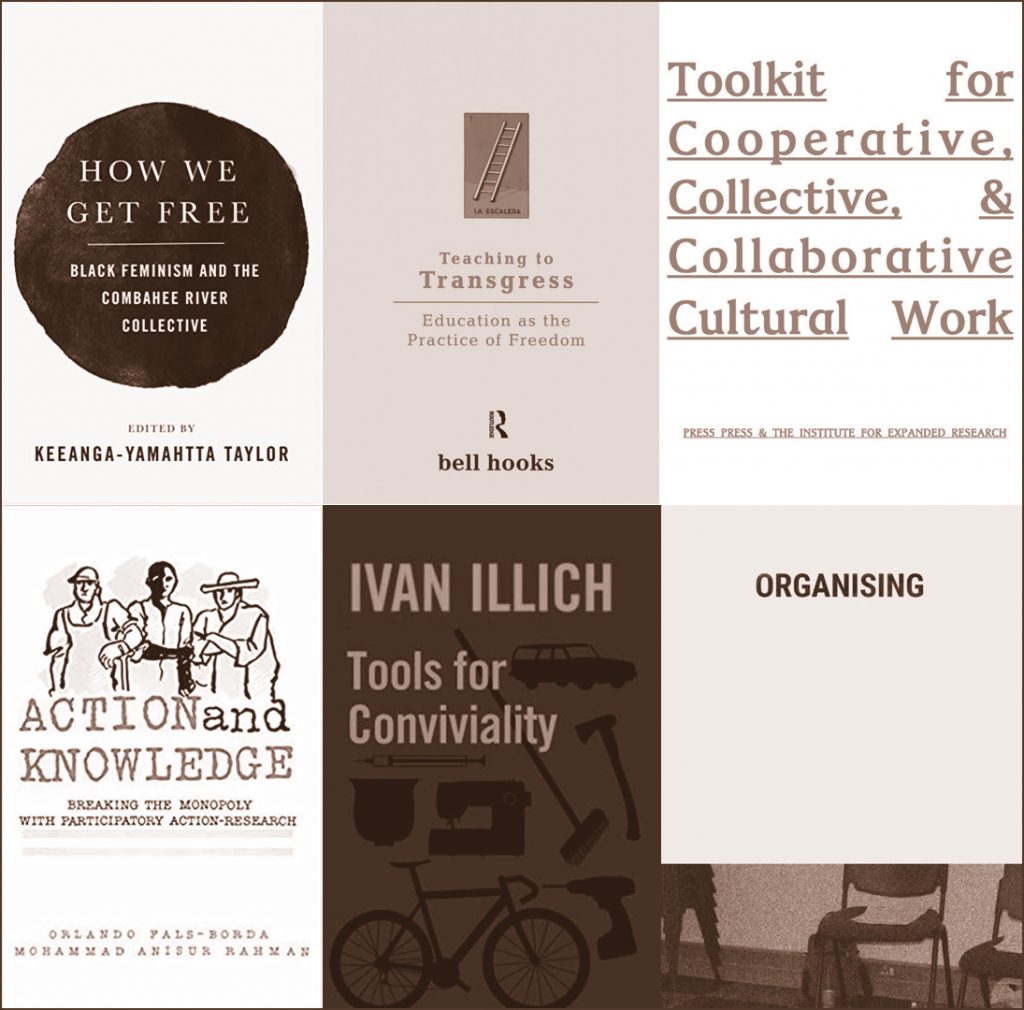 What I am Reading Now…
Sin Wai Kin (fka Victoria Sin)
May 2021
This selection of readings are texts that have helped me frame ideas around dreaming and waking over the past year or so.
Over the first London lockdown, while my waking life came to a standstill, I was able to recall my dreams more vividly and I saw patterns and themes emerge. They often took place in the same handful of places, I would encounter the same animals, family members, and often found myself in the midst of a zombie apocalypse. They showed me what was consciously and unconsciously preoccupying my mind, and my waking and dreaming life began to have a dialogue.
In Chuang Tzu's Inner Chapters, the philosopher Chuang Tzu has a dream that he is a butterfly that is so vivid, he wakes up unsure if he has woken up from a dream of being a butterfly or if he is now a butterfly dreaming he is a man. In The Word for World is Forest, Athsheans value their dreams as much as the waking world, and cultivate their dreams in order to inform their way of life. In The Doors of Perception, Aldous Huxley takes mescaline and conceives of reality as the experience of the senses of an individual body whose limits can be altered using psychedelics. In the 2010 essay Affective Cyborgs, Barbara Fornssler discusses the phallocentric matrix we exist within and how the position of the switch within BDSM and queer culture can point towards ways to wake from it. Listening in Dreams offers meditations and rituals to deepen the experience of your senses in your dreams.
Sin Wai Kin (fka Victoria Sin) is an artist using speculative fiction within performance, moving image, writing and print to interrupt normative processes of desire, identification, and objectification. Drawing from close personal encounters of looking and wanting, their work presents heavily constructed fantasy narratives on the often-unsettling experience of the physical within the social body.
Listening in Dreams: A Compendium of Sound Dreams, Meditations And Rituals for Deep Dreamers, ione (iUniverse, 2005)
The Word for World is Forest, Ursula le Guin (1972, reprint: Orion Publishing Co, 2015)
The Doors of Perception, Aldous Huxley (London: Chatto & Windus, 1954)
The Inner Chapters, Chuang Tzu, translated by A.C. Graham (Hackett Publishing Company, 2001)
Trans Desires/Affective Cyborgs, Micha Cardenas and Barbara Fornssler (Atropos Press, 2010)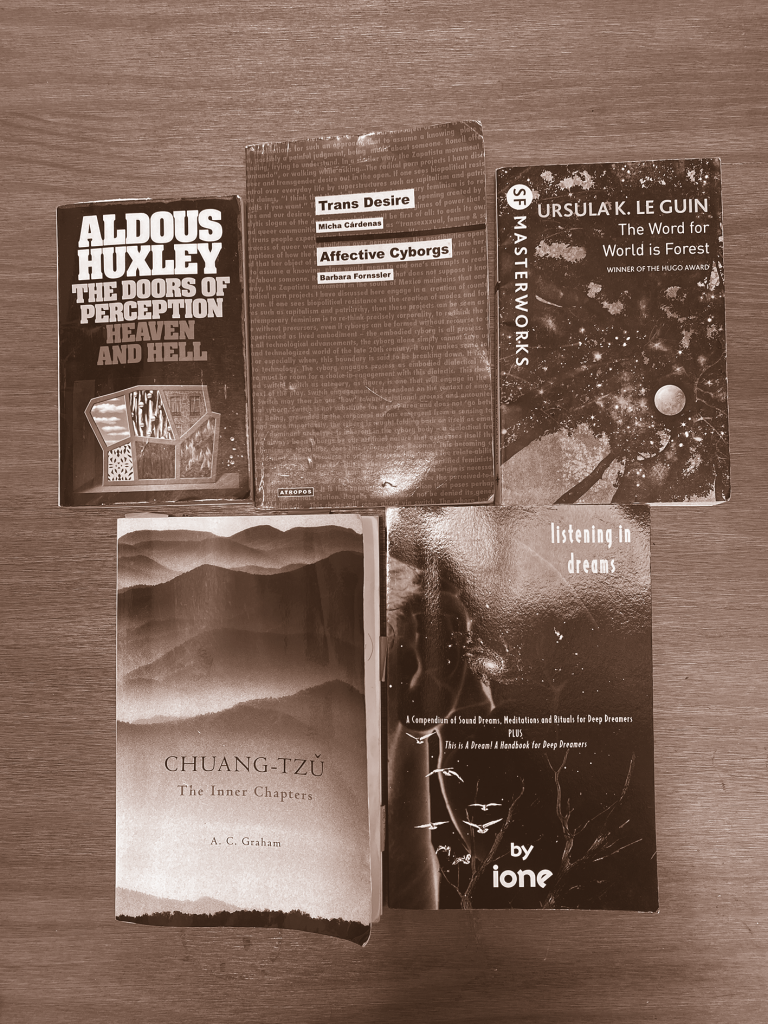 What I am Reading Now…
Jade Montserrat
April 2021
The five books I call on here are relatively new to me — I've read them in the last decade.
In 2011 Monica Ross performed Anniversary: An Act of Memory at Scarborough library. Ross was programmed by Crescent Arts, where I was to take a studio for two and a half years from the end of that year. Ross's presence and performance had a profound effect on me and has influenced everything I've worked on since. Ross' praxis guides anyone lucky to receive her work towards ethical actioning. Monica Ross Ethical Actions: A Critical Fine Art Practice documents works from 1970-2013, and includes essays by Esther Leslie, Eric Levi Jacobson, Alexandra M. Kokoli, Denise Robinson, Yve Lomax, and photographic documentation by Bernard G. Mills.
It was at Crescent Arts that my racial differences and feminist inquiry were bought acutely to the fore in the context of how I might make work, with a consideration of the conditions I was working under. The organisation at that time could not hold these conversations although my studio space allowed for intense periods for reflection and study which were immensely helpful. A friend of the director, a painter, was invited to exhibit at Crescent and I had the opportunity to work on installing her show, when she introduced me to McClintock's Imperial Leather — an eye-opening read underlining how residual colonial violence glares at us from every angle in the domestic, commodified sphere. McClintock stresses, for example, how "gendering imperialism took very different forms in different parts of the world", leading the reader to recognise — all too clearly — that a white supremacist neo-colonial agenda continues to reinforce divisions. An agenda which, in opposition to appeals for intersectional thinking, seeks to control the lives of the 'Other' whose race, religion, culture, gender, sex is different from their own.
I met my current PhD supervisor Professor Alan Rice at Rivington Place in 2014. I was invigilating at Autograph ABP for the exhibition Black Chronicles II on the day that Rivington Place held their memorial gathering for Professor Stuart Hall. It was a fortuitous meeting. Alan was working towards a conference focusing on Black presence and Black history in the North of England. I explained my position as a Black artist who had grown up and lived most of my life in rural North Yorkshire, and soon found myself on a panel at that conference and somewhat under the mentorship of Alan Rice. He introduced me to Dionne Brand's A Map to the Door of No Return: Notes to Belonging. I love Brand's writing, and find that like Jamaica Kincaid's work, their poetry is both edifying and embracing. In A Map to the Door of No Return Brand speaks first-hand of witnessing and feeling mutually her grandfather's disappointment, in rupturing moments that I too empathise with: "We were not from the place where we lived and we could not remember where we were from or who we were. My grandfather could not summon up a vision of landscape or a people which would add up to a name. And it was profoundly disturbing." Thinking about this quotation, I wonder at my determination not to be pushed out of the rural north of England, despite the pervasive racism and misogyny I have experienced here — I am wedded to this rural landscape by the sheer fact of its being my most reliable relation and more forthcoming with histories that I might claim also for my own. I too have no lineage to refer to, nor to honour.
I coveted Elizabeth Ezra's The Colonial Unconscious before I had the means to purchase the book. Somehow, however, I ended up with multiple copies, which I have since made interesting gifts of. Colonial Unconscious considers the protagonist who currently takes centre stage in my thinking, Josephine Baker, by approaching her jazz-age backdrop critically, and with specific focus on French colonialism and its legacy in contemporary culture. My initial research on Josephine Baker — "Black Venus", and as Ezra posits, the "uncivilized object of civilized cultural consumption" — included an enquiry into the balance between how she enabled control of her body and persona, representations and possible manipulations of her body, and an unapologetic quest to explore her ideas of equality and freedom. Finding herself "at the crossroads of competing cultural imperialisms" (Ezra), Baker quickly recognised that her performances were racialised as a particular type of erotic Blackness by French audiences. My project, Rainbow Tribe, takes Josephine Baker as a point of departure, aiming to signal its potential for enriching the personal and political, as an act of self-reflexivity and to recognise the spatialisation of social and political practice. The project attempts to communicate a 'centering' through practice, which has a precariousness to it — the reality of my personal experience. In consideration of the work I make, Baker's body in the context of cosmopolitan Paris in the 1920s asks not to be defined by identities but by the body's relation to everything possible.
Finally, Alice Walker's In Search of Our Mothers' Gardens took a while for me to surrender to — I sense I was initially resistant to the text's depths and hauntings, and in denial about my personal links to "these grandmothers and mothers of ours" – assuming that those of us, daughters of enslaved peoples, have the spiritual acumen to own those histories, despite the erasures and unknowing. The text now provides a basis for work and workshops that I continue to develop: "To be an artist and a black woman, even today, lowers our status in many respects, rather than raises it: and yet, artists we will be". I believe that there is great strength in collaborative working. I consider research to be an indispensable method for capturing and engaging my imagination and capacity to dream new visions for my work, and more widely, to think about the future I would like to be part of creating — the world I would like to see. I think of gardening as a collaboration too, a collaboration with the earth, a friendship, a conversation, touching and being touched by the soils that provide the nutrition required for survival. Walker's poetry is tied to ways of connecting and protesting conditions of working and living, that resound today. It evokes ravished bodies: "For these grandmothers and mothers of ours, we are not saints but artists driven to a numb and bleeding madness by the strings of creativity in them, for which there is no release".
Jade Montserrat is the recipient of the Stuart Hall Foundation Scholarship which supports her PhD (via MPhil) at IBAR, UCLan, and the development of her work from her Black diasporic perspective in the North of England. She works through performance, drawing, painting, film, installation, sculpture, print and text, dancing her way through history and her story. Marking the archive and letting it mark her, she finds a voice within a chorus of opinions and reflecting projections of now and then. Montserrat's work is a fracture in the linear narrative of consumption and a rigorous critique of the way cultural production scars bodies and constructs histories.
Imperial Leather, Anne McClintock,(Abingdon: Routledge, 1995)
Monica Ross Ethical Actions: A Critical Fine Art Practice, Suzanne Triester and Susan Hiller (2016)
A Map to the Door of No Return: Notes to Belonging, Dionne Brand (Vintage Canada, 2001)
The Colonial Unconscious, Elizabeth Ezra (Ithaca: Cornell University Press, 2000)
In Search of Our Mothers' Gardens, Alice Walker (1972)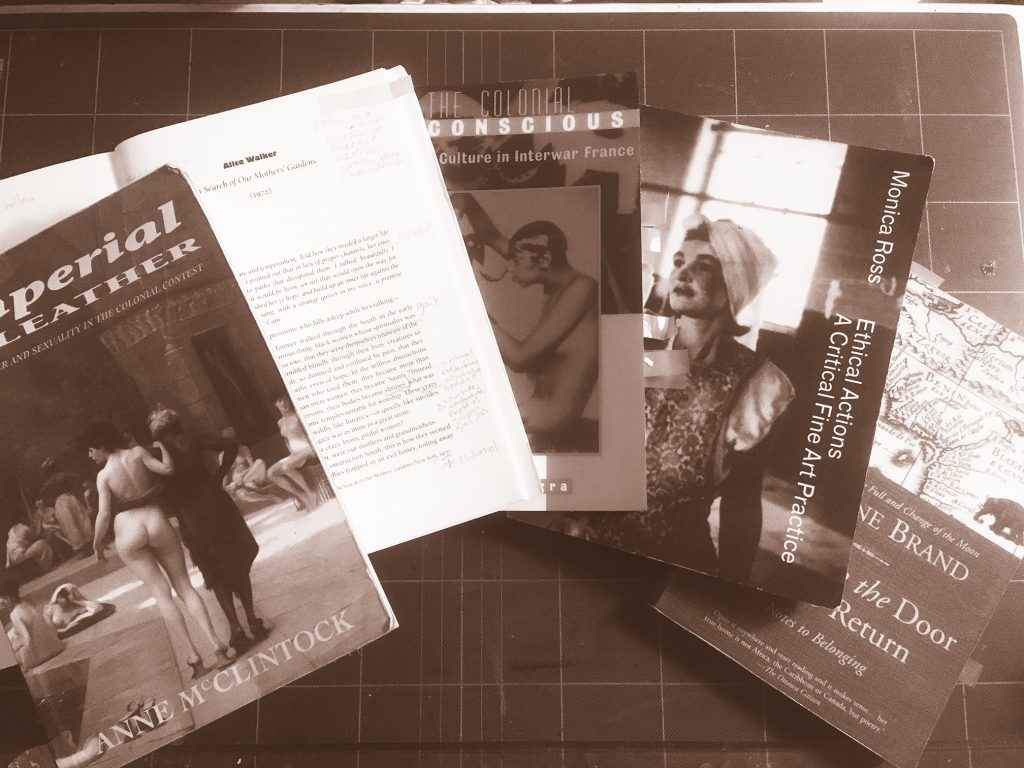 What I am Reading Now…
Minna Salami
March 2021
I am drawn to books that are imaginative, playful, and passionate.
I am drawn to books that are insightful and eye-opening.
I am drawn to books that remind me why I love words and writing, but also why I love reinventing and fighting.
I am drawn to books that don't only stimulate the mind, but also the body and senses. Books that my body reaches into, that instill alertness while I read, and whose environments evoke worlds that I can almost touch, smell and taste.
I am, therefore, drawn to books that have a sharp intellect, but also a large heart and soul.
I find such books in all genres. The dominant europatriarchal knowledge systems encourage us to think in binary ways, not only in politics and education, but also when it comes to reading. We categorise books into fiction vs nonfiction, adult literature vs. children's literature, women's writing, black writing, history, memoir, prose, poetry.
These labels are valuable in many ways. They are especially useful when parts of our identity are vested in a particular type of writing. For example, reading black feminist literature always feels like a returning home of sorts to me. It also always informs my own writing, and so I cherish the canon that is black feminist literature.
But both as a writer and a reader, I am primarily drawn to hybridity and to stitching worlds together. Disrupting borders is part of my motivation to write. Having my borders disrupted is part of my motivation to read.
What I'm reading now is influenced by where I'm reading now. Namely at home, curled up on the couch, with a sense of time and presence. For a long time, I have been reading in fragments, in between doing other things. I have been reading especially while commuting, on trains, buses, planes. I have been reading in advance of talks and seminars, both mine and others'. I have been reading while eating, sometimes even when walking, and worst of all, I have been reading a few pages here and there in between other tasks. The pandemic crisis forced upon me an unwelcome pause from previous routines, but one of the things that has been consoling during such a globally challenging time is the unanticipated time to read with my whole body. I am grateful for that.
I've most recently read moving books like Matt de la Peña's Milo Imagines the World, with its unforgettably adorable and warming storytelling; No One is Too Small to Make a Difference, by Greta Thunberg who in my view is one of the most inspiring writers and people active at the moment. I keep returning to Alexis Pauline Gumbs's Undrowned as it opened up new worlds for me. Victoria Chang's OBIT both broke my heart and consoled me on the topic of loss. And I have been rereading Wole Soyinka's The Man Died, and as always with Soyinka, encountering wells of wisdom in his profoundly humanist sensibility.
Minna Salami is a Nigerian, Finnish and Swedish writer, feminist theorist, researcher and the author of the internationally-acclaimed book Sensuous Knowledge: A Black Feminist Approach for Everyone, published in March 2020. Translated into multiple languages, Sensuous Knowledge has been called "intellectual soul food" (Bernardine Evaristo), "vital" (Chris Abani) and "metaphysical journey into the genius the West hasn't given language to" (Johny Pitts). Minna has written for the Guardian, Al Jazeera, World Literature Today and is a columnist for Esperanto Magazine. She has presented talks at the UN, EU, The Oxford Union, The Cambridge Union, Yale University and The Singularity University at NASA. She is co-director of the feminist movement, Activate, and a Feminist Theorist and Researcher at Perspectiva. She sits on the advisory board of the African Feminist Initiative at Pennsylvania State University and the editorial board of the Interdisciplinary Journal for the Study of the Sahel. She lives in London.
Milo Imagines the World, Matt de la Peña (G.P. Putnam's Sons Books for Young Readers, 2021)
No One is Too Small to Make a Difference, Greta Thunberg (Penguin, 2019) 
Undrowned: Black Feminist Lessons from Marine Mammals, Alexis Pauline Gumbs (AK Press, 2021)
OBIT, Victoria Chang (Copper Canyon Press, 2020)
The Man Died: Prison Notes of Wole Soyinka (Vintage; New edition, 1994)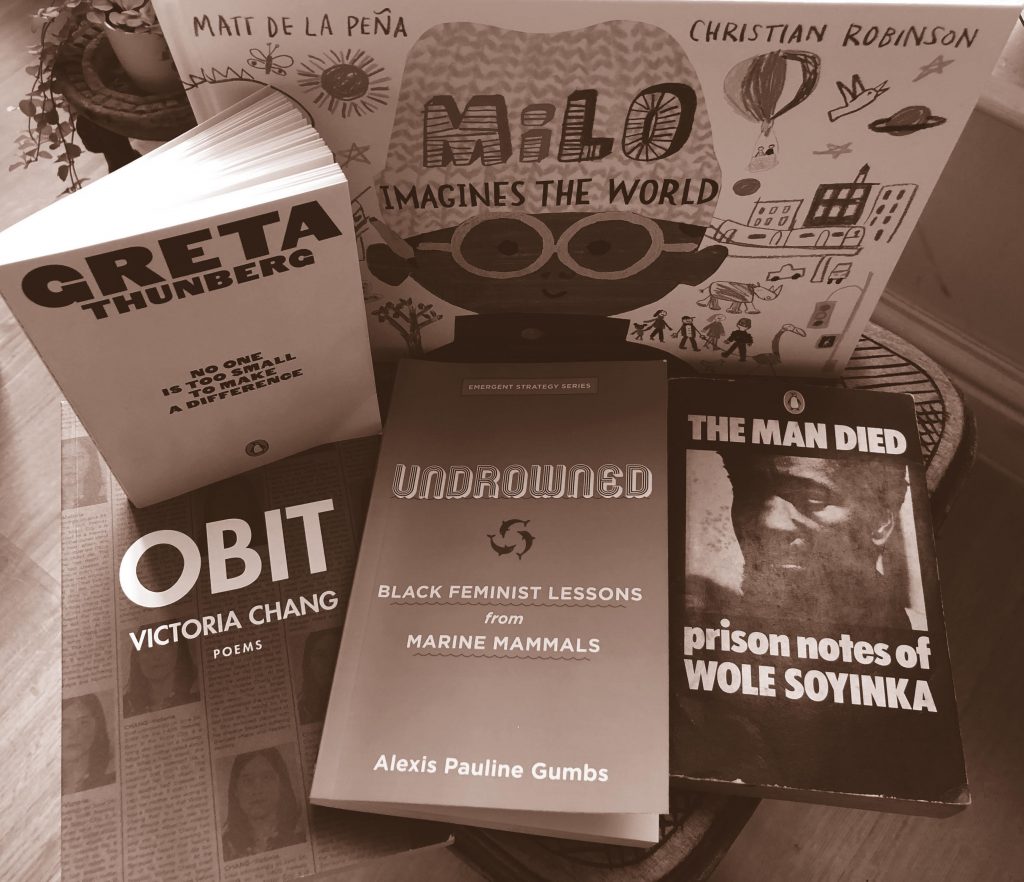 What I am Reading Now…
Hardeep Pandhal
February 2021
Straddled between social bubbles, the restrictions imposed by COVID-19 forced me to live more itinerantly, demanding more versatility from everyone implicated in my life. The works of fiction I present here resonated with me recently because they are imbued with the sort of mindful agility that I believe is essential to sustaining an art practice during this tumultuous time.
I am into fantasists who can arrest and transform barriers to speak beyond their respective subjectivities, offering genuinely edifying forms of interdependence in their worlds. These texts bear testimony to the risk-taking necessary for radical re-storying. Myths are renewed convivially through the idea of fiction as protest. Traumatic wounds aren't simply erased, but take on the appearance of keloids, gradually becoming more monstrous and complex in processes of becoming. They confront and work through emotions caused by dispossession and dislocation.
Much of what I seek in fantasy fiction has been nurtured by the critical work of Toni Morrison (Playing in the Dark: Whiteness and the Literary Imagination, 1992) and Edward Said (Orientalism, 1978). If the imagination is a battleground, we need to understand that fantasies of race, difference and darkness do influence polices of oppression. Fiction and reality do converge.
By embracing practices of associative and mutative thinking, I hope the range of fantasies presented here encourage approaches to reading and writing that bolster a daring, imaginative and considerate syncretism; beyond the noise of black and white politics.
Hardeep Pandhal lives in Glasgow and works predominantly with drawing and voice to transform feelings of disinheritance and disaffection into generative spaces that bolster interdependence and self-belief. Applying practices of associative thinking, his research-led projects exhibit syncretic strains of post-brown weirdness. Hardeep Pandhal received an MFA from Glasgow School of Art in 2013 and his work has been shown in numerous solo and group exhibitions, including, most recently: Goldsmiths Centre of Contemporary Art (2020); Tramway, Glasgow (2020); New Art Exchange, Nottingham (2019); Whitechapel Art Gallery, London (2019); South London Gallery, London (2018); New Museum, New York (2018).
Promethea, Alan Moore (DC Comics, 2000)
Earthsea, Ursula K. Le Guin (Parnassus Press, 1968 – 2001)
Empire of Sand, Tasha Suri (Orbit, 2018)
The Deep, Rivers Solomon (Hodder Paperbacks, 2019)
The City in The Middle of The Night, Charlie Jane Anders (Macmillan, 2019)
What I am Reading Now…
Noor Afshan Mirza
January 2021
As women, we have come to distrust that power which rises from our deepest and non rational knowledge*
Audre Lorde's Sister Outsider was one of the first books of essays and speeches from a black woman poet, activist, writer, healer, seer that I read. The book was gifted to me by a very close friend at the time. It is a book that I read in one sitting, so hungry for the words, and the connection. It is also a book that I have gifted to many persons. It is a book that I have re-read so many times, and keep returning to at different points in my life journey. The essays Uses of the Erotic: The Erotic as Power and Poetry Is Not a Luxury are etched into my auric field. Books are, for me, like people: they come into your life at certain times for a specific reason, exchange, energy, and shift in consciousness.
As a non-black woman of colour I grew up in a completely white rural society, exposed to second wave (white) British feminism only as an art student (in London) in the early 90s. I did not have access to any black or brown women's voices, in any part of my education. So now, as a woman in my wisdom years, I am back to the place I was as an "angry" rebellious teenager, self-educating myself and undoing the unconscious bias of white (supremacy) colonial power. In the words of Tamela J. Gordon "We can't all be black feminists. It's something you're born into, it isn't acquired. However, we can all and should adopt a black feminist agenda. When black women win, mankind wins."
I visualise in fragments and love to collage. I both write and think in unstructured sentences. Communication: it is both a struggle and a pleasure to be legible. My writing is mostly visual in the form of filmmaking. I get a lot out of music, lyrically: I'm listening a lot to Little Simz, Agent Sasco, Alice Coltrane, Burna Boy, NX Panther. I'm an avid reader of poetry, it takes me to places where I can journey. I am a committed amateur boxer and Kundalini yoga student and have recently set up my own company to act as a football agent for talented players from the global south. The esoteric and healing arts are also a passion of mine. I am Piscean Sun, Capricorn ascendent and my moon is in Libra. As an artist of mixed class, caste and racial heritage, I have been on a long journey of decolonising myself, my education, my body, and my intimate relationships. I have simultaneously been unlearning and self-educating. I've always got a good book or two on me.
* Audre Lorde, Uses of the Erotic: The Erotic as Power
Noor Afshan Mirza is an artist and writer, often working as an artist-duo with long term collaborator Brad Butler. Known for their Film and Video practice and exhibition making, Mirza and Butler have been co-directing award-winning artists' Film and Video works for 23 years. Their awards and commissions include nomination for the Film London Jarman Award in 2012, The Artes Mundi Award 2015, and they were winners of Artist Film International 2015 and the Paul Hamlyn Award for Visual artists 2015. Their work has been commissioned by Artangel, the Hayward gallery, The Sydney Biennale, Film London, Film and Video Umbrella, the Serpentine Gallery and The Walker Arts Centre.
Sister Outsider: Essays and Speeches, Audre Lorde (Ten Speed Press, 1984)
GREY Area, Little Simz (Age 101 Music, 2019)
Uncut Funk: A Contemplative Dialogue, bell hooks & Stuart Hall (Routledge, 2017)
Spill: Scenes of Black Feminist Fugitivity, Alexis Pauline Gumbs (Duke University Press, 2016)
Zami: A New Spelling of My Name, A Biomythography, Audre Lorde (Persephone Press, 1982)