What I am Reading Now… is the online iteration of a printed column, of the same name in Cooper Gallery's occasional periodical &labels.
This ongoing online iteration of What I am Reading Now… is influenced by the global political movement Black Lives Matter and invites Black practitioners and practitioners of colour to share, with a preface, a selection of five readings that are shaping their current thinking, research and practice.
What I am Reading Now…
Barby Asante
December 2020
2020 has been a year of reckoning with so much of what we already know. Or should I say, so much of what I already knew. I've been speaking this, acting on this, crying about this, losing friends because of this! And I'm meaning literally in the sense of losing both in the death sense and because of the need to let go of the relationships that are no longer working out for us! Because of this I dedicate this 'what I am reading' to my dear Sista friends Gail Lewis and Foluke Taylor, as it's being in study with them over these last hard months that has brought me through the anxiety, fear, grief, anger, and more.
Notice that I'm not naming the this! Because when I read with my Sista's Gail and Foluke, we do not need to name the things that are weighing heavy on our hearts. The things that we have witnessed almost every day of our living. The things that exasperate us and take our breath away, and not in the way that is associated with pleasure. I am talking about the moments when it is difficult to catch our breath. When we are in the grief, we breathe together and we read together. We come together to hear, embody and produce the comfort that words can bring. In this togetherness we have witnessed each other, held each other, shared moments of joy and wonder. We have soothed our souls with sharing our reading. Reading silently and alone or loudly and together. We draw inspiration from Tonika Sealy and Stefano Harney's essay Ground Provisions (Afterall: A Journal of Art and Context, March 2018). Reading becomes our refuge as we re-assess the things we can do together. Reading becoming our way of studying our togetherness.
I still attempt to dream, and I do this in remembrance of the words of our Lorde, reading and rereading Poetry is Not A Luxury. Remembering that poetry "…forms the quality of the light within which we predicate our hopes and dreams toward survival and change, first made into language, then into idea, then into more tangible action". To aid this dreaming in the midst of all this, I reach for the words of Kamau Brathwaite, Aracelis Girmay, Ross Gay and Alice Walker, as this poetry, these words, are as life is. Not a luxury, not in this time. Poetry holds so much of what I cannot say. As the wonderful programme organised by Dawn Lundy Martin and Angie Cruz from the Centre for African American Poetry and Poetics at the University of Pittsburgh entitled Collective, Protest and Rebellion: A Black Study Intensive, gave us in exploring the power of the ways Black people have used language to sooth our grief and succour our celebration. Exploring how Black poetics is as broad and wide as the written, the spoken word, the broken word, music, images, film, dance, our joy and how eloquently poetry evidences our collective grief.
And when there was no way for us to come together on the streets of Notting Hill at the end of August, Gail, Foluke and I pulled together a recorded collective reading of M NourbeSe Philip's Caribana: African Roots and Continuities (1996), to remember all the Totoben's and Maise's stuck, struck and unable to take the movement of our collective histories to the streets to;
sweat and jostle and
jostle and push
jostle and jostle
push and jostle and
and shove and move
To at least shake off some of the grief that 2020 been throwing at us, and to be moving with the spirits of all the Totoben's and Maise's who came before and those that we will pave the way for the future in the keeping of the "Marse". (Thank you to Paul Goodwin, Anthony Joseph, Rambysayi Marafu and Felix Taylor for making this with us and to the South London Gallery, Amal Alhaag, Dipsaus Podcast and the wonderful M. NourbeSe Philip's for support of this reading).
And how one might vision some way out of this I have been in a collective study of abolition with Black Abolitionist Futures convened by Imani Robinson. Expanding our conversation from Angela Davis's Are Prison's Obsolete (2003) as we imagine what some may see as impossible and bring the hopes and dream of a world without prisons into being. As a student of abolition, reading with others, assessing our relationships to harm and how the carceral impacts every area of our lives, I especially think about what abolition can offer to the arts and education. Bettina L. Love's We Want to Do More Than Survive: Abolitionist Teaching and the Pursuit of Educational Freedom (2019) gives insight from her experience of working in and teaching in schools with Black children, exploring how to bring self-determination and imagination to education, as part of dreaming the liberatory future without harm.
Last but really not at all least, I'm also exploring what spirit might have to offer in visioning something different. I have been communing with my ancestors, by way of ritual and revisiting the work of teacher, dancer, storyteller and high priestess, Lusiah Teish. And I will close this offering with the wonderful and personal book by Zenju Earthlyn Manuel, The Way of Tenderness: Awakening Through Race, Sexuality and Gender (2015), a book that brings tenderness to trauma, reminds us that our embodied experiences should not be bypassed in pursuit of spirit and making the case that race, gender and sexuality are key elements in all of our spiritual awakenings.
Barby Asante is a London based artist, curator & educator. Barby's work explores legacies of slavery and colonialism in the embodied memories of Black and people of colour, through performative processes that include study, collective actions and rituals, that excavate, unearth and interrogate the given narratives. Her on going project Declaration of Independence (2017- onwards) has been presented at the Diaspora Pavilion, Venice, Feminist Emergencies, Birkbeck, University of London, Body Politics, Troppenmuesum, Amsterdam, Library of Performing Rights, LADA, Relating Narratives: A Common World of Women, Horse Hospital, BALTIC Gateshead and Bergen Kunsthall.  The project has taken the form of performances, rituals, sound pieces, installations and an upcoming podcast series.
Barby Asante, Gail Lewis and Foluke Taylor will be joining M. NourbeSe Philip and many others for the annual durational collective reading of NourbeSe's extended poem Zong! Which re-collects the story of the 130 enslaved Africans thrown overboard a slave ship in 1781.  Using the words of the case report, this reading in echo, chant, moan, cries, shouts and hollers will be  held on the anniversary of the Zong massacre beginning November 30th 2020 and will run for 10 days.
Ground Provisions, Tonika Sealy and Stefano Harney (Afterall: A Journal of Art and Context, March 2018)
Poetry is Not A Luxury in Your Silence Will Not Protect You: Essays and Poems, Audre Lorde (Silver Press, 2017)
Caribana: African Roots and Continuities, M NourbeSe Philip (Poui Publications, 1996)
Are Prison's Obsolete, Angela Davis (SEVEN STORIES PRESS, 2003)
We Want to Do More Than Survive: Abolitionist Teaching and the Pursuit of Educational Freedom, Bettina L. Love (Beacon Press, 2019)
The Way of Tenderness: Awakening Through Race, Sexuality and Gender, Zenju Earthlyn Manuel, (Wisdom Publications, 2015)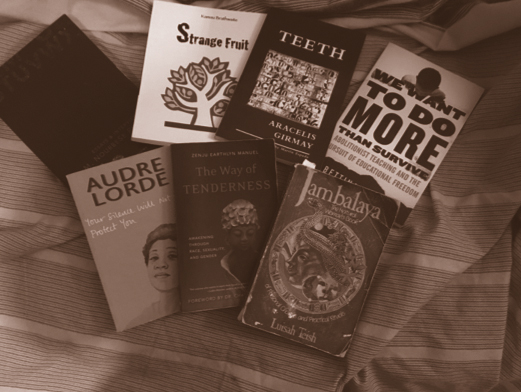 What I am Reading Now…
Amia Srinivasan
November 2020
Renewed media attention on the Black Lives Matter movement, and BLM-inspired uprisings around the world, has taken many on the socialist-Marxist left by surprise. Especially in the US, one sees leftists — especially, but not only, white male leftists — decrying BLM as a bourgeois, 'identitarian' movement, one that only seeks (as the most prominent advocate of this view, the political scientist Adolph Reed, puts it) racially 'proportional inequality' rather than genuine equality for all. While I think this view is misguided, it provides an occasion for articulating, once again, the complex interdependencies between contemporary race and class formations, and explaining the importance of 'identitarian' movements — anti-racism, feminism, LGBT rights — to the emergence of a broad and popular working class movement.
In particular, it is important to understand why calls to 'defund the police' and 'abolish prisons' are working class demands: the anti-carceral tradition begins from the recognition not only that state violence is exercised prejudicially against black and brown people, but moreover, as Angela Davis wrote in 1971 that 'the necessity to resort to such repression is reflective of profound social crisis, of systemic disintegration'. That crisis is a crisis of advanced racial capitalism. Abolitionism asks: what if this social crisis were addressed directly, through non-violent means? The answer, as the sociologists John Clegg and Adaner Usmani have put it recently, is that 'waging an all-out war on the root causes of crime is equivalent to the task of building a large, redistributive welfare state that takes from the rich to give to the poor'. At the same time – as David Roediger traces in his now-classic The Wages of Whiteness – race has had a large role to play in the failure of a broad working class movement to emerge in the US. In a letter to Angela Davis in jail in 1970, James Baldwin lamented that 'only a handful of the million of people in this vast place are aware that the fate intended for you…is a fate which is about to engulf them, too. White lives, for the forces which rule in this country, are no more sacred than Black ones…the American delusion is not only that their brothers all are white but that the whites are all their brothers.'
The question should thus not be: can the anti-racist movement ever be sufficiently anti-capitalist? But: can a working class movement afford not to be anti-racist?
Amia Srinivasan is the Chichele Professor of Social and Political Theory at All Souls College, Oxford. She works on feminist theory, epistemology and political philosophy. Her writing – on sex, animals, death, the university, technology, anger, politics and other topics – has been published in The New Yorker, The New York Review of Books, Harper's, The Nation and The London Review of Books, where she is a contributing editor. Her book of feminist theory, The Right to Sex, will be published in 2021 with FSG.
If They Come in the Morning…Voices of Resistance, Angela Davis (The Third Press, 1971)
The Wages of Whiteness: Race and the Making of the American Working Class, David Roediger (Verso, 1991)
Golden Gulag: Prisons, Surplus, Crisis, and Opposition in Globalizing California, Ruth Gilmore (University of California Press, 2007)
Arrested Justice: Black Women, Violence, and America's Prison Nation, Beth E. Richie (NYU Press, 2012)
The Economic Origins of Mass Incarceration, John Clegg and Adaner Usmani (Catalyst vol 3 issue 3, 2019)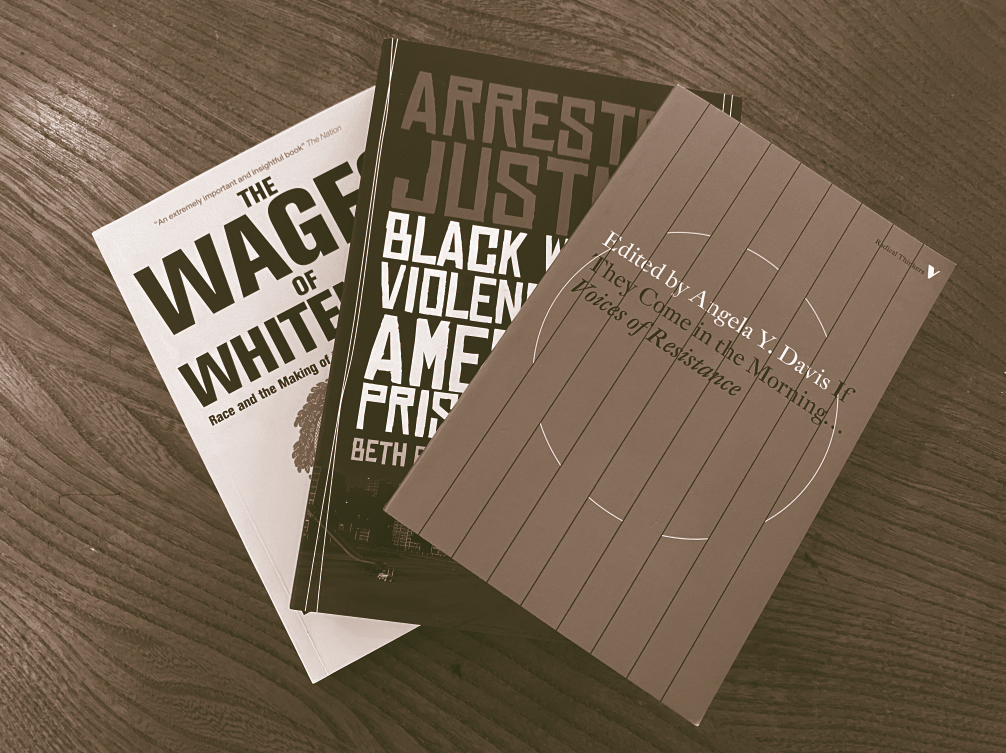 What I am Reading Now…
Naiza Khan
October 2020
There is no such thing as a single-issue struggle because we do not live single-issue lives.*
As a visual artist, I often find myself responding to a text through image making; a connection that is not easily translatable, but very tenuous and ephemeral.
What draws me to the five books/authors listed, is their commitment to develop a methodology which comes from the ground; de-colonial, feminist, working with experimental modes of enquiry and specific to the cultural and geographical context in which they work. This is crucially linked to social justice and indigenous political organizing and resistance. Each author explores a method, which allows for multiple ways of seeing and creates a sense of embodied knowledge – and a passing of knowledge across generations, which becomes an act of active inheritance. In this way, they reveal that questions of race, gender, class and environmental justice need to be interrogated as an intersectional space – and with greater transnational solidarity.
I feel this opens up the possibility to reflect not only on struggles of race relations, but also of animating historical memory to inspire future modes of resistance.
These texts have enabled me to rethink my research practice through a context-specific lens and to learn from the practice and pedagogy of scholars and activists in the field. I explore how ideas of a performative, embodied mapping allows for multiple ways of sensing the land and the body; how this gesture can invoke and visualize speculative possibilities and modes of protest against the structures of power that we are trying to resist.
* Audre Lorde, Learning from the 1960s (1982)
Naiza Khan is a visual artist who represented Pakistan for its inaugural pavilion at the 58th Venice Biennale (2019) with the project Manora Field Notes. Her visual practice is built on a process of critical research, documentation and mapping-based exploration. Khan works between London and Karachi.
Beyond the Pink Tide: Art and Political Undercurrents in the Americas, Macarena Gómez-Barris (University of California Press, 2018)
Across Oceans of Law: The Komagata Maru and Jurisdiction in the Time of Empire, Renisa Mawani (Duke University Press Books, 2018)
Postcards from the Underground, Astrida Neimanis, & Perdita Phillips (Journal of Public Pedagogies (4), 2019)
Feminism without Borders: Decolonizing Theory, Practicing Solidarity, Chandra Talpade Mohanty (Duke University Press Books, 2003)
I Swear I Saw This, Michael Taussig (University of Chicago Press, 2011)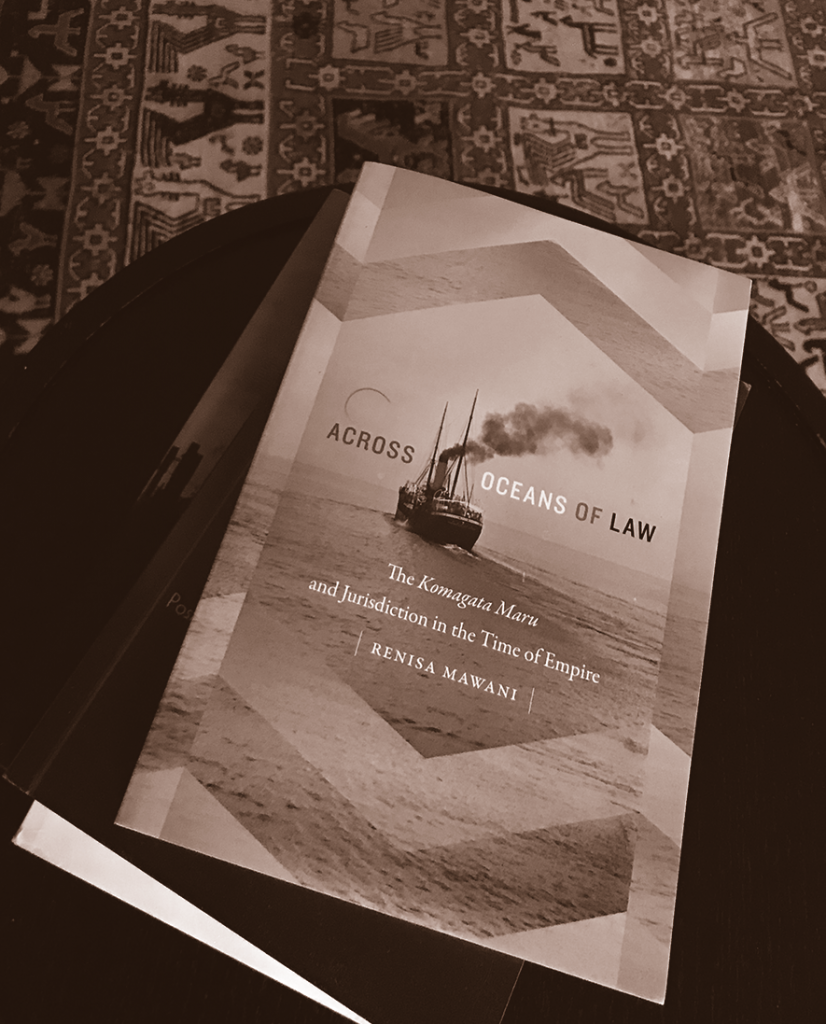 What I am Reading Now…
Louis Chude-Sokei
September 2020
In times of political conflict and cultural confusion, one of the first things erased or that disappears is nuance. Even in the face of injustice, the complexity of the moment can be reduced to anthems, slogans and platitudes. We lose the struggle against cliché. This has often been the case with racial politics since race intersects with so many concerns that it seems ever unwieldy—class, sex, gender, power, desire, community, belonging, otherness. But resisting cliché is as crucial as political organizing. Not only is it a form of resistance central to ideological and cultural combat, it is also central to producing relevant art. 
This is why literature matters so much in times like these, particularly work by those who fear cliché as much as they fear propaganda (arguably the weaponizing of cliché). Where criticism and theory can be easily ensnared in the slogans and doctrines of cultural and political struggle, literature can provide an anarchic yet necessary space of privacy. Privacy, mind you, not innocence. To read such books is to be implicated, and that is the point. 
The five writers on this list may not be the ones most commonly summoned to represent racial ideologies or easy notions of resistance. They are, however, deeply committed to nuance and complexity, to the point of being contrarians in some cases, heretics. But they are all truly great writers, and are more necessary than ever in times when we think we know what side we're on.
Black nuance matters.
Louis Chude-Sokei is the author of the award-winning scholarly work, The Last "Darky": Bert Williams, Black-on-Black Minstrelsy, and the African Diaspora (2006) and The Sound of Culture: Diaspora and Black Technopoetics (2016) and the forthcoming, Floating In A Most Peculiar Way: A Memoir (2021). He is also the editor-in-chief of the journal The Black Scholar and founder of the sonic art and archiving project, Echolocution. Chude-Sokei is a Professor of English and the Director of the African American Studies Program at Boston University.
Kindred, Octavia E. Butler (The Women's Press, 1988)
Aye and Gomorrah, Samuel R. Delany (Vintage Books, 2003)
Corregidora, Gayl Jones (Virago Modern Classics, 1975)
The Dragon Can't Dance, Earl Lovelace (Faber & Faber, 1998)
Black No More, George Schuyler (Martino Fine Books, 2015)
What I am Reading Now…
Dr Francesca Sobande
August 2020
I am grateful for the work of Black women, feminists, and activists which has significantly shaped my thinking and writing, including my understanding of nuanced issues concerning anti-Blackness, intersecting oppressions, and harmful notions of "citizenship".
The creativity and candour of Black feminists has helped me to learn about the lives and experiences of Black people in different parts of the world, and how such individuals are collectively organising to tackle interconnected anti-Blackness, sexism, misogyny, classism, colourism, ableism, homophobia, transphobia, xenophobia, Islamophobia, and other interrelated forms of oppression.
I find radical hope through the words and work of Black women, feminists, and activists who emphasise the liberatory and joyous potential of collective action, care, and creatively (re)imagining what the future can be. Black feminism is vital—from writing found on the pages of zines, papers, and books, to political messages communicated through visual, sonic, and media creations. However, the determined efforts and continued work of Black feminists should not be fetishised in ways that result in people demanding their work, labour, and time in fundamentally exploitative and oppressive ways.
The work of writers, activists, creatives, and scholars such as Beverley Bryan, Stella Dadzie, Suzanne Scafe, Akwugo Emejulu, Azeezat Johnson, Olive Gallimore, Gail Lewis, Melba Wilson, and Ama Ata Aidoo has been influential in my life and the direction of my work. Therefore, five texts that I highly recommend reading are:
Dr Francesca Sobande is a Lecturer in Digital Media Studies at the School of Journalism, Media and Culture, Cardiff University. Her work focuses on matters related to digital remix culture, Black diaspora, Black feminism, creative work, and popular culture. Francesca is author of The Digital Lives of Black Women in Britain which will be published by Palgrave Macmillan this Autumn.
The Heart of the Race: Black Women's Lives in Britain, Beverley Bryan, Stella Dadzie and Suzanne Scafe (Verso, 2018)
On the problems and possibilities of feminist solidarity: The Women's March one year on, Akwugo Emejulu (IPPR Progressive Review, 2018)
Getting comfortable to feel at home: clothing practices of black muslim women in Britain, Azeezat Johnson (Gender, Place & Culture: A Journal of Feminist Geography, 2018)

Black Women Organising, The Brixton Black Women's Group and the Organisation for Women of African and Asian Descent (compiled and re-published by past tense in 2017)
Our Sister Killjoy, Ama Ata Aidoo (Pearson Education Limited, 1997)
What I am Reading Now…
Claire Heuchan
July 2020
In troubled times, I find strength in the words of Black women. And these are definitely troubled times. Police continue to brutalise and kill Black men, women, and children – often without ever being brought to justice. Five years after he died at their hands, the white police officers responsible for the death of Sheku Bayoh still haven't been held accountable. State sanctioned violence against Black people is an ongoing reality. That reality is as painful as it is inescapable. But I have found sanctuary in the Black imagination.
These books have given me the energy not only to survive, but to resist. They carry stories filled with courage and resilience, vulnerability and insight. Audre Lorde once wrote that "if I didn't define myself for myself, I would be crunched into other people's fantasies for me and eaten alive." Every essay, every poem, every testimony I have included is an act of bold self-definition.
Here's some food for thought, words to nourish the soul:
Sista!: An anthology of writing by Same Gender loving women of African/Caribbean descent with a UK connection (eds.) Phyll Opoku-Gyimah, Rikki Beadle-Blair and John R Gordon (Team Angelica Publishing 2018)
The Terrible, Yrsa Daley-Ward (Penguin, 2018)
As a Black Woman: Poems 1982 – 1985, Maud Sulter (Urban Fox Press, 1985)
Charting the Journey: Writings by Black and Third World Women (eds.) S.Grewal, Jackie Kay, Liliane Landor, Gail Lewis, Pratibha Parmar (Sheba Feminist Press, 1988)
Exit!, Grizelda Grootboom (Jacana Media, 2016)