What I am Reading Now…
taryn mackay
December 2022
"I told you son, black blood don't die!"
(over-heard)
The birth of every Black child is a moment laden with radical potential. Those who answer the call to rear the child, tacitly or consciously, agree to confront the historical moment of now and unfurl a life-long project that will ultimately inform whether this new human, just born, will "fulfil or betray" the urgent work that only she, as an agent of history can do. As a mother of two young Black girl children in 2022, born and bred in the majestic and yet tormented space in southern Africa I choose to call Azania, my parenting is first informed by the fact that we, all of us with the critical consciousness to understand exactly who and where we are in history and what this moment requires, have not done enough. Our children have been born into a world programmed to capture, shackle, insult, assault and ultimately silence them and those who share their genetic memory and power.
And so I have, what at times feels like the most unenviable and in other moments, the most exhilarating task. To acknowledge the inherent autonomy and onboard guiding system of these fearless, irreverent harbingers of change who are innately trusting while, uploading, in as empowering way as I can work out, the immense weight of the political history of this moment. In doing so, I have to help bring into focus for them what this reality is asking of them and strengthen their resolve and capacity to do this work.
All of this is done with virtually no structural support and constant harassment and persecution. To sharpen the image of our resource context, South African woman receive a £23 monthly social grant to support the manufacturing of the next generation of human beings. This money is dispensed grudgingly and filtered through a popular discourse machinery which casts us as extravagant wasters of state funds standing in long queues to get our hair and nails done. To give a little more context, here £23 buys you about two big bags of disposable nappies.
So we resource ourselves as best we can. For these reasons I'm an activist who works inside horizontal community processes to build true liberation that changes the way we live, love and rear our young. I also turn to reading and reflection as a way to hear more about how this breathtakingly beautiful world and its inhabitants have gotten so badly off track. This informs how we strategise to get ourselves out of these coal-mines following the emotion-heavy canaries of memory and justice.
The reading list I share is a medicine pouch to tend to and resource the revolutionary mothers among us who tinker on the edge of sanity as they try to maintain tenderness, wonder and playfulness in an over-culture of greed, deceit and fear-mongering. It offers pre-colonial Origin Myths that have integrity and are rooted in the land so that we can begin to re-imagine where we come from as a beacon that can lead us to a more joy-filled tomorrow (Genesis). Scalpel in hand, it historicises and dissects the origin of allopathic, bio-medicine and finds its origin seed in the womb of the genocide of the more than 9 million European medicine women known as witches (Caliban and the Witch). Returning to the fireside, I offer the deep medicine of understanding the physiological impact of European colonial conquest on the social and physical body of the indigenous and, then seeking out the wisdom of our innate humanity that is premised on a lived reverence for the interconnected web of life (Inflamed). For many of us who are working inside the carcass of the rotting colonial educational infrastructure, we are searching for enlightened ways of uncovering and sharing knowledges. In so doing, we are actively building, while at the same time disembowelling, that which must be set aside. Indigenous Methodologies is a living project that calls on knowledge workers to uncover who they are as agents of history, do research from that identity and, document and share this process with others who are embarking on similar enquiries. Finally I offer work from my own soil which enacts this way of co-creating knowledge. An inspiring piece of work that, with loving-kindness, reveres and shares the advice shared by elder women in our communities. Advice, which despite decades of violence, brutality, cruelty and institutionalised hate remains intact and protected in our ritual archives (Ausi Told Me).
All of this comes from me and mine to you, with love and fire.
taryn mackay is a mother and activist who lives and works in both Orlando West, Soweto and Kuils River, Cape Town, South Africa. She is a PhD fellow at the University of Stellenbosch. Her research is focused on motherhood as a technology of practice that can provide pathways to deeply relational thinking as practised by Indigenous Knowledge Systems (IKS). mackay roots her research and practice in socio-political activism and positioning social justice as the framework for knowledge production. Everyday, together with her children and their community, they breathe life into the Ilima Growing Centre. This is a space where those committed to viewing childhood as a portal to justice, liberation, joy and unconditional love for Africa and the majority world can collectively reclaim the springs of life. 
Reading

Genesis: Memory of Fire, Volume 1, Eduardo Galeano (Nation Books, 1985)
Caliban and the Witch, Silvia Federici (Autonomedia, 2004)
Inflamed: Deep medicine and the anatomy of injustice, Rupa Marya & Raj Patel (Penguin UK, 2021)
Indigenous Methodologies: Characteristics, Conversations, and Contexts, Margaret Kovach, (University of Toronto, 2009)
Ausi Told Me, June Bam (Fanele, 2021)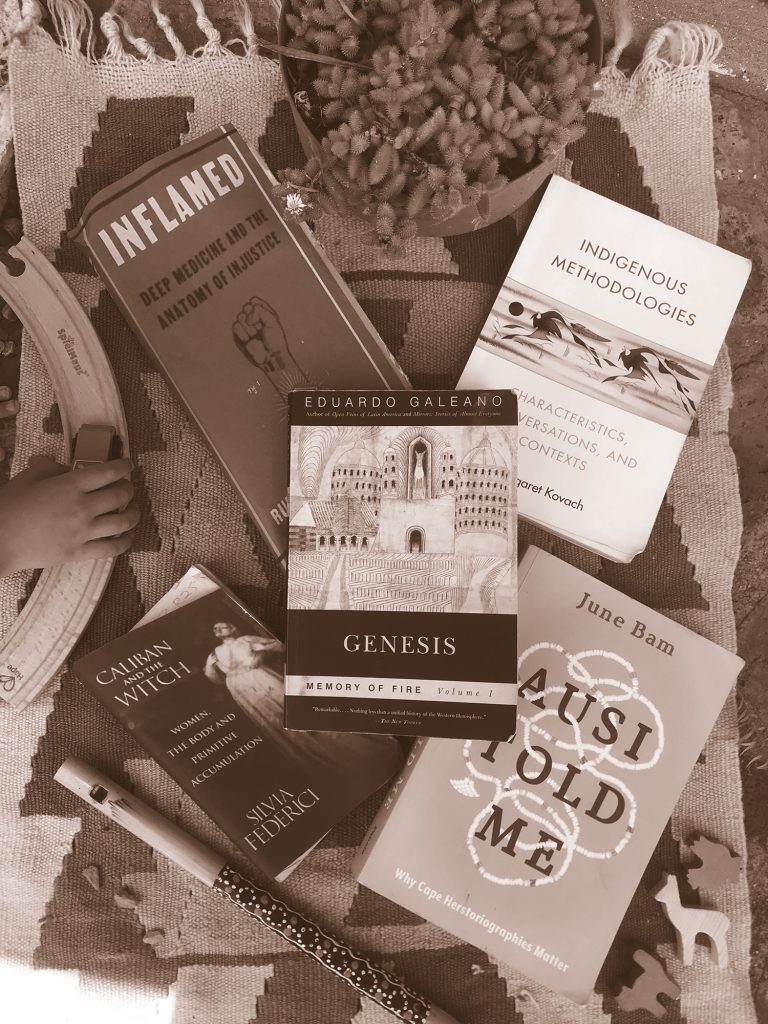 What I am Reading Now…
Saoirse Amira Anis
November 2022
I've been noticing a lot of full-circle moments recently, like I've been living within a four-year cycle and things are looping back to the beginning. My introduction to Audre Lorde was four years ago when I found Sister Outsider: Essays & Speeches in the library at the Scottish Sculpture Workshop. I'd spent the summer after graduating having a race-related existential crisis after a tutor made it clear that he saw me not just as an artist, but as a Black artist. I recently started working at an art school and met this tutor again. He seemed delighted for me, unaware of the continuing turmoil for which he is responsible. Audre Lorde's writing has been with me continuously through this cycle, with essays from Your Silence Will Not Protect You and A Burst of Light providing insight that has supported my life and my creative practice. Among other things, she has brought my attention to the Black mother within me, "within each of us — the poet — [who] whispers in our dreams: I feel, therefore I can be free". I've never felt more understood than through Lorde's writing, and I'm eternally grateful to SSW for facilitating my introduction to the world of Black, queer, feminist literature.
///


I was recently gifted Ignota's 2023 diary by a dear friend, and I can't wait for it to carry me through the new year. I've been dipping in and out of two of Ignota's books over the past few years – Spells: 21st Century Occult Poetry, edited by Sarah Shin and Rebecca Tamás; and States of the Body Produced by Love, by Nisha Ramayya. Each has a particular way of holding me while I hold them; welcoming arms reaching out from the pages. The diary features contributions on rituals, spell craft, astrology, farming, foraging, weather and more. I flicked through and got sucked into the guide to acupressure: that's all I will allow myself to read for now; these offerings are destined for 2023, and I shouldn't disrupt that destiny. New Year brings equal amounts of dread and excitement, but having a little piece of Ignota guiding me through 2023 just tips the scales in excitement's favour.

///


I'm reading a few novels at the moment. My most recent new-starter is The Dispossessed by Ursula K. Le Guin. I dip in and out of it sporadically, but it consistently lingers in my mind. I've been fortunate to be involved in beautiful conversations about utopia and how to get there, and each time there's a reason to reference The Dispossessed: anarchy, community, mutual aid, luxury, desire, and joy. I haven't finished it yet, but I'm optimistically certain that it contains some vital truths about how to solve the world's problems. A quote from Le Guin that helps me to continue when hope feels lost is: "We live in capitalism – its power seems inescapable but so did the divine right of kings." She is an absolute treasure and I love her.

///


Having watched Schitt's Creek roughly 10 times, I needed a new show to consume my quiet-brain hours, and started watching The L Word. It is total garbage and I love it. Queerness, as represented in the show, is a far cry from queerness as I experience it, but I do wish I'd watched this during my teenage years. It may have helped me to understand my sexuality sooner than I did. Much of the show is wildly superficial – it dips its toes into issues of racial inequalities, trans rights and mental health, but it doesn't keep them submerged long enough to achieve any sense of poignancy. I'm not watching it for intellectual stimulation or social commentary, so I can let that slide – I watch it for the messy drama of a group of friends that I can become mildly attached to for a while, probably start dreaming about, and inevitably develop a long-lasting fondness for. A semblance of gossip without any personal investment — all reward without risk.
///


This summer, I had the pleasure of performing as my alter-ego, Freedom Princess, at an event organised by Listen Gallery and Sunshine Books. The bookshop-in-a-van was stationed outside the gallery during the event, so before I performed I had a wee nosey at their selection. One of the first books to catch my eye was Scots Poems to be Read Aloud, edited by Stuart McHardy. It fell open on a poem called Freedom. This serendipity felt like a sign that I should bring the anthology of poems into my life, and I'm very grateful I did! My absolute favourite allows me to embody my more indignant attributes – Matthew Fitt's pure radge:
a richt ramstoorie ragabash
My relationship with my Scottish identity and the Scots language is fraught for various reasons, but it feels solidified while performing these poems. As my tongue wraps around the lilting, dancing words, my heart feels certain that this is my culture — irrefutably so.
Saoirse Amira Anis is a Dundee-based artist and curator. Her work has been exhibited recently in the form of a solo show, For no other reason than joy, at Cample Line, Dumfries, and as part of Platform for the 2022 Edinburgh Art Festival. Other recent projects include: Jupiter Rising, 2022 & 2021; A Lesson in Vanity, David Dale Gallery and LUX Scotland, July 2021; and We can still dance, Jupiter Artland. In 2022 Anis curated an exhibition entitled Miss(ing) Information at Perth Museum and Art Gallery.
Reading

Spells: 21st Century Occult Poetry, Eds. Rebecca Tamas, So Mayer, Sarah Shin (Ignota, 2018)
States Of The Body Produced By Love, Nisha Ramayya (Ignota, 2019)
Ignota Diary 2023 (Ignota, 2022)
Your Silence Will Not Protect You: Essays and Poems, Audre Lorde (Silver Press, 2017)
A Burst Of Light And Other Essays, Audre Lorde (Dover Publications Inc, 2017)
Scots Poems to be Read Aloud: Yin or Twa Delightfu Evenin's Entertainment, Ed. Stuart McHardy (Luath Press Ltd, 2003)
The Dispossessed, Ursula K. Le Guin (Gateway, 1974)
Watching
The L Word (Created by: Ilene Chaiken, Michele Abbot, Kathy Greenberg 2004-2009)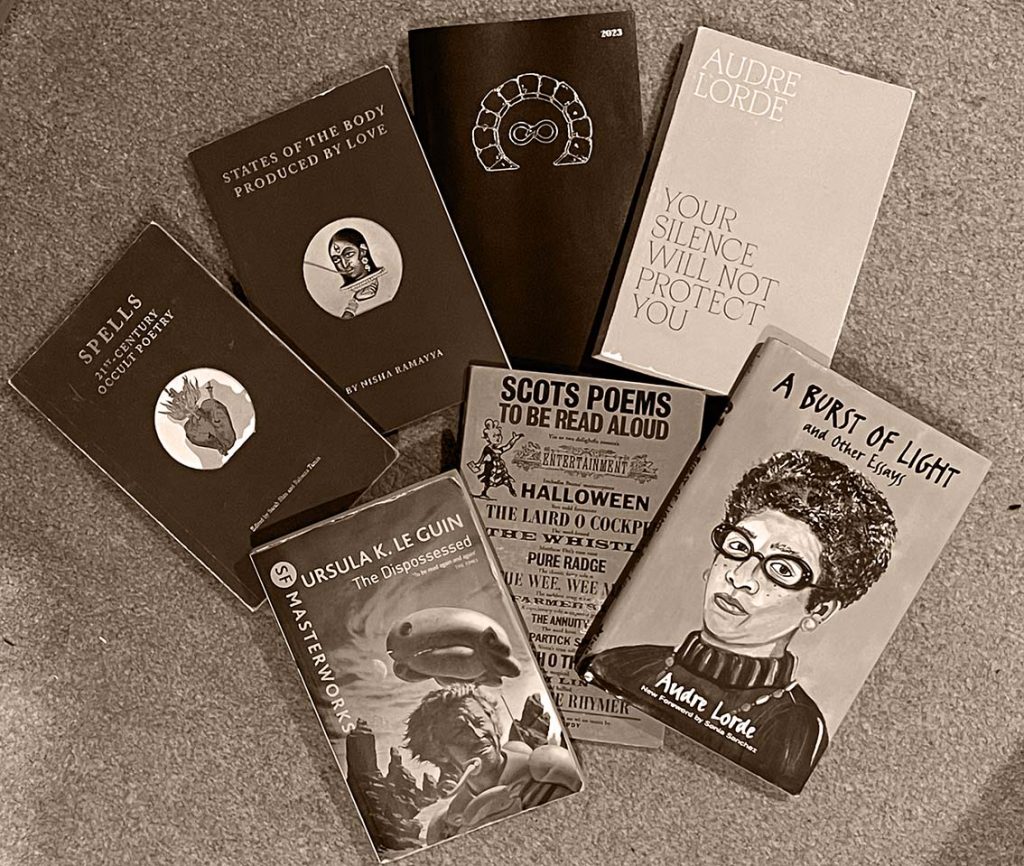 What I am Reading Now…
Awuor Onyango
October 2022
I thought I was reading about Love and its associated anxieties.  
Election season in Kenya is usually traumatic; I wanted to believe this one wouldn't be. I dove into this podcast (Dissect season 6) that gave me a more contextualised look into Beyonce's Peabody winning visual album Lemonade and its themes around love, shame, broken relationships, patriarchy and generational 'curses' brought on by surviving systemic injustice. I started to chart what this would look like for my own family, how our history is interwoven into the country and its politics, how much one affects the other, how one could perhaps redeem the other. I wanted to believe these elections would be different so badly I tried to borrow Beyonce's hope. 
It wasn't until I read Communion: The Female Search for Love by bell hooks, where she says, 'Feminist women stopped talking about love because we found that love was harder to get than power. Men, and patriarchal females, were more willing to give us jobs, power, or money than they were to give us love.' that the tension between Love and Power that elections represents became clear to me. A history of being systematically denied power had made elections traumatizing. If all you've ever been exposed to is state violence then becoming the state, getting the job and money and 'representation', the military might, the Power becomes a stand in for love. And so what was love in the face of this traumatic performance of political power? 
I thought I was reading about Love and Power, and then the elections happened and calls for peace and calm started to overpower the danger and harm and fear people were feeling. A country was reduced to an economy and any emotion was met with mockery. It's then that I realized what I was reading about; the erotic. 
'When times are good, Eroticism is what converts the mundane into magic. When times are tough, (it) inspires us to survive—and even to thrive—despite all odds. It is why we make art and music and go into nature when we are in pain. It is the orchestras in the concentration camps, the choirs in the cotton fields, the dark humor shared by refugees all around the globe… the blues… both the letters of longing and the poetry of heartbreak… the playlist we make for a friend working graveyard shifts at the hospital…the spirit that creates new life when death is ever-present.' Esther Perel says in her newsletter having grown up in a community of holocaust survivors and seeing those who "were not dead" and those "who came back to life". And then I ran into this excerpt on Twitter, having no context to either people.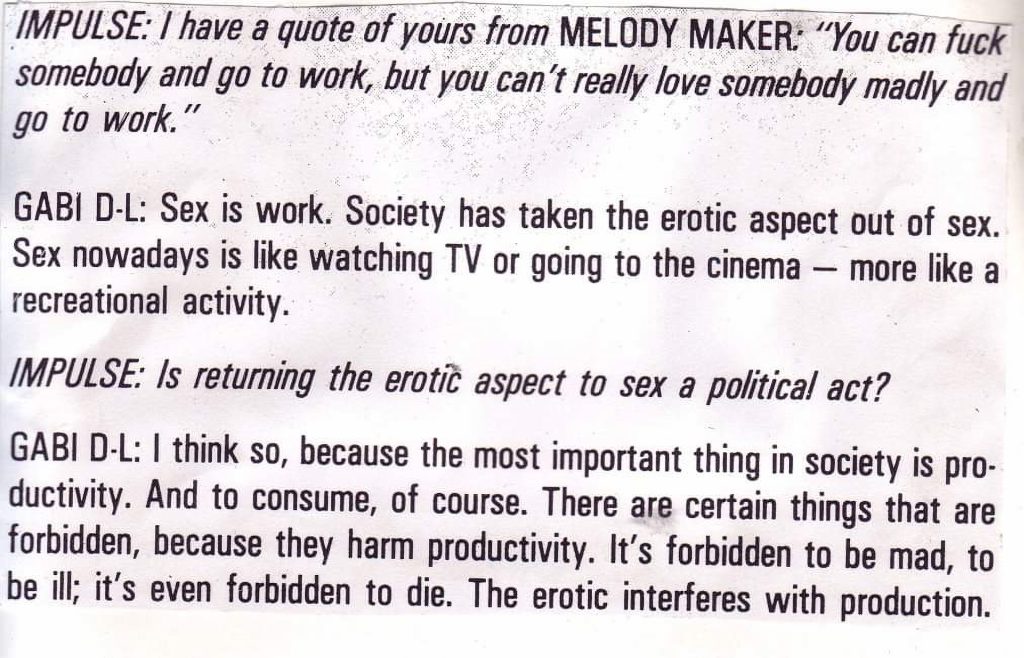 'So scared to feel anything, to grieve, to cry, to be angry all we can do is focus on the economy', I wrote to a friend about the psycho-spiritual failures of the country, masked as calls for peace and acceptance of what many feared will become a dictatorship. 
'The principal horror of any system which defines the good in terms of profit rather than…of human need, or which defines human need to the exclusion of the psychic and emotional components of that need… is that it robs our work of its erotic value, its erotic power and life appeal and fulfilment. Such a system reduces work to a travesty of necessities, a duty by which we earn bread or oblivion for ourselves and those we love… It is also profoundly cruel.' Audre Lorde says in her essay Uses of the Erotic: The Erotic as Power. 
I've been searching for ways to nurture the erotic within me and in my community, despite the political, biological, climate and capitalist pandemics at our doorsteps. So far it's meant listening to Beyonce's Renaissance for affirmations to rebirth those parts of me intentionally, 'vilified, abused, and devalued…by the male world, which values this depth of feeling enough to keep women around in order to exercise it in the service of men, but which fears this same depth too much to examine the possibilities of it within themselves.' (Audre Lorde) and cultivating that joy, not judging myself when my "productivity" takes a hit, making a playlist, planning a low risk high reward playdate with my friends, pedicures and mumbling "You won't break my soul" and "comfortable in my skin" until I believe it.
Awuor Onyango is a writer and multisensorial artist based in the pagan citadel of Nairobi, Kenya. Their multidisciplinary and multisensorial approach is rooted in the ephemeral, interactive and lived art traditions of East Africa, inviting, engaging, honouring and centering the voice of the side-lined, erased, in danger of amputation, aiming to integrate our ruptured histories, mythologies and philosophies into present technologies.  
Listening
Lemonade, Beyoncé (Parkwood Entertainment, 2016)
Renaissance, Beyoncé (Parkwood Entertainment, 2022)
Lemonade by Beyoncé, Dissect Season 6 (Dissect Podcast, 2020)
Reading

Communion: The Female Search for Love, bell hooks (William Morrow Paperbacks, 2002)
Uses of the Erotic: The Erotic as Power, Audre Lorde (Kore Press, 2000, first published 1978)
Letters from Esther #25: Eroticism in Hard Times, Esther Perel (estherperel.com)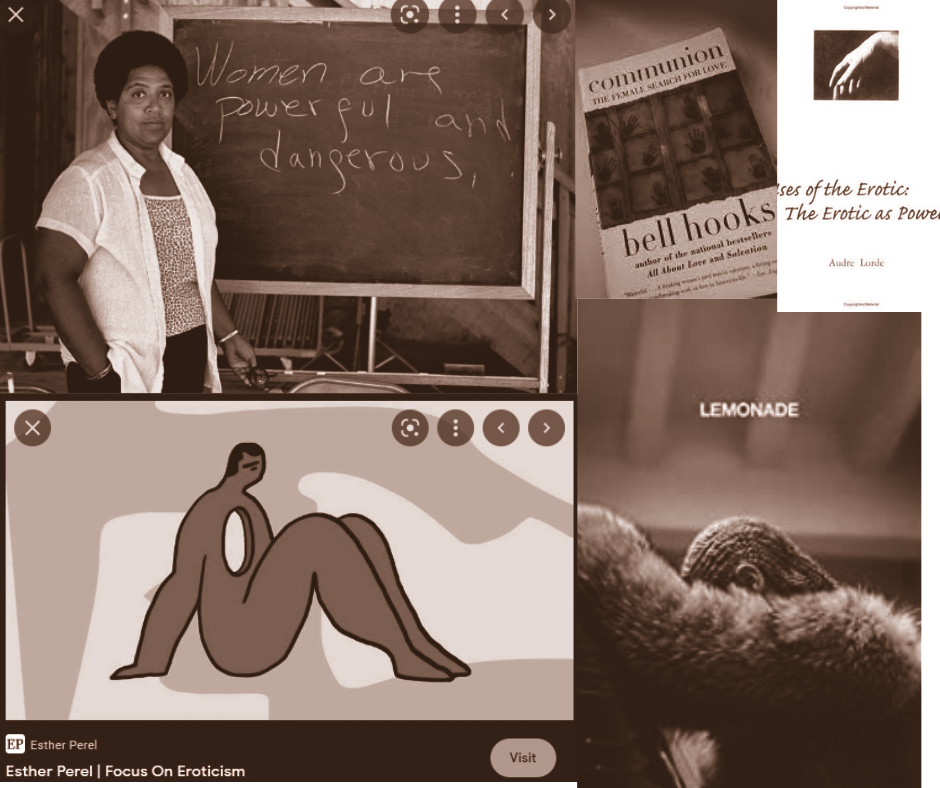 What I am Reading Now…
Harun Morrison
September 2022
"There were sunflowers big as flowers on Mars and thick cockscombs bleeding the deep red fringe of theatre curtains. There were dizzy bees and bow-tied fruit flies turning somersaults and humming in the air. Sweet sweet peach trees. Thorn roses and thistle and pears. Weeds like so many squinty-eyed stars and brush that made your ankles itch and itch until you washed with soap and water. There were big green apples hard as knees. And everywhere the sleepy smell of rotting wood, damp earth and dusty hollyhocks thick and perfumy like the blue-blond hair of the dead."
The House on Mango Street (1984), Sandra Cisneros. Excerpt contributed by Risa Horn. 
In 2020 I was commissioned to design and develop a garden for Bootle Library in Merseyside, owned by Sefton Council. How to conceptually connect this communal green space to a library? My bridge was fictional gardens in literature. I wrote to librarians across the borough asking them to share their stand-out gardens in novels, poetry and so on. I circulated this request among friends to gradually build a database. To date authors of the excerpts include Mena Kasmiri Abdullah, Isabel Allende, Italo Calvino and Raafat Majzoub. Rather than an entire book, I've been reading multiple passages selected by others, wandering through this taxonomy of spaces. The titles of texts and page references will label a series of purposely designed planters for the library's garden. The intention being to grow the plants referenced in a given excerpt in a specific planter.
"The SBD [1] was located in Larsa; a garden of poppies and hundreds of almond trees. While walking there, one could hear the soft sounds of nature and see hundreds of black butterflies with orange dots dancing around the SBD, serving as the device's guardians. The town of Beit Shams believed this place came from an ancient dream. In the garden of the seven human-sized pyramids, each was carved by a unique individual." [1] SBD, The Sun Beam Decoder. Excerpt from the short story Beit Shams, by Qusai Al-Saify.
This fictional garden (now in my database) is a bridge to another read, Reworlding: Ramallah – Short Science Fiction Stories from Palestine (2019). Edited by Callum Copley. Contributors: Lama Altakruri, Shayma Nader, Adele Jarrar, Quasi Al-Saify, Shada Mustafa, Hiba Isleem, Jameela Ewais and Fakhry Al-Serdawi. It is published by Disarming Design from Palestine,  'an independent non-profit platform performing as a design label'. The stories were the outcome of workshops in Birzeit, Palestine, between January and March 2019, led by the publication's editor and designer Callum Copley. In his introduction Copley references both Afro and Indigenous Futurisms and 'reworlding', a term he gives to the "concerted effort of reimagining the places and space we inhabit through worldbuilding techniques". Copley describes the neologism further: "Whilst always being adjacent to worldbuilding, reworlding is the political application of worldbuilding. . . generating a multiplicity of futures with which to affect the present positively." My time at the V&A Dundee has similarly involved working with other writers to generate a multiplicity of histories, taking individual objects in the museum as a starting point for micro-narratives, expanding the perception of an object to imagine its affective history, the individualised circumstances its production, what it may have witnessed. 
Another story from Reworlding: Ramallah, Empty Boxes by Shayma Nader, depicts the interactions between Faitha, a fortune teller and a smuggler of an invisible cloak. Smuggling is already a clandestine act, but to trade in invisibility is an understandably invaluable venture in an occupied and hyper-policed landscape. The network of smuggler/dealer, fortune-teller and client is exemplary of the urbanist AbdouMaliq Simone's notion of "people as infrastructure, which emphasises economic collaboration among residents seemingly marginalised from and immiserated by urban life", a quote from my third read, People as Infrastructure: Intersecting Fragments in Johannesburg (2004). Simone's essay takes Johannesburg as its case study, observing strategies employed by migrant workers often from other parts of Africa; in particular but not limited to those working outside the law through choice, bureaucracy or lack of legal protection. Simone's text emphasises recognising infrastructure as inclusive of an improvisatory, agile constellation of human relationships, not solely tangible architecture and material networks. A recommendation from Dr Ros Gray while we worked on an art-research garden in New Cross, alongside Dr Jacq Hannam, a soil scientist and participants from the Lewisham Migrant and Refugee Network. 
My final text takes this notion of infrastructure to the realm of more-than-human. In Mapping Alternative Futures through Fungi: The Usefulness of Mycorrhizal Networks as a Metaphor for Mutual Aid (2021), Maymana Nusaybah Arefin (an artist and community grower), asks how fungal networks can be a model for mutual aid. Mycorrhizas are fungal associations between plant roots and beneficial fungi. The fungi effectively extend the root area of plants and in some studies operate as a para-communication system between trees, so that more vulnerable plants can be relayed resources. Arefin, quotes ecologists Van der Heijden and Horton who describes this process as analogous to an 'underground socialism'.  The urgency pulsing through Arefin's text emerges from it being written in the midst of the Covid-19 pandemic. A period when governmental institutions were failing to distribute aid as rapidly as needed, while the less hierarchical mutual aid groups were arguably swifter and more effective.
Harun Morrison is an artist and writer based on the inland waterways. He is currently Designer and Researcher in Residence at V&A Dundee. His forthcoming novel, The Escape Artist will be published by Book Works in 2023. Since 2006, Harun has collaborated with Helen Walker as part of the collective practice They Are Here. Recent commissions include I'll Bring You Flowers (2019); Survival Kit 10, Riga; Laughing Matter (2018) at Studio Voltaire; the performance 40 Temps, 8 Days (2017) at Tate Modern; and Beacon Garden (2018 – 2020), a commission to co-design  and build a community garden in Dagenham, East London. This summer, Harun continues to develop and repair a garden for Mind Sheffield, a mental health support service, as part of the Art Catalyst research programme Emergent Ecologies and cultivate a dementia garden for a UCL's new neurological research centre in Kings Cross. Harun is currently exhibiting Dolphin Head Mountain at the Horniman Museum in South London, co-commissioned by Delfina Foundation. From 2019 – 2022, Harun was a trustee of the Black Cultural Archive.
Harunmorrison.net / Instagram @Harunishere
Texts
The House on Mango Street, Sandra Cisneros (Arte Público Press, 1984)
Reworlding: Ramallah – Short Science Fiction Stories from Palestine. Edited by Callum Copley (Onomatopee, 2019)
Cited stories:
– Beit Shams, Qusai Al-Saify in Reworlding: Ramallah
– Empty Boxes, Shayma Nader in Reworlding: Ramallah
People as Infrastructure: Intersecting Fragments in Johannesburg, AbdouMaliq Simone (Public Culture (2004) 16 (3): 407–429, Duke University Press, 2004)
Mapping Alternative Futures through Fungi: The Usefulness of Mycorrhizal Networks as a Metaphor for Mutual Aid, Maymana Arefin, (Thesis for: Science, Technology and Society MSc, University College London, 2021)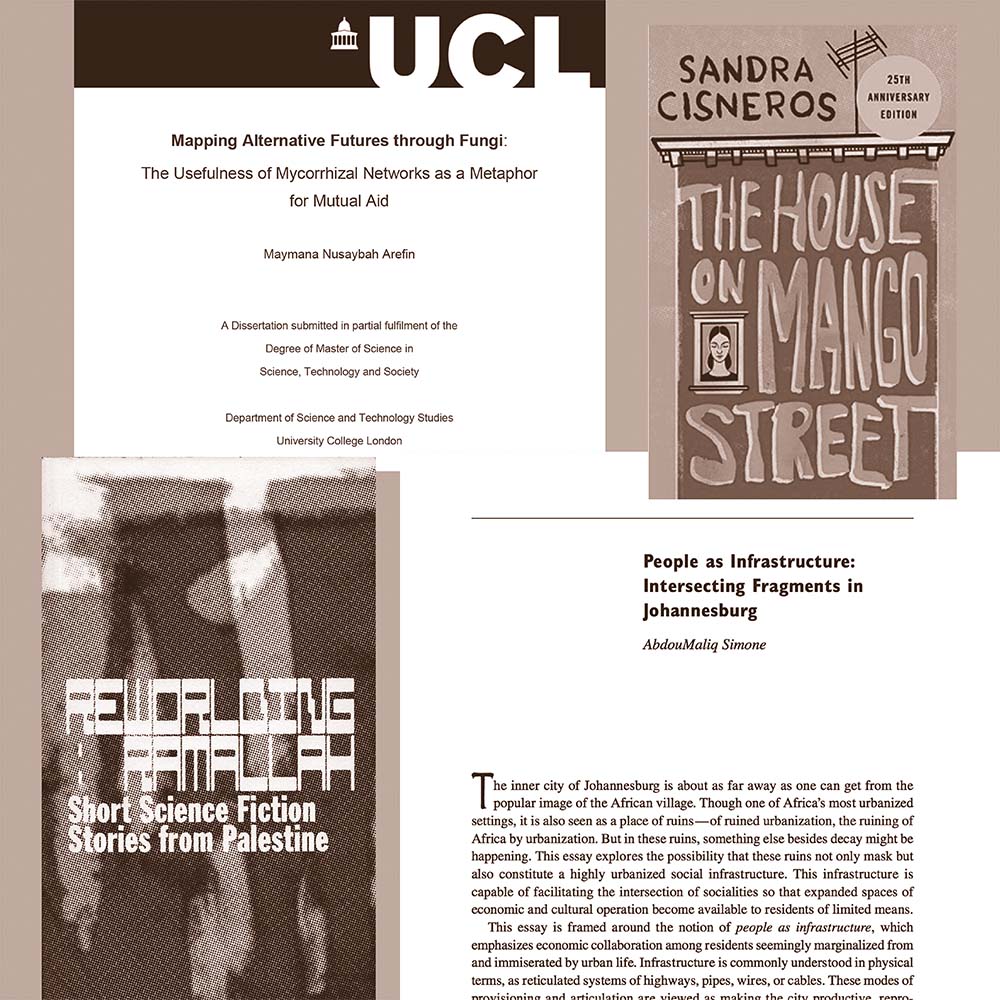 What I am Reading Now…
Rae-Yen Song
August 2022
I was looking forward to springtime this year. Its arrival came after back-to-back projects, at which point I was close to exhaustive collapse and needed a good wash. There's a certain kind of madness in spending every waking and dreaming hour totally devoted to and obsessed with something only you believe in/know of; dedicating your life to its life. But I think it keeps me sane in a society that is mad. In these labour-intensive periods of solitude – whilst my body and hands dry out and crack – I soothe my brain with audiobooks. Sayaka Murata's Earthlings was a favourite from last year. Earthlings glitters with darkness… its weirdness pushes at the extremes and horrors of the human condition to the point of creating monsters. Madness begets madness.
Spring brought on that scrub, as well as a slowing down to be cushioned by a big pile of books that have been waiting patiently for me. Right now, I feel like I'm in a moment of unraveling and absorption – thirsty for knowledge, possibilities, futures, and continuously questioning how I want to exist.
In our world of inhospitalities and slippery truths, I find solace, honesty, and alternative ways of being in science fiction, science and ecology. adrienne maree brown's Emergent Strategy grows from these roots too, entwining them with personal/collective/collaborative thinking, to offer tools for interdependence and to empower ourselves to adapt to a future in flux. A book packed with all sorts – quotes, diaristic notes, interviews, brief science lessons, lists, poems, chatty footnotes, journals to fill out,- it's like 100+ tabs on her browser have been set to print. Embracing this loose structure, I regularly revisit and dip in and out of it. As I swim around, I always find things that challenge and invigorate my current swirls of thought…
Over the last two years I've been thinking deeply about my relationship to art institutions, care, and the nurturing/sustaining of a more ethical practice. This was urged by Black Lives Matter, the pandemic, and the increasing costs and precarity of living/surviving as an artist. Texts by Teresa Cisneros like Document 0, and participating in several workshops hosted by her, have been the backbone to this way of critically thinking, imagining and actioning the ways I want to practice.
"'how do I as a person of colour navigate a system that is not designed to include me?' Or better yet 'how do I break open these institutions that we pay for and that belong to all of us?'"
Document 0 is a sharp tool, one that has helped me carve out and share my own working document. It details how I would like to work with others/institutions to begin a healthy and honest relationship, as well as continuously asking questions to hold myself – and the people and institutions I work with – to account.
"What do you care for and about?"
"What are you doing about white supremacy?"
Cathy Park Hong's Minor Feelings pierces a nerve. A memoir laid bare in order for Hong to dissect her own internalised anger, questions, humour, contradictions, dark thoughts, and hyper awareness around identity, race, society and class. Focusing on her specific life experiences, Hong explores how society's perception of Asian American identity shapes the experience of being an Asian American. Although these differ from my own experiences, it feels like I'm listening to a sister. This book finally exists and I'm hungry for more.
Hong also reintroduced me to Dictee by Theresa Hak kyung Cha. I don't know what Dictee is meant to be, but I think that's a good thing. I think of it as Cha's jotter; a codex; an extremely personal document that has been published… yet it firmly holds onto its privateness. Codes are recorded in black words, characters, images, symbols and silences. Large blank spaces float throughout because sometimes there is no language. No explanation. No expression is enough. There is nothing for you to see. My grey pencil scrawlings puncture these voids – my own notes addressing Cha's silence/my own silence/ancestral silence. Why is there so much noise in silence?
Rae-Yen Song is an artist based in Glasgow. Working expansively through drawing, sculpture, installation, costume, video, sound, performance, family collaboration and any other medium that becomes appropriate, Song's practice is a long-term exercise in self-mythology as survival tactic. It explores the position of Other within our tangled reality, speaking broadly through fantasy about foreignness, animism, identity, interdependency, and what it means to belong – or not.
Books
Earthlings, Sayaka Murata, narrated by Nancy Wu (Blackstone Publishing, Audible.com release date 2020)
Emergent Strategy: Shaping Change, Changing Worlds, adrienne maree brown (AK Press, 2017) 
Document 0, Teresa Cisneros (andpublishing.org, 2018)

Document 0 is available to order direct from the author: http://www.agencyforagency.com/
Minor Feelings: A Reckoning on Race and the Asian Condition, Cathy Park Hong (Profile Books, 2020)
Dictee, Theresa Hak Kyung Cha (University of California Press, 2009)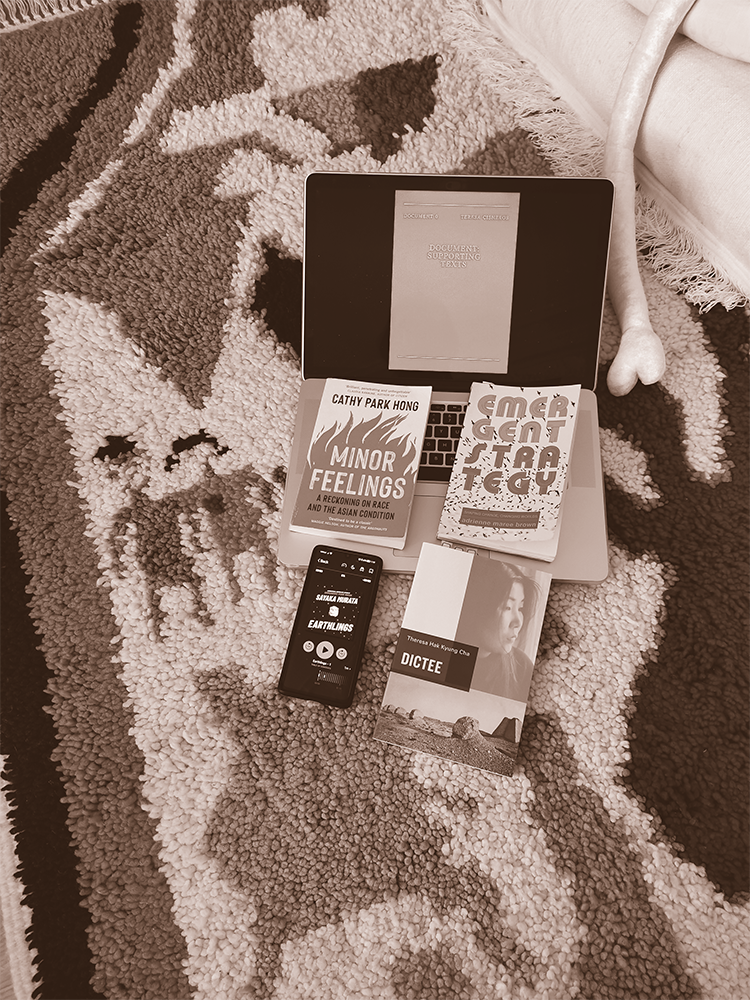 What I am Reading Now…
Jacob V Joyce
July 2022
The wood through the trees 
My youth, specifically my experience of secondary school education, was characterised by acts of mundane fugitivity. School was a place shrouded in an anxious dread, a sense of doom which can only be calculated by my constant attempts to escape its corporeal and psychic enclosures. I did not understand or have the words to articulate the somatic responses it elicited in me then, but I knew that I wanted to escape. Like so many teenagers I was always looking for an opportunity to disrupt the lesson, searching for a window to consider something less alien, most of all, for an opportunity to flee. The thing I wanted desperately was to relax beyond the punitive gaze of institutions and find moments to consider who I was outside of hetero-normative, Eurocentric expectations of my identity (although I would not of used those words to describe it.) School was a place where my identity was endlessly explained to me, in brutal cries of derision and subtle subtexts of the cannon. The only place where I could forge my own identity was in brief moments of mutinous or solitary escape.
"
the history of black thought, that's actually not the thought of canonical thinkers, just, you know, the thought of most folks, is devoted to this labour of trying to produce an outside, trying to create an opening which is often only discernible belatedly and its discernible as it becomes either marked as crime or as its subject to a new form of enclosure" – Saidiya Hartman Speaking at The Black Outside 2016 (available on YouTube.)
Forging notes, faking injuries, scanning the perimeters of my school for unlocked gates, fences to jump or gaps in the school's CCTV systems were just some of the ways this fugitivity manifested. Having grown up in South London where every paragraph of residential streets is illustrated by lush green parks and commons, my destination was always to be in nature. If not in nature, then in the abandoned industrial spaces that nature had begun to reclaim. The outside of school was constituted by overgrown, unseen, forgotten places, spaces of petit marronage where computer chairs, mouldy sofas, shopping trolleys and used condoms implied the nature of the terrain. 
The landscapes these books describe are very soothing to wander through, wayward streams in transgressive valleys that snake between monoliths of imperial knowledge systems. I don't want to crush them into this archipelago, each text is its own island and deserves to be visited for at least a day. Maybe you could check them out when you are meant to be working, sneak away and hide in the ideas they play with. Quick, while no one's looking.
Jacob V Joyce is a multidisciplinary artist whose practice amplifies historical and nourishes new queer and anti-colonial narratives. They are currently researching the cultural legacies of informal Black British arts education for a PhD supported by C.R.E.A.M (The Centre for Research in Education and Arts Media) and 198 Cal Arts Learning Brixton.
Books
Pedagogy of the Oppressed, Paulo Freire (Penguin Classics, 2017)
Teaching to Transgress: Education as the Practice of Freedom, bell hooks (Routledge, 1994)
in nearby bushes, Kei Miller (Carcanet Press Ltd, 2019)
Cruising Utopia: The Then and There of Queer Futurity, José Esteban Muñoz (New York University, 2009)
Militant Education, Liberation Struggle, Consciousness: The PAIGC education in Guinea Bissau 1963-1978, Sónia Vaz Borges (Peter Lang GmbH, Internationaler Verlag der Wissenschaften, 2019)