What I am Reading Now…
MADEYOULOOK
June 2022
As MADEYOULOOK we have been interested, for some years in the space of study, and the sharing of vital influences on our work. To this end, we include in our work, long lists of references and on our website, a page called Also Look At that points to work that informs ours in various ways. The texts below are from a recent reading group we hosted, within the framework of a series of exhibitions of our broader community of practice from across the majority world – on the theme of relationships to the land. The reading group was held in a park under a big tree and explored a range of conceptions of our relationships to plant life and the natural world. This is just a selection.
Plant Provocations by Narendran Kumarakulasingam and Mvuselelo Ngcoya has deeply informed our thinking on Black relationships to other-than-human life. As MADEYOULOOK, our interest centres on their deep engagement with "the social relations of a subsistence cultivator challenging the confines of colonial temporality, revealing a creative mode of dissent structured around dreams, ancestral knowledge, and the commons." 
Zakiya Mckenzie tracks the complex intertwining of inherited colonialisms and relationships to plant life and the land in her Testimonies on the History of Jamaica. Her work also centres very distinctly on the lives of Jamaicans and their intimacy with the land in ways that go beyond the violence of colonial frameworks of nature and exploitation of the land.
Clapperton Chakanetsa's text tracks other forms of intimacy through the ways in which Chimurenga – the spiritual warfare for autonomy and also later for independence from colonialism – intersected with more-than-human life. Chakanetsa's work tracks interspecies relations in radical lifehood of Zimbabwean liberation histories and the deep knowledges of the land and its life, which soldiers garnered from ancestral relationship with their territory.
A Shoal of Lovers Leads me Home is a love story set in post-apocalyptic Ghana. It considers a future for the human race after a climatic disaster, and the interspecies possibilities that might save us. Working from the positionalities of Black queerness and the possibilities of otherness this affords, Ama Josephine Budge works in the traditions of feminist science fiction and African futures. 
Mphathi "DJ Music Please" is an urban farmer based in Johannesburg, but he is also a DJ who plays music for the plants/ and an interspecies audience. He has a really special record collection, particularly of rare South African Jazz. We regularly collaborate with him, playing for the plants as part of our broader programming on thematics of land and its relationalities.
MADEYOULOOK is a Johannesburg based interdisciplinary artist collaborative between Molemo Moiloa and Nare Mokgotho. The works of MADEYOULOOK take as their point of departure everyday black practices that have either been historically overlooked or deemed inconsequential. These works encourage a re-observation of and de-familiarisation with the everyday of urban South African life. In reworking and interrupting how we view ordinary black lived experiences and the everyday, we are 'made to re-look' and question societal relations. Since 2009, the works of MADEYOULOOK have considered subjects such as models of memorialisation of histories and oral traditions, black love and urban public space, forms and hierarchies of knowledge creation and dissemination, and the socialities of land and relationships with plant life.
MADEYOULOOK engages different approaches focused primarily on intertextual installations, gatherings, discursive programmes, research and publishing. Although MADEYOULOOK's practice is significantly directed towards a practice of socialities and relationalities outside of the gallery space, however these projects occasionally culminate in exhibitions. MADEYOULOOK has exhibited, published and hosted programmes in various forms, including with Njelele, Zimbabwe, Frac Pays de la Loire, France and KAdE, Netherlands, Primary, UK and various initiatives in South Africa. They were nominated for the MTN New Contemporaries prize in 2012, and the Vera List Centre Prize for Art and Politics at the New School, NY in 2017.
MADEYOULOOK will participate in Documenta 15 opening June 18th 2022.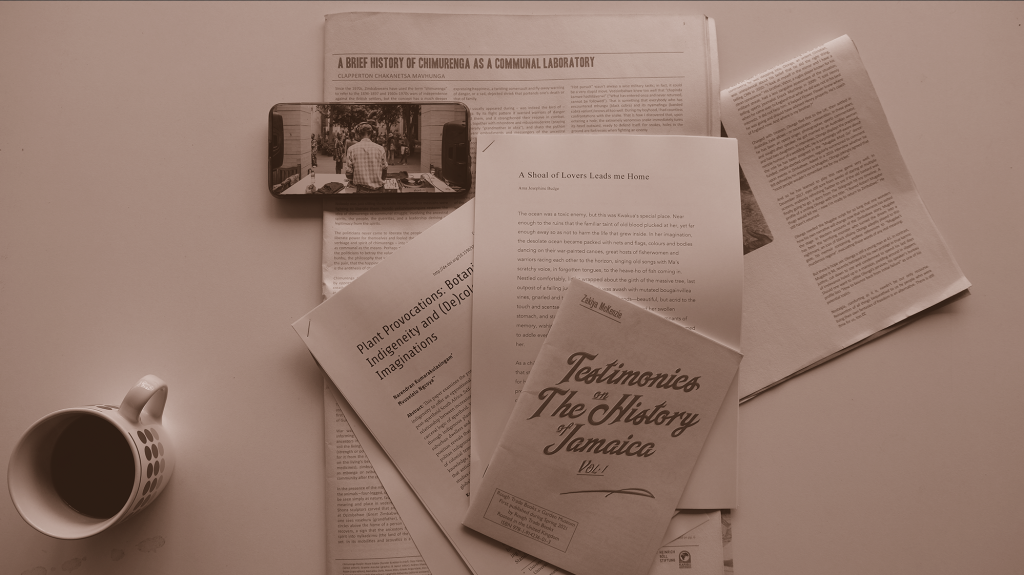 What I am Reading Now…
Tako Taal
May 2022
I started reading Chantal Akerman's, My Mother Laughs, last summer and it absorbed me entirely. It is a shuddery account of Chantal caring for her dying mother. I return to its painful detail in the love and hurt of a maternal relationship. In the Silver Press edition, Eileen Myles introduces the book in the most stunning terms,
I might think of this whole book as a sneeze. Or a black hole imploding. A cartoon deployment of feeling into temporary space with unclear boundaries that manages to hold the entire narrative, be it the relationship and the world, twinkling in a momentary gory splendour in which everything shows till it fades, midsummer dream like.
This winter I made public a four-year project in the shape of an exhibition titled At the shore, everything touches, a few months later Nain, my maternal grandmother died. Both endings were expected, considered, planned for even and yet… To put these two events in sequence, in a sentence is not to reduce or to draw equivalences. Their proximity is something about inevitable ends, a moment that is easy to anticipate but difficult to feel for. A new kind of space, a pause, an accumulation that requires thinking around stuff, a redistribution, and a reconfiguration of the selves. My selection here as well as revealing what I am reading now are texts I have gathered around me in an attempt to parse the feelings of these transitions. A foundation to move from.
In a recent, in conversation event at DCA with Kandace Siobhan Walker, we spoke about the companionship of writers, laughing at how we cited some authors by their first names and how they feel like our friends. My books were in storage until I found a studio recently so all of these books I am returning to. Some were gifts from friends and all have become companions. I'm learning with these texts about pleasure, resistance, associative logics, distraction, and being with tension. I am thinking about everyday practices of creativity, how to play and how to embrace the unruly nature of sadness.
Kameelah writes;
Finally, in the coherence we weep.
Chantal writes;
My mother appears at the door to the small bedroom.
Won't you talk to me for a minute, please.
Am I annoying you?
Well, you should work those things out.
Yes I'll work them out.
Tako Taal is an artist and programmer living in Glasgow. Recent presentations include At the shore, everything touches, Dundee Contemporary Arts, Survey II, Jerwood Arts (Touring UK) and NADA House, Governors Island New York. In 2021 as Associate Artist she produced What happens to desire…  six artist commissions for the 17th Edinburgh Art Festival, co-programmed GIVE BIRTH TO ME TOMORROW with Adam Benmakhlouf for LUX Scotland's artists' moving image festival and was shortlisted for the 2021 Margaret Tait Award.
Reading
No New Theories, Kameelah Janan Rasheed (Printed Matter, 2019)
My Mother Laughs, Chantal Akerman (Silver Press, 2019)
Mirror Reflecting Darkly The Rita Keegan Archive, (ed) Rita Keegan, Matthew Harle, Ego Ahaiwe Sowinsk (MIT Press, 2021)
She Tries Her Tongue, Her Silence Softly Breaks, M NourbSe Philip, 1989 (Wesleyan University Press, reprint 2015)
The Years, Annie Ernaux (Fitzcarraldo Editions, 2018)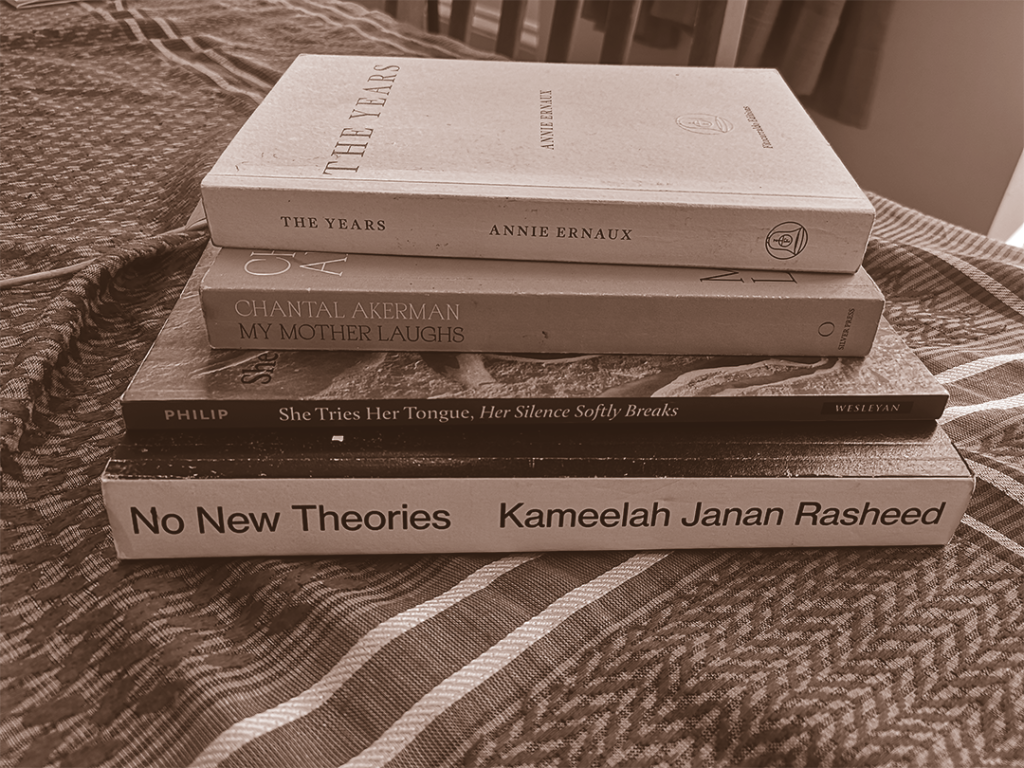 What I am Reading Now…
Khairani Barokka
April 2022
Have you ever watched a film and thought 'We are so lucky to have this in the world'? One of the texts I've found most relevant to extractive colonial capitalism, matching reality's brutal conditions, is Bacurau, directed by Kleber Mendonça Filho and Juliano Dornelles. Set in Pernambuco, Brazil, it doesn't give a damn about genre classification, and is brutal, cathartic, communal and worth every cheer. Since seeing it a year or so ago, I've thought of so many aspects of it so often—a guidepost for igniting fervor through art. A must-see.
The film, to my mind, has a soul sibling in Tentacle, by Rita Indiana, translated by Achy Obejas. In the future, Acilde Figueroa is a maid in the Dominican Republic who holds the predestined key to local environmental salvation. A time-travelling paragon of climate fiction, I recommend this to everyone who hasn't read it. 
Pluriverse: A Post-Development Dictionary is a continual treasure trove of ideas and movements around the world, beyond and in opposition to the so-called 'development' regime. In a sense, a way of connecting the previous two texts in context. I dip into this book again and again, and have learned so much—as well as feeling gratified that indigenous, grassroots movements' wisdom, philosophies, and cosmologies are being brought to larger audiences, and placed in connection with each other, as biomes in solidarity.
Breaking the Silence: Survivors Speak about '65-'66 Violence in Indonesia, edited by Putu Oka Sukanta and translated by Jennifer Lindsay, is a text I am getting through slowly, with reverence. In reading about collective traumas, there is always a pull to seek out survivors' own voices. Scholar Intan Paramaditha has written about the 'narratives of discovery' surrounding Westerners' writing and filmmaking on the (US-backed) '65-'66 massacre, that is predicated on colonial tropes of exploration, othering, and consumption of trauma. Often, Indonesian research assistants and translators are not given credit due for the risks they take in helping these accounts come to the fore. Breaking the Silence is a tome of first-person accounts given dignity and foregrounded. Certainly psychologically important for those of us who grew up in Indonesia's New Order dictatorship, and I hope for the genocide's survivors.
Ending on a note of humor, and humor's key role in resistance to coloniality, I'd like to signal-boost the series Reservation Dogs, created by Sterlin Harjo and Taika Waititi. It's the story of four teens with much time to kill on a Native American reservation. Hijinks, of course, ensue, and so do encounters with spirit guides, as the quartet grapple with a friend's death, questions of whether or not to leave home, and dilemmas of how to contribute to one's people. There is tenderness and deep resonance amid the hilarity; the pilot is a masterclass in this. Here's to the future, to the importance of silliness in indigenous childhoods everywhere, and to the words 'Land Back' displayed on more and more screens, until that return becomes reality.
Khairani Barokka is a Minang-Javanese writer and artist from Jakarta, now based in London, whose work is presented widely internationally. Among Okka's honours, she has been Modern Poetry in Translation's Inaugural Poet-in-Residence, a UNFPA Indonesian Young Leader Driving Social Change for arts practice and research, and Associate Artist at the UK's National Centre for Writing. Centering disability justice as anticolonial praxis, her works include most recent book Ultimatum Orangutan (Nine Arches), shortlisted for the Barbellion Prize. 
Watching
Bacurau, directed by Kleber Mendonça Filho and Juliano Dornelles (CinemaScópio Produções, 2019)
Reservation Dogs, created by Sterlin Harjo and Taika Waititi (FX Productions, 2021–present)
Reading
Tentacle, Rita Indiana, 'tr. Achy Obejas (And Other Stories, 2018)
Pluriverse: A Post-Development Dictionary, Ashish Kothari, Ariel Salleh, Arturo Escobar, Federico Demaria, Alberto Acosta (Eds.) (Tulika Books, 2019)
Breaking the Silence: Survivors Speak about '65-'66 Violence in Indonesia, edited by Putu Oka Sukanta and translated by Jennifer Lindsay (Monash University, 2020)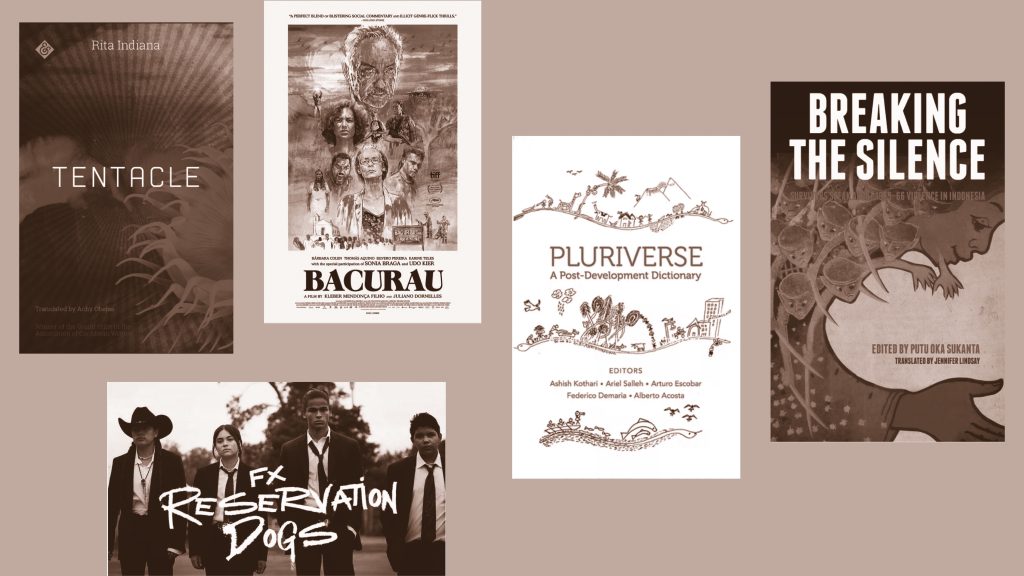 What I am Reading Now…
Rabindranath X Bhose
March 2022
Reading has been a challenge for me over the last couple of years, with the fractured concentration of living through a pandemic, and the way the texts I'm drawn to often ask me to meet myself alarmingly closely. The moments where I have felt calm enough to sit with a book have been magical. These are some of the texts that are helping me to feel through caring, integrating, surrendering, building, rooting, playing, experimenting, dreaming, emerging and loving.
Through it all, I have been listening to Ethiopiques Vol. 21 Emahoy (Piano Solo) by Emahoy Tsegué-Maryam Guèbrou. It's an album of exploratory piano compositions written and performed by Guèbrou, who is a nun. I feel a spiritual searching in her playing that is playful, soulful and irreverent. I get in the bath, put this on and I dissolve. I invite you to play it as you read this, if you wish to.
I recently finished Lama Rod Owens' Love and Rage: The Path of Liberation through Anger, after reading it steadily for a year, first thing in the morning after a meditation. This practice helped me to read from my whole body, inviting a paced digestion of the rich combination of memoir and spiritual principles as Lama Rod discusses how to work with unmetabolised anger. It is the work of building resilience as well as tenderness, and it has helped me construct a framework for engaging in enraging work with compassion and curiosity.
Leah Lakshmi Piepzna-Samarasinha's Care Work (Dreaming Disability Justice) has accompanied me when I'm too tired to leave the house but I'm grounded enough to yearn for some feeling. It is a collection of essays about living as a disabled bodymind, with excellent strategies for community building as well as poetic explorations on what we gain by being unable to function in the world as expected in capitalism: "a life of dreamtime".
Poetry anthology Homie by Danez Smith has also offered me companionship. It was a present from a friend and is a gift of a complex feeling of friendship through communing. "What makes a fag a fag. One theory rings true. It's not the sex. The being filled. But the emptiness. Void you didn't know was. Until someone stopped it up." I've been reading this one in the sauna, like a fever dream.
Last thing at night, I read Sammy Playford's There's always Things Falling Out The Sky. A book-long poetic meditation on affinity to paranormal creatures, building a relationship to the monstrous within yourself and letting that guide you to a juicy and whole sense of self. I read this with my Love sleeping on my shoulder, grateful for the quiet of our home to meet the monsters inside and out and expand to know them.
"& it might be all in ur
head but how many heads is ur head a
home to?
yes &
help comes in a lot
of ways"
Rabindranath X Bhose is an artist and writer born in Brussels (1993, living and working in Glasgow. He graduated from the Ruskin School of Art in 2016 with a BFA in Fine Art and completed the School of the Damned DIY MA Art Programme in 2019. He has exhibited and performed work throughout the U.K. He has also served on the Market Gallery committee and is currently part of the board of trustees.
Listening
Ethiopiques Vol. 21 Emahoy (Piano Solo), Emahoy Tsegué-Maryam Guèbrou (Éthiopiques, 2006)
Reading
Love and Rage: The Path of Liberation through Anger, Lama Rod Owens (North Atlantic Books, 2020)
Care Work (Dreaming Disability Justice), Leah Lakshmi Piepzna-Samarasinha (Arsenal Pulp Press, 2018)
Homie, Danez Smith (Graywolf Press, 2020)
There's always Things Falling Out The Sky, Sammy Playford, Roxy Topia and Paddy Gould (Pink Sands Studio, 2021)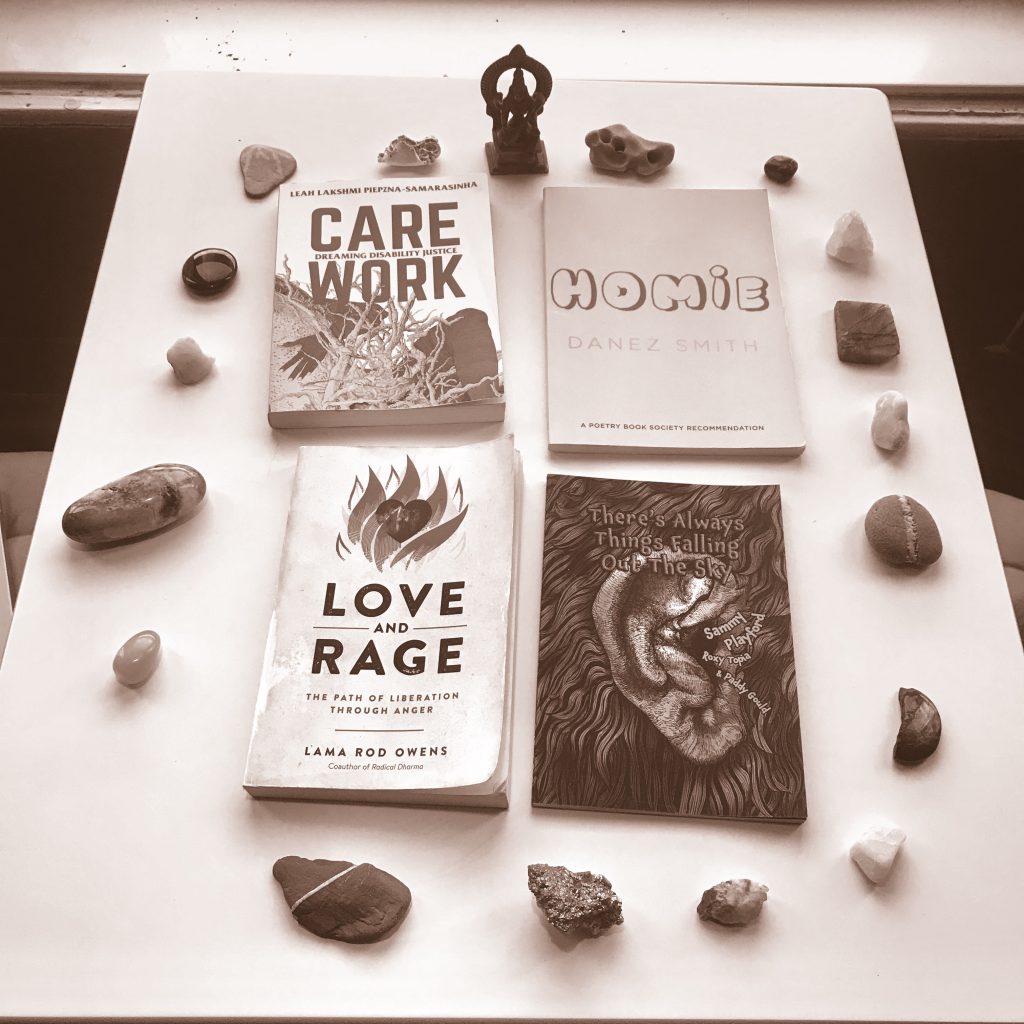 What I am Reading Now…
Ashanti Harris
February 2022
When the dance studios finally re-opened in 2021 a wise and wonderful friend, who is also a dancer, introduced me to something he was researching called Aphantasia. In the way that I understood it, Aphantasia is a non-visual way of thinking. People with Aphantasia don't think in images or "see" things in their imagination, instead they re-create the idea of an image in a new form. The form could be sound, it could be feeling, or it could be more abstract or conceptual than that. As an artist and a researcher working primarily with my body and movement to think, imagine and process, learning about Aphantasia made all of this make sense. I love to read theory, but the moment when the theory really clicks is when I feel it in my body. For the past wee while, I've been doing a lot of thinking about identity, heritage, history and different forms of cosmology, and this thinking has taken the form of dances, performances, re-enactments, rituals, songs, poems, compositions, sculptures, spells, seances and exorcisms.
What I'm feeling now… somatic explorations to the album The Wretched – a collaboration between musicians Gabisile Motuba, Tumi Mogorosi and Andrei van Wyk, exploring Frantz Fanon's seminal text The Wretched of the Earth. It sounds like avant-garde Jazz and it feels like the elasticity of time, layering the thoughts heaved into the world by Fanon with the conditions that frame our world in the present day. It's music that you really feel in your body, for better or for worse, so it makes sense to me to process it through my body in movement.
What I'm doing now… Tarot readings and astrology. In my experience, some people really "believe" astrology and others absolutely do not. For me, it's a tool to process or uncover what I'm thinking or feeling. It's not about getting answers, it's about asking yourself questions and doing the work to understand.
What I'm listening to now… I am terrible at finishing books but that changed when I discovered audiobooks. I am addicted to audiobooks. I love to listen when I'm walking to work, while I cook, and I know I'm hooked when I have to keep listening while I'm in the shower. The audiobook that got me through 2021 was Freshwater by Akwaeke Emezi. I had been thinking a lot about identity and all the ghosts, ancestors and demons that make a person who they are, alongside every strife and struggle, alongside every dream, every experience and every moment of growth. Freshwater touches all of that and more. It's a novel following the life of a child and the gods who live inside them. It's about the slipperiness of self. It's dark and it's complicated and it's beautiful. The audiobook is narrated by the author themselves, which always makes me feel like I'm hearing the story the way it was meant to be told.
My exception to this preference for audiobooks is poetry. As much as I love to hear the words directly from the author, with poetry I like to explore the feel of them in my mouth. I read them aloud over and over, until I start to know them like songs. For the past few years, I have been constantly returning to the collection of poems and prose by Martin Carter called University of Hunger. When I was a young adult, Martin Carter's poetry was my way into my Guyanese heritage. I found the stories and proverbs I learnt from my parents, woven into verses of truths that would take me time to understand. I kept coming back to his poem, To A Dead Slave, which was written in 1951 in the run up to Guyanese Independence and incites the anger, strength and unity which fuelled a slave rebellion that took place over a hundred years earlier. It celebrates the identity of a nation whose story has come from a long history of resistance, revolution and dreaming.
Every time I re-read any poem in the collection Everyone Knows I Am a Haunting by Shivanee Ramlochan, the words tear softly through my body, leaving every part of me prickled with feeling. I can't find any other way to describe it. In every reading I find a new meaning, and feel freshly held by the words. The author is from Trinidad, a country which is so culturally similar to Guyana, and these poems, often about ghosts, also feel like a déjà vu of my own hauntings.
And lastly, what I am about to read now… is the novel Lote by Shola von Reinhold. The story interrogates the removal and obscurement of Black figures from history through the story of a young woman who comes across an old photograph of a forgotten black Scottish modernist poet, and becomes fixated. In my own work I have developed relationships with historical figures whose existence has been so important to me. Lote feels reminiscent of this familiar place of love and speculation and I am really looking forward to getting into it.
Ashanti Harris is a multi-disciplinary artist and researcher based in Glasgow. Working with dance, performance, facilitation, film, installation and writing, Ashanti's work disrupts historical narratives and reimagines them from a Caribbean diasporic perspective. As part of her creative practice, she is co-director of the dance company Project X – platforming dance of the African and Caribbean diaspora in Scotland; and works collaboratively as part of the collective Glasgow Open Dance School (G.O.D.S) – facilitating experimental movement workshops and research groups. She is also lecturer in Contemporary Performance at the Royal Conservatoire of Scotland and co-facilitates the British Art Network research group The Re-Action of Black Performance.
Album
The Wretched, Gabisile Motuba, Tumi Mogorosi and Andrei van Wyk (SAVVY records, 2020)
Cards
Ancient Tarot de Marseille and Astrology forecasts from Chani Nicholas
Audiobook/book
Freshwater, Akwaeke Emezi (HighBridge, 2018)
Books
University of Hunger: Collected Poems and Selected Prose, Martin Carter (Bloodaxe Books Ltd, 2006)
Everyone Knows I Am a Haunting, Shivanee Ramlochan (Peepal Tree Press Ltd, 2017)
Lote, Shola von Reinhold (Jacaranda Books, 2020)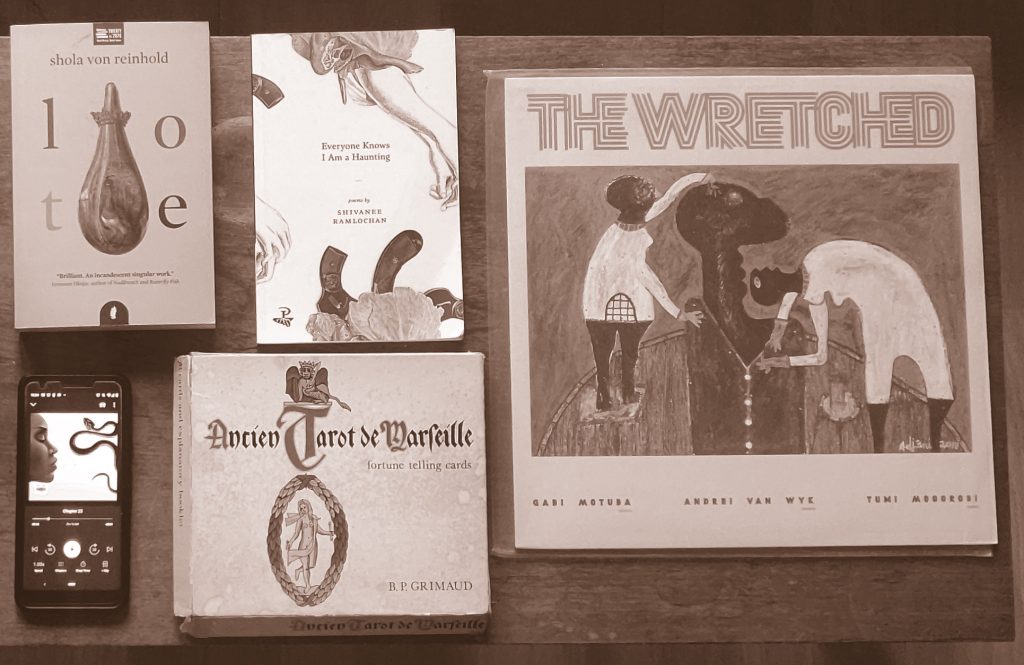 What I am Reading Now…
Ranjana Thapalyal
January 2022
With the passing of bell hooks as 2021 drew to a close, we are left to feel her absence and cherish her words, generously left us in her writings. Teaching Critical Thinking: Practical Wisdom, is the final of hooks' teaching trilogy, focussing on practical strategies towards 'teaching to educate for freedom'. Each chapter responds to specific concerns expressed by practicing teachers and university lecturers. What emerges is a reassuring and also challenging collection of essays navigating contemporary social contexts, through the compassionate eye of a scholar and teacher who has lived through changes garnered by civil rights, feminist, black feminist, postcolonial movements, as well as multiple backlashes to hard won progress. hooks also critiques current debates about the nature of democracy, what can and cannot be said in the classroom, and though she does not use the phrase, the consequences and structures of 'white fragility', always emphasising the power of dialogue and genuine, rigorous conversation. Her earlier ideas on love, transgression and self-actualisation are ever present in these rich evaluations, reflections and reiterations. Mentors and theoretical inspirations are evoked, from supportive grade school teachers to educationist Paulo Freire, to Buddhist monk Thich Nhat Hanh. Critical, interdisciplinary awareness becomes a gift- a catalyst that enables us to swim against the tide while retaining self-esteem, and inner strength. hooks reminds us that "one of the most nurturing and generous benefits that comes when we engage in critical thinking is an intensification of mindful awareness which heightens our capacity to live fully and well." (P185)
Holistic critical awareness is abundantly present in Catherine D'Ignazio and Lauren Klein's Data Feminism. They advocate a combination of feminist activism and feminist analytical thought in the production of sociological data, demonstrating 'how standard practices in data schemes serve to reinforce (…) existing inequalities', but also how data science can be used 'to challenge and change the distribution of power.' (P8) Brimming with information about data science in a social context, the book is also a treasure trove of references to social justice organisations and significant black feminist thought, stating,
We draw heavily from intersectionality and other concepts developed through the work of Black feminist scholars and activists, because they offer some of the best ways for negotiating (…) multidimensional terrain. (P4)
The kind of feminist linking of theory, practice, and community-building that hooks urged us to embrace, is applied here to digital spaces that impact policy and our lives. Questioning methods of some of the largest companies and partnerships ever known, the circles drawn by D'Ignazio and Klein are both expansive and intimate, in a clear eyed, multi-dimensional and path-making book.

Kenyan author Ngũgĩ wa Thiong'o wrote the celebrated novel A Grain of Wheat in 1967. His gradually unfolding, non-linear narration moves in and out of the characters' minds in the four days before independence, while mapping external events against their personal lives and relationships. It follows the internal conflicts of several men who have survived the notorious British detention camps in which Mau freedom fighters were incarcerated, and of which the receding colonial government deliberately destroyed records. Several strong women characters are vital to the story, and Ngũgĩ's skilful portrayal of their perspectives has an empathic and feminist feel, while his two British protagonists deliver as solid a critique of colonialism's psyche as any theoretical work. Ngũgĩ also provides vital insight into the people that joined the Mau movement, challenging the demonic image that for years was all that remained of it.
Like A Grain of Wheat, my other fiction choice, a short story by Chimamanda Ngozi Adichie called 'The Headstrong Historian', demonstrates the power of fiction to insert often deliberately obliterated histories into our consciousness. Recommended by digital artist and historian Chao Tayiana Maina on her titular website, the story traverses three generations. It is the backstory of a young Nigerian woman who, grounded in the traditions and strong self-belief of her grandmother, comes to recognise the distortions of her colonial education, and sets out to find, in order to tell, a fuller history of Africa. The story brings to mind an older classic of Nigerian literature, Buchi Emecheta's The Joys of Motherhood. Both tales portray unforgettable women characters whose relationships with their children and grandchildren are marked by tradition, patriarchy, colonial rule. Having read both in close conjunction, there was a sense for me of Emecheta's protagonist Nnu Ego also being honoured by the Adichie's self-assured Afamefuna.
Finally, a favourite paper by Ruth Vanita. The Self Is Not Gendered: Sulabha's Debate with King Janaka discusses a passage in the epic Mahabharata in which the female scholar Sulabha systematically dissects scholar-king Janaka's claims of female inferiority. By referring Janaka to the very intellectual tradition within which he claims superiority, Sulabha calmly refutes his slights. She establishes that since the 'primal matter of elements are the same in all bodies and beings and the same consciousness pervades all', to regard himself 'as different from the self of other beings' as Janaka does, 'is to lack wisdom'. (P. 85) Vanita's highlighting of women in Indian philosophical writing exemplifies the unexpectedly relevant and contemporary feel of ancient texts. Crucially, it also illustrates the value placed on argument and discourse in Hindu traditions, and invites critical as well as ethical resistance to current more repressive interpretations.
Ranjana Thapalyal is an Indian born inter-disciplinary artist and academic, based in Scotland. Beginning with inquiry into the nature of ceramic materials in her early work, Thapalyal's research has broadened over time to philosophical concerns about materiality itself, cultural and social identity, and the self in relation to all of these.  She attempts to instigate contemporary dialogue with concepts of self in South Asian and West African traditions, and feminist readings of ancient philosophies of the global South, especially towards the development of decolonising pedagogies of critical ethical awareness.
Teaching Critical Thinking: Practical Wisdom, bell hooks (London, Routledge, 2010. Kindle Edition 2016)
A Grain of Wheat, Ngũgĩ wa Thiong'o (London, Penguin Books, Kindle Edition, 2002. With an introduction by Abdulrazak Gurnah)  
The Thing Around Your Neck, Chimamanda Ngozi Adichie (London, 4th Estate, 2009. Kindle Edition 2016)
The Self Is Not Gendered: Sulabha's Debate with King Janaka, Ruth Vanita (NWSA Journal, 15:2, pp. 76-93, 2003. Available at Global Humanities and Religions Faculty Publications)
Data Feminism, Catherine D'Ignazio and Lauren F. Klein (MIT Press, Kindle Edition, 2020)