A new home-based study for 3-5 year olds.
We are recruiting participants for a new home-based study with children aged 3-5 years and their parents/carers. Here is an overview of the project, and details of how to take part are at the end of this page. Before you decide whether or not you would like to participate it is important that you read the Participant Information Sheet provided below. This will help you to understand why and how the research is being carried out and what participation will involve.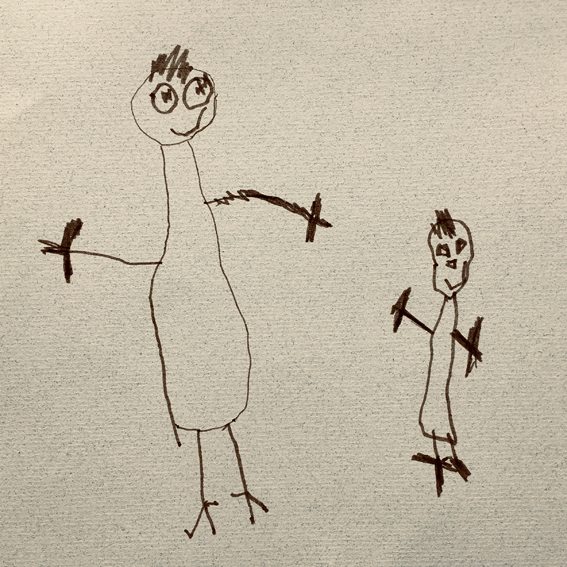 Who is conducting the research?
Holly Rumble is the main point of contact for this project, and she is conducting the study as part of her doctoral research. If you have further questions after reading the sheet please email: h.rumble@dundee.ac.uk.
What is the purpose of the research?
We are exploring whether family art participation affects social, emotional and cognitive development in children aged 3-5yrs. This Home Drawing Study measures children's typical development over a three month period and their family's previous experience of making and seeing art.
Who can take part?
Each participating family can include one or two children aged 3-5yrs, and one adult over the age of 18 years (parents, or the child's main carer). Children must be aged 3-5yrs on 20th June 2022. You do not need to have any experience of seeing or making art to take part. This study is not suitable for existing participants in the Art at the Start for 3-5s DCA study, as the surveys are the same. Participants should be based in the UK for postage reasons, sorry!
What will happen if I take part?
Each family will take part in three identical 10-minute drawing tasks at home, on the weeks commencing 20th June, 1st August, and 12th September. The materials and instructions for these will be sent to you by post on completion of the Registration Survey. You can choose whether to post these drawings to the researcher or return them digitally. Please specify which in the Registration Survey.
The Registration Survey takes 10-15 minutes to complete, depending on the number of children participating. You will be asked to complete three short online surveys at the start, middle and end of the project (5-10 minutes each).
As part of the surveys we will be using standard questionnaires about child-parent relationships and child behaviour. We will also ask about any art activity you and your child do at home, and your household background so that we can compare participants fairly. No previous art experience is required.
Interested in taking part? Please read the Participant Information Sheet:
Once you have read the sheet, you can now complete the Registration Survey here, which closes at 9am on Friday 17th June 2022 (extended due to popular demand!):