If, like us, you seem to collect lots of cardboard boxes, don't just recycle them, use them for some painting first. The bigger the better so get ordering washing machines! We went with a train as we have a Thomas fan but you could easily turn them into a castle, or a car, or a submarine or a space ship………..Creations that little ones can play with by going in and out are the most fun. Make spaces to sit in or maybe some doors to open. That will give the opportunity for loads of fun interactive play.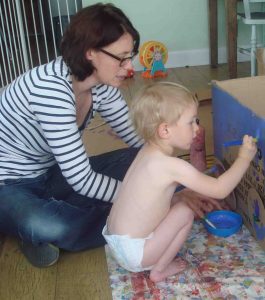 Little ones will probably need quite a lot of help with the building part so it's a nice chance to get stuck in there. Make sure you follow their lead though and encourage them to show you how they want it to look. It is lovely for them to see something from their imagination become reality.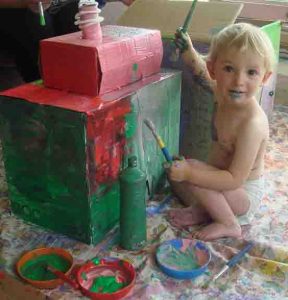 Once it's time for the painting part you can let them go crazy. Use water based and washable paint that is baby safe in case they have a lick and make sure you put lots of plastic or newspaper all over the floor cos this one gets really messy. Maybe some children who feel a bit nervous starting with a big white page will feel more confident to get creative when it's already just rubbish. And children who don't think they like to draw or paint might like this idea as it includes the element of construction.